No-Bake Chocolate Oatmeal Recipe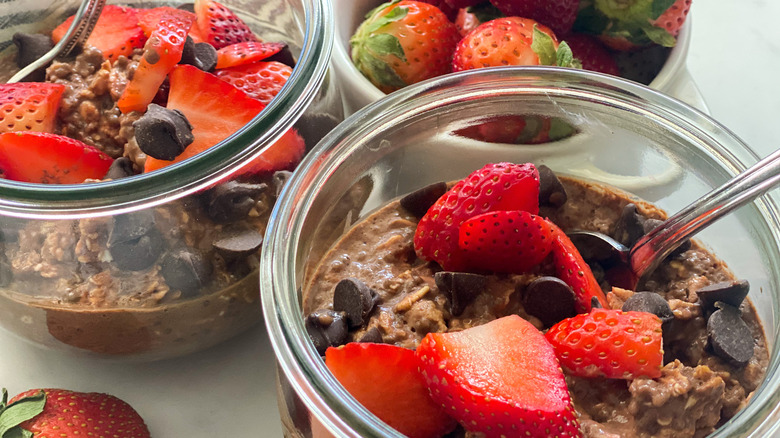 Miriam Hahn/Mashed
Having a nutritious breakfast in the morning is a great way to start your day. However, unless you have a low-key morning ahead of you, it can be hard to prepare something satisfying that also checks the box of a healthy choice. While lack of time can make easy packaged options seem like an inevitable choice, Miriam Hahn has created a wholesome, filling, and more importantly, delicious breakfast that you can prepare ahead of time. 
No-bake oatmeal is often referred to as overnight oats because the best way to avoid waiting around for them to develop a creamy texture is by letting the action happen throughout the night. This no-bake chocolate oatmeal takes it a step further by adding cocoa powder so you can start your morning with a bowl of creamy chocolate oats. The flavor will make you feel like you're having dessert, and the recipe can certainly double as a snack or an after-dinner treat. 
The ingredients are all nourishing whole foods, and they definitely encourage you to have your cake and eat it too. These oats are a far cry from gloopy overcooked oatmeal you might have encountered. No-bake chocolate oatmeal is decadent, healthy, and it involves almost no prep work. If you can think of a better way to start the day stress-free, then let us know.
Measure out the ingredients for your no-bake chocolate oatmeal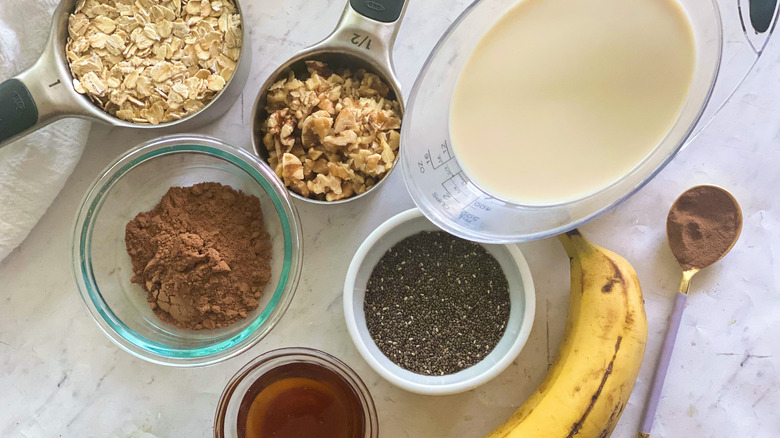 Miriam Hahn/Mashed
This recipe calls for banana, rolled oats, chia seeds, cocoa powder, maple syrup, cinnamon, walnuts, almond milk, strawberries, and chocolate chips. Some ingredients can be substituted, but the liquid to dry ratio should remain as similar as possible for optimal texture. 
When choosing a banana, look for a yellow one, as greener ones might be too starchy. Spots and browning are fine — remember, the riper the banana, the sweeter your oatmeal. Rolled oats work better than quick or instant oats because they have a firmer structure and provide some chewiness. Chia seeds keep you full while adding some thickness to the oatmeal.
Look for unsweetened cocoa powder (often labeled as cacao powder) since the banana and maple syrup provide sweetness. If you can't get your hands on maple syrup but have honey or agave syrup, these can be substituted. Unless you hate cinnamon, be sure not to forget it because it adds the perfect earthy spice to bring your oatmeal to the next level.
Chopped walnuts introduce even more texture so you don't feel like you're eating mush. They can be swapped for other nuts if you prefer. As for the almond milk, the neutral flavor works well to blend the ingredients, but you can use your milk of choice, sweetened or unsweetened. Strawberries and chocolate chips are a no-brainer, but feel free to get creative if you have some tasty extras you want to include in your toppings. 
Mash the banana and mix in the remaining oatmeal ingredients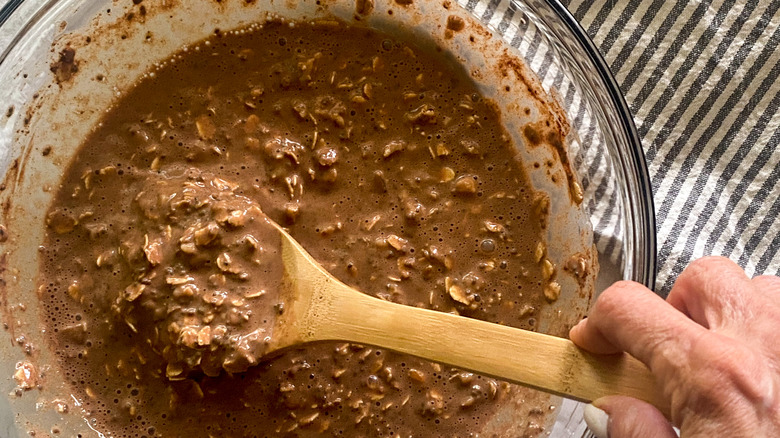 Miriam Hahn/Mashed
If you are using walnut halves, chop them into smaller pieces before measuring them. Once all your ingredients are measured out, peel the banana and place it in a large bowl. Use a fork or a similar implement to mash the banana until it forms a puree-like consistency. Small chunks are okay, but for a smoother oatmeal, mash the banana until no chunks remain. Add the oats, chia seeds, cocoa powder, maple syrup, cinnamon, walnuts, and milk into the bowl. Mix well until everything is thoroughly combined and the dry ingredients have absorbed the liquid. 
Portion the oatmeal into two containers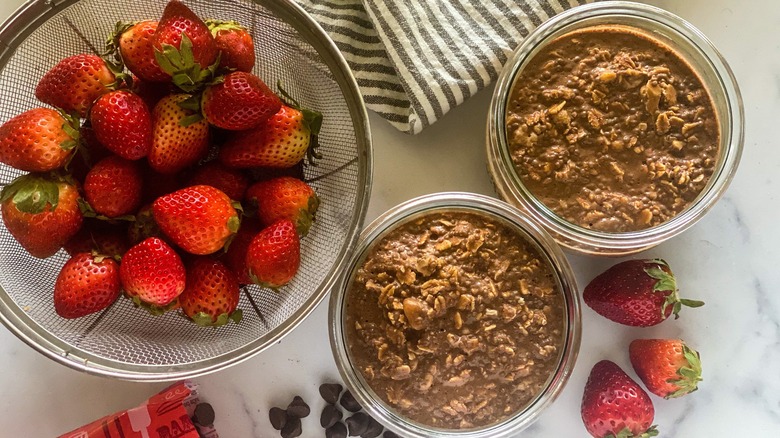 Miriam Hahn/Mashed
Now that your blended chocolate oatmeal creation is ready, divide it into two containers. Glass jars with lids are a good option, or else any container with a lid is fine. A lid is ideal to keep the oatmeal sealed in the refrigerator and if you choose to bring it with you on the go. If you plan to use the same container for service, be sure to leave a bit of space at the top to add your toppings. You can also keep all of the oatmeal in one container and make bowls after refrigeration, but single portions are a good way to avoid getting carried away with serving sizes. 
Refrigerate for at least two hours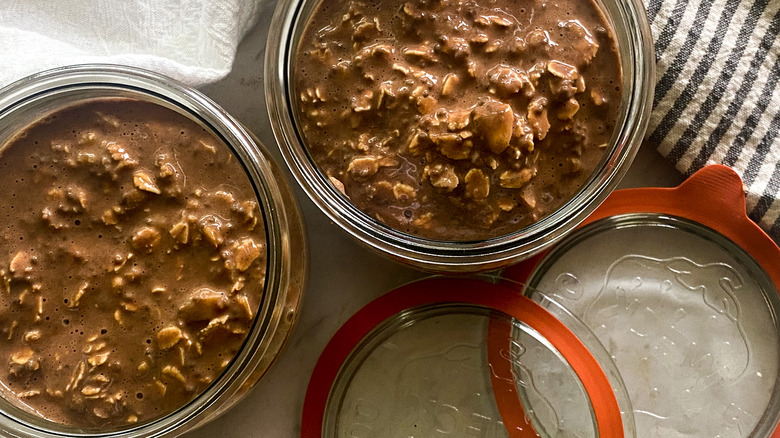 Miriam Hahn/Mashed
Place your sealed containers into the refrigerator for a minimum of two hours, ideally overnight. Refrigerating the mixture is key because it helps soften the oats without the need for cooking. As the oats absorb the milk and blend with the other ingredients, they become especially creamy, resulting in a texture that could be compared to pudding. 
No-bake oatmeal is a great addition to your weekly meal prep. Depending on the freshness of the milk, the oatmeal can remain refrigerated up to five days. The longer you wait, the less chewy the texture, but you can always add some extra walnuts as a topping. If it's been in the fridge for a few days, the liquid might separate slightly, but a good mix with a spoon should do the trick. 
Add your toppings and dig into your delicious no-bake chocolate oatmeal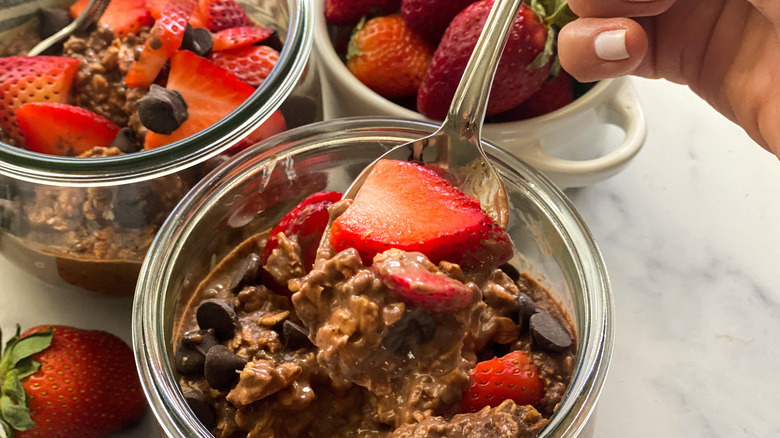 Miriam Hahn/Mashed
If you're especially eager to try this delicious chocolate no-bake oatmeal, you might be ready to dig in after two hours. Whether it's two hours later or the next day, get your toppings ready to add before eating. First, give the oatmeal a good stir to make sure nothing has separated. Then add your toppings.
Our choices for toppings are strawberries and chocolate chips for a sweet and fruity touch, but you should definitely get creative. Grated coconut, sliced banana, blueberries, cacao nibs, goji berries, and other nuts or seeds are all great ideas to explore. Once you make this delicious chocolate no-bake oatmeal, you'll be amazed that dessert for breakfast could be so nutritious. 
No-Bake Chocolate Oatmeal Recipe
The flavor of this no-bake oatmeal will make you feel like you're having dessert, and the recipe can certainly double as a snack or an after-dinner treat.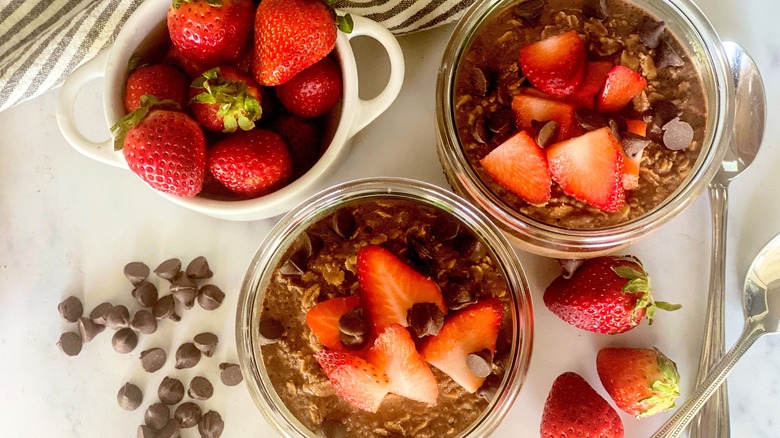 Ingredients
1 banana
1 cup rolled oats
2 tablespoons chia seeds
4 teaspoons cocoa powder (or cacao powder)
2 tablespoons maple syrup
1 teaspoon cinnamon
¼ cup walnuts, chopped
1 ⅓ cup almond milk or milk of choice
Optional Ingredients
Strawberries, for topping
Chocolate chips, for topping
Directions
In a large bowl, mash the banana with a fork.
Add in the oats, chia seeds, cocoa powder, maple syrup, cinnamon, walnuts, and milk.
Mix the ingredients well until combined.
Next, distribute the mixture into 2 glass jars or containers with lids.
Place them in the fridge overnight or for a minimum of 2 hours as the mixture sets.
When it is done, give the oatmeal a good stir, and top it with fresh strawberries, chocolate chips, and any other toppings you wish.
Serve and enjoy!
Nutrition
| | |
| --- | --- |
| Calories per Serving | 441 |
| Total Fat | 18.4 g |
| Saturated Fat | 2.7 g |
| Trans Fat | 0.0 g |
| Cholesterol | 0.0 mg |
| | |
| --- | --- |
| Total Carbohydrates | 65.9 g |
| Dietary Fiber | 13.3 g |
| Total Sugars | 20.2 g |
| Sodium | 120.9 mg |
| Protein | 12.0 g |