The British Hangover Cure Adele Swears By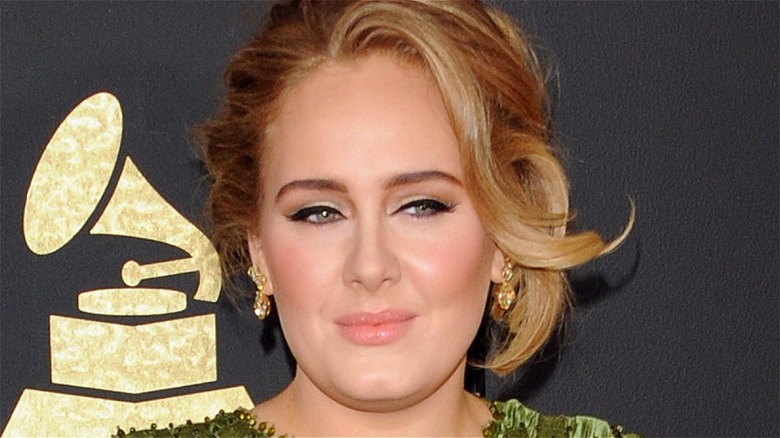 Tinseltown/Shutterstock
How did Adele get to be such a hangover expert, anyway? "Obviously, I'm always hungover," the musical superstar tells British Vogue when the magazine challenged her recently to an "Ultimate British Taste Test" (via YouTube).
Adele has been known to take what might be the best hangover cure money can buy: an IV vitamin infusion that costs as much as $220, according to The Hollywood Reporter. To be fair to Adele, she was getting this particular star treatment not to recover from a hard night of partying, but rather to give her the energy boost she needed for an eight-show run in Los Angeles in 2016. The infusion is even supposed to help a singer's immune system ward off threats to her vocal cords.
When Adele dropped in on "The Ellen Show" in 2016, she and Ellen DeGeneres played a game-show type game called "5 Second Rule" that had them giving three answers to a question in under 5 seconds. Adele was ready when the game's moderator, Stephen "tWitch" Boss, asked her to name three hangover cures. She rattled off coconut water, paracetamol (British for acetaminophen), and something else that was either Alka-Seltzer or the Swedish alcoholic beverage ӓlska cider. Either way, none of the answers Adele gave qualified as the singer's "perfect hangover cure."
When Adele is hungover, she orders the full English breakfast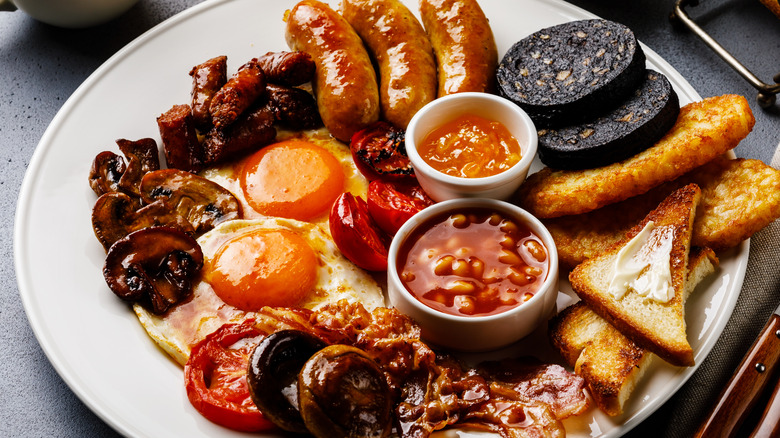 Natalia Lisovskaya/Shutterstock
The cure for the common hangover that Adele swears by is the full English breakfast, what the Grammy-stacking artist called a fry-up in the British Vogue "Ultimate British Taste Test" video. The full English breakfast was one of the dishes the magazine asked Adele to identify while blindfolded in the video. Her plate included two fried eggs, British bacon, grilled tomato slices, sausage links (aka bangers), beans, and black pudding — fried disks of oatmeal, pork fat, and blood (via Serious Eats). Adele made it clear in the video that she was not a black pudding fan.
The other elements of the fry-up probably struck Adele as a good hangover cure because many people are drawn to fatty foods the morning after a night of carousing, according to AfterDrink. But that outlet's evidence-based article, reviewed by a medical doctor, concluded that fatty food is far from ideal as a hangover cure. AfterDrink said a greasy meal might feel like it's doing some good, due to its high calorie count and the uplifting hormones released when we eat fat. On the downside, a fatty meal, especially one with a lot of protein, can sit hard and heavy on an already overtaxed stomach. But you do you, Adele. If you can find a good fry-up in L.A., it's sure to be a lot more satisfying than the IV vitamins.