Instagram Is Loving This Sultry Video Of Martha And Snoop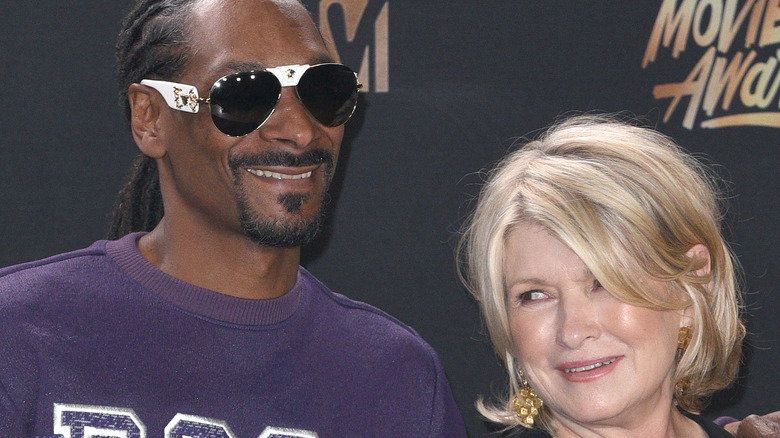 C Flanigan/Getty Images
By all accounts, Snoop Dogg had a happy 50th birthday. One of the attendees at Snoop's party posted a video of Snoop on a stage, performing his 1999 rap song "20 Minutes." In another Instagram video from the "c-day" party, the Doggfather is dancing with the one and only "boss lady," Janet Jackson.
Jackson isn't the only OG Snoop Dogg can boast as part of his inner circle; no word on whether Martha Stewart was at Snoop's party. In any case, it would have been quite a commute from Westchester County, New York to Southern California. Snoop was very much on Stewart's mind, however, on the day he celebrated the half-century mark. She posted a photo on her personal Instagram of an unusual birthday dish she had whipped up for Snoop, complete with some extra-large birthday candles (too many to count, but you know Martha's high standards — she wouldn't think of using one more or one less than 50).
Another Instagram account, used by Martha Stewart Living, also posted a special birthday message to Snoop. The post suggested Martha Stewart would have fit right in with the fun-loving crowd at Snoop's big bash.
Martha Stewart's birthday video for Snoop Dogg is definitely eyebrow-raising
In the short video posted to the @marthastewart Instagram account on the occasion of Snoop Dogg's birthday, an elevator door opens to reveal the birthday boy and Martha Stewart inside. The cramped space is filled, from Snoop's neck up, with smoke he exhales throughout the video. Stewart is in black, wearing high heels and revealing a little leg. She sits on a stool, possibly to duck all that smoke.
Stewart makes a little show of unwrapping a cupcake with white icing and dropping the cupcake liner on the elevator floor. Then she offers the cake to Snoop, who bends down and gives it a little kiss. Stewart offers the camera a sultry little shrug, and the elevator doors close.
"Bust out the baked goods (brownies, of course), raise a glass (of gin and juice), and share your birthday wishes below!" the Instagram caption reads.
Commenters loved the video. To many, it represented a beautiful odd-couple friendship. "You two are just the best," @lazy6cat commented. "Love how you're friends. Such an unexpected pairing." Instagrammer @karimac9892 weighed in, too. "Happy birthday Snoop!" they said. "Love that you & Martha got that special something-something."