Nearly 20% Of People Agree This Brand Has The Worst Salsa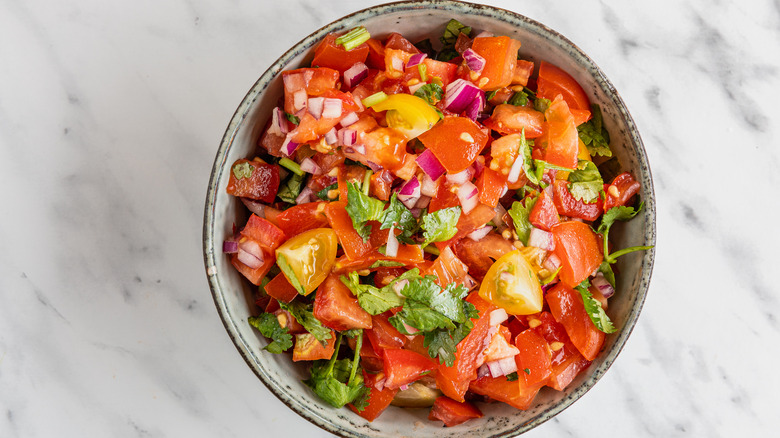 Angela Kotsell/Shutterstock
Whether served with tortilla chips or a must-have ingredient in a burrito, salsa often brings a big, bold flavor to Mexican dishes. Grocery shelves are filled with many salsa brands that offer a variety of flavors and textures, from chunky to smooth, red to verde. And the options can be overwhelming. 
According to Twisted Taco, salsa dates back to ancient times, with the Aztecs, Incas, and Mayans making takes on the dish for their meals. Once the Spanish offered the concept of combining tomatoes, chilis, and other ingredients, the term salsa was coined. Even though today's recipes are based on those original concepts, salsa can vary tremendously. Delish states that a basic recipe always includes the four main ingredients of tomatoes, onions, jalapeños, and salt — and the balance of those basic components as well as other add-ins (like more spices for heat or adding fruit for sweetness) will impact the final result. Suffice to say, no two salsa recipes are ever the same. 
So which store-bought salsa is the best and which one is subpar? Mashed conducted a survey of 593 U.S.-based respondents, and it appears one popular brand tops the list for worst salsa and is often left on the shelf by many grocery shoppers.
Pace is not everyone's favorite salsa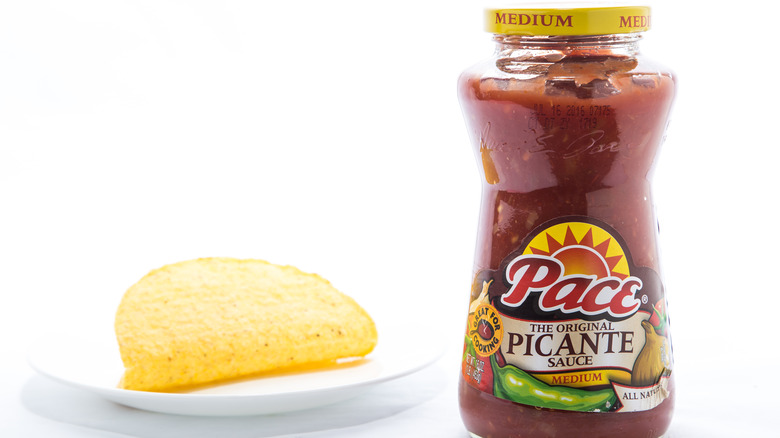 Warren Price Photography/Shutterstock
While their commercials might encourage consumers to "grab the Southwest by the bottle" (as seen on ispot.tv), it appears that 19.90% of Mashed respondents agree that the brand Pace is not worth grabbing at all, as it was rated the worst salsa in a recent survey. Although Pace was the first company to use the word "picante" in branding its salsa creation, the Texas original might have lost some of its connection to its roots after being bought out by Campbell's in 1994 (per Texas Hill Country), and it's clearly no longer a top pick.
According to the survey results, the second worst salsa as voted by Mashed readers is Newman's Own, which nabbed a 19.06% share of the pie, followed by Chi-Chis with 17.37%, Herdez with 17.20%, and On the Border at 13.66%. However, Tostitos appeared to be the favorite, only netting 12.82% of the vote for the worst salsa. That's in line with another recent Mashed survey regarding salsa where 31% of respondents also ranked Tostitos as their favorite store-bought option. 
Although respondents didn't clarify whether it was the taste, texture, or something else that impacted their ultimate decision, it appears that not all store-bought salsas offer the same snacking satisfaction. And when store-bought just won't do, there's also great homemade recipes for salsa that can be made and savored.