The Best Salsa Brand According To 31% Of People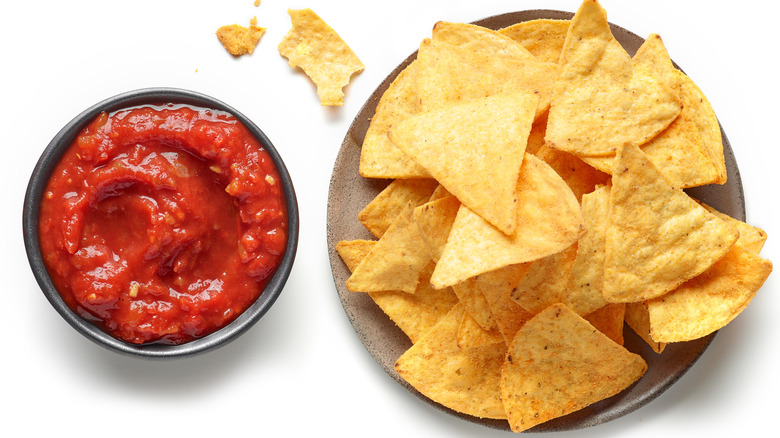 MaraZe/Shutterstock
We may receive a commission on purchases made from links.
Tacos and burritos are great, but everyone knows that the real star of the show at any Mexican restaurant are the chips and salsa. And it's not just a fan-favorite when you're out for Taco Tuesday — it's also a must-have at tailgates, parties, and backyard BBQs. According to one survey, salsa is the number one dip on Super Bowl Sunday (via Culture Map) and more than 218 million Americans purchased the dip in 2020 (via Statista). There's just something about the tangy, sometimes spicy taste that pairs perfectly with the salty crunch of a tortilla chip that has you going back for more... and more... and more.
However, not all salsas are created equal. There are all different kinds, varieties and, if you choose to buy it pre-made from the store, brands. But which one is best? Mashed polled nearly 600 Americans about their favorite brand of salsa. Here's which one won over nearly one-third of respondents, earning it the number one spot on our collective shelf.
Tostitos makes the best salsa, according to our survey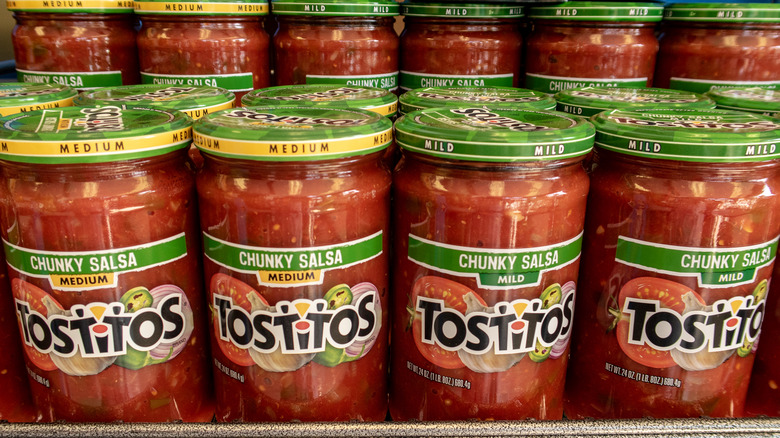 Arne Beruldsen/Shutterstock
According to Mashed's survey results, 31% of people prefer Tostitos salsa. The brand, which is best known for its tortilla chips, currently has six varieties of salsa available. Its standard chunky salsa comes in three heat levels — mild, medium, and hot habanero — and it also offers salsa verde and avocado salsa. The Tostitos chunky salsa has a high 4.7-star rating on Amazon from over 5,000 reviewers. "I always go with Tostitos brand when it comes to salsa," one consumer wrote. "It's close to tasting homemade. It has the right blend of all that's needed in a salsa."
As for how other major salsa brands stacked up? Newman's Own took second place with 17% of the votes, followed by Pace with 16%, On The Border with 14%, and Chi-Chi's with 13%. Last place went to Herdez, with only 7% of respondents dubbing it their go-to.