People Are Raining Hearts Over This Adorable Pic Of Duff Goldman's Daughter In A Corn Field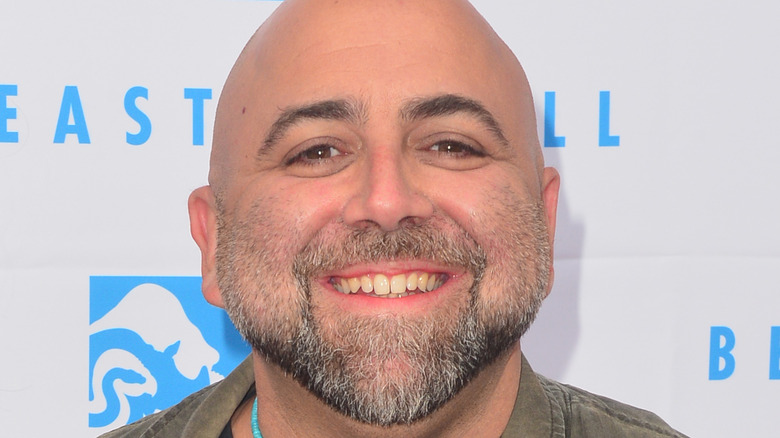 Jerod Harris/Getty Images
Celebrity chef Duff Goldman is known for creating dazzling cakes. Whether it's through his Charm City Cakes bakery or shows like "Buddy vs Duff," viewers can't seem to get enough of his incredible-looking desserts. However, there is someone that has been recently stealing the spotlight from the cookbook author — his adorable daughter Josephine. When she was first born at the beginning of this year, the cooking star said that he and his wife, Johnna Goldman, were in awe of their little bundle of joy.
"She is the most beautiful thing I've ever seen in the whole world," he wrote on Instagram. "Some friends have told me that the love I'll experience when looking at my daughter will be different than anything I've ever experienced and they were totally right." Since her arrival into the world, Goldman loves to share what his infant is up to, much to the delight of his thousands of followers. He recently shared that Josephine made a visit to a corn field and social media couldn't handle the cuteness.
Fans are loving this sweet picture of Duff Goldman's daughter
Goldman posted an Instagram photo of his daughter holding a leaf up to her mouth, with a corn field in the background and the caption, "Baby corn." His followers on social media flooded the image with comments about how endearing the post was. "So cute," wrote one user, while another added, "Baby with the BEAUTIFUL EYES!" A different fan on Twitter noted that she always knew the pastry chef would be a wonderful father someday. "When I watched you interact with the kids on the Baking Championship, I kept thinking you'd make a great dad," they wrote. "Think I was right!"
Goldman and his wife have recently enjoyed taking their daughter on some fun adventures, like going to a national park in Kentucky and her first rodeo. The chef wrote that when she was first born, he was excited to introduce her to a bunch of new things and he's certainly living up to that promise. "I keep telling Josephine about all the wonderful things she's gonna get to try like pizza and candy and swimming and concerts and riding a bike," he said. "I'm so in love I can't stand it."