This Is Marc Murphy's Favorite Late-Night Snack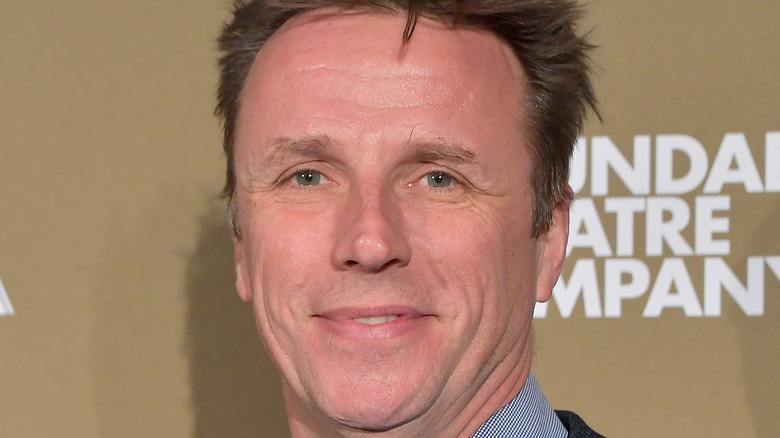 Michael Loccisano/Getty Images
Marc Murphy is no stranger to guilty pleasures and midnight snacking. On an episode of "Guilty Pleasures" (via Food Network), the "Chopped" judge revealed he is a fan of a cupcake from the Tennesse cake shop Iveycake appropriately named "Spoiled Rotten Cupcake." Murphy confessed that he thinks about this cupcake "a lot," calling it a total "sugar bomb." Just reading about the apple cider frosting, butterscotch ganache, and sugar-coated pecans that top this apple cupcake, we can understand why. It sounds like just the sweet treat to top off an evening or as a midnight snack.
But as indulgent as this cupcake is, it isn't Murphy's go-to when those midnight munchies come a-calling, nor are any of those wacky but intriguing ingredients which show up in those "Chopped" mystery baskets. The celebrity chef, who admits to despising durian and who loves to add Dijon mustard to his soy sauce for steaks, fancies a different food altogether. Per his Food Network bio, Murphy — who grew up all over the world and scored a coveted opportunity to hone his skills under the guidance of the famed Sylvain Portay at Le Cirque — admitted that he craves something a little more savory and a little heartier when it comes to those late-night meals. 
Murphy likes this pasta dish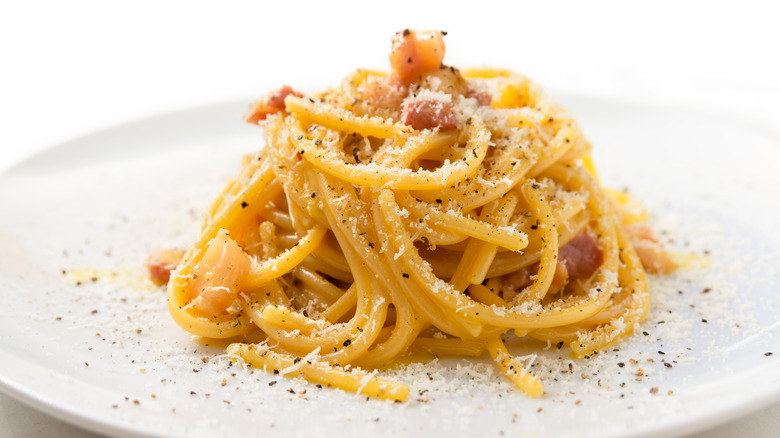 Alessio Orru/Shutterstock
When Food Network quizzed their culinary star about his favorite late-night snack, Murphy shared that it really depends on how much he has imbibed over the course of an evening, but he tends to favor a pasta dish that Tom Cruise fans over and famously shared with Oprah: spaghetti carbonara (via Oprah.com). Murphy said, "Usually depends how much I've had to drink but I really love spaghetti carbonara at any time of the day!" What's not to love about this pasta dish? It will definitely send you to bed satiated.
And boy is he passionate about pasta carbonara! Murphy explained to Food & Wine that the most important element is the bacon. Murphy said, "The most important thing for me is you take your bacon. You render it out, you get it crispy. You take a little bit of the fat out, but when your pasta is cooked — you take that bacon and you throw it in. You get all of that bacon fat on the pasta and then you've got your eggs on that side that you've beat together." Murphy also says you have to serve your spaghetti carbonara right away. "It's got to be served hot and you gotta eat it quick." Done and done!