Homemade Caramel Sauce Recipe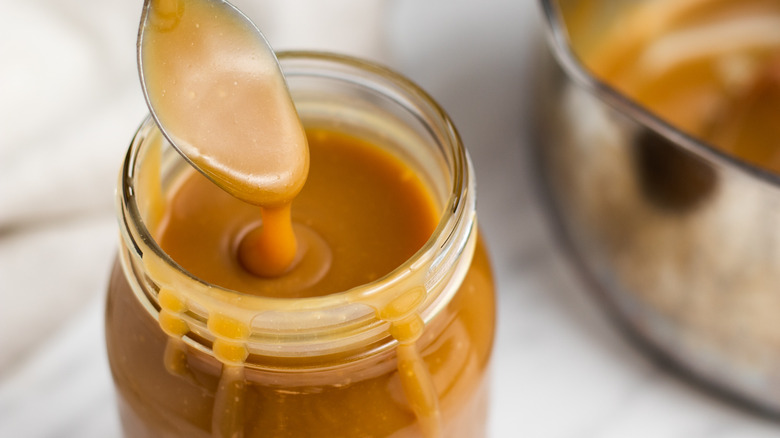 Catherine Brookes/Mashed
Many foods are so much better when they're homemade — and caramel is undoubtedly one of them. There's just something about this thick, creamy, and sweet sauce that is so wonderful when it's made fresh. If you thought that you could only get world-class caramel at an ice cream joint or your local coffee spot, then you thought wrong. This homemade caramel sauce is really easy to make, and it tastes incredible. We also love the fact that you don't need to leave the comfort of your own home to make and enjoy it.
Recipe developer Catherine Brookes of Blue Sky Eating came up with this wonderful homemade caramel sauce recipe that hits the spot and is sure to satisfy your sweet tooth. "This sauce is so indulgent and can be drizzled over so many other desserts to add that more-ish caramel flavor," Brookes raves.
"Such a delicious sweet treat!" She also notes that the recipe is "very easy — just remember to keep the heat fairly low to prevent burning." If you want to take your ice cream sundaes to the next level or make your very own caramel apples, keep reading to learn how to make this sweet sauce.
Gather the ingredients to make homemade caramel sauce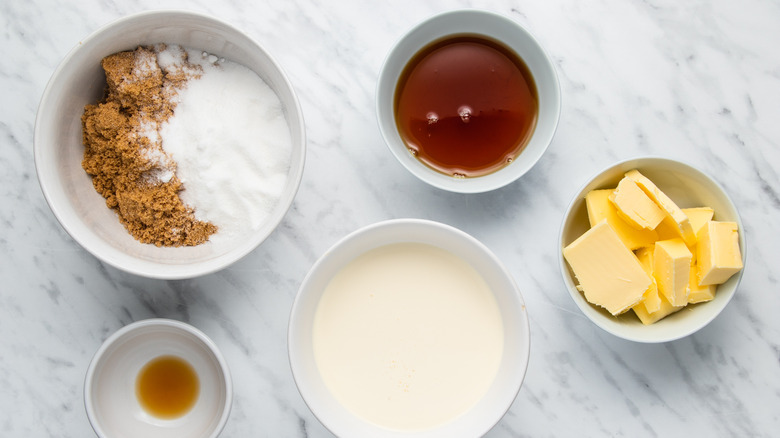 Catherine Brookes/Mashed
Are you ready to make an excellent caramel topping? The first thing you will need to do is take a trip to the grocery store to get all the necessary ingredients. To start, you will need a few tablespoons of butter and light brown sugar. While you're picking up the brown sugar in the baking aisle, you can grab some plain sugar as well. Then, scoop up some maple syrup. The only item that you will need from the refrigerated section is heavy cream. Lastly, be sure to grab some vanilla extract. That's all you need! Pretty simple, right? 
Mix the butter and sugars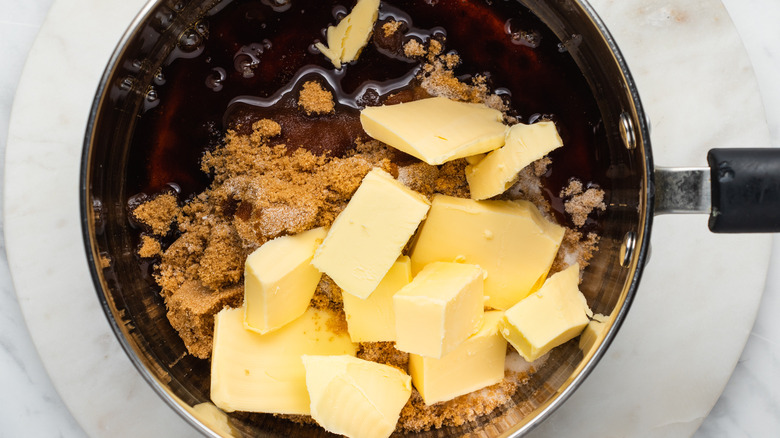 Catherine Brookes/Mashed
Now that you have everything you need to make the caramel, we can get started on the cooking, which is also super easy. First, grab a large saucepan and place it on your stove. Next, toss in the butter, followed by the light brown sugar and the plain sugar. Turn the heat to low and let the butter melt and mix with the sugars. Be sure that you frequently stir the mixture, so nothing sticks to the bottom and burns. "A wooden spoon is great," Brookes shares. Once the butter has completely melted, cook for another five minutes on low heat. Remember to continue stirring as you go. 
Add the cream and let the sauce simmer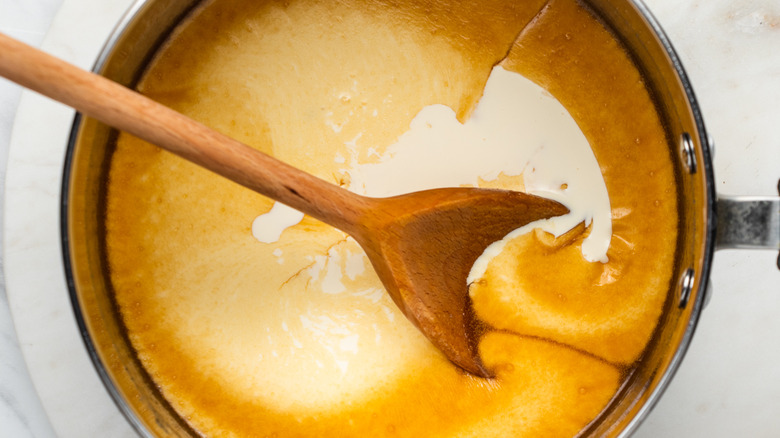 Catherine Brookes/Mashed
After the five minutes is up, you can add in the heavy cream to the pan. Once you have added the cream, bring the mixture to a boil. When the liquid starts to bubble, turn the heat down and reduce the mix to a low simmer. Let the caramel mixture cook for an additional 10 minutes. You can either use your timer or just keep an eye on the clock, whichever is easier for you. While the mixture is at a simmer, be sure to stir every once in a while.
Add the vanilla extract and chill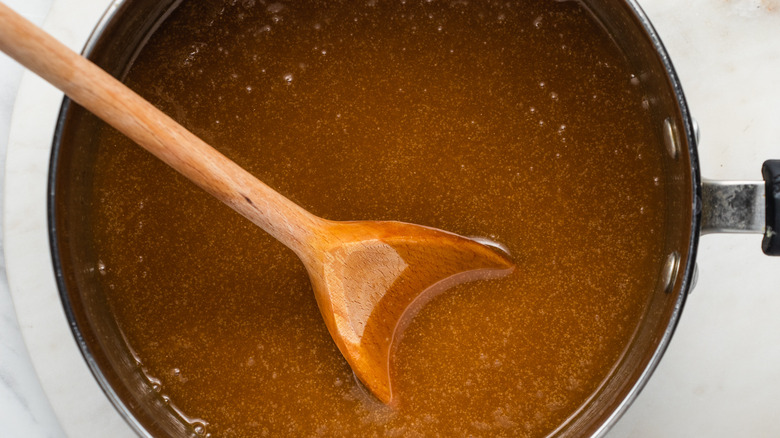 Catherine Brookes/Mashed
Now, it's time to remove the pan from heat. The cooking part is officially over. The last thing you will need to add to the mix is the vanilla extract. Let it cool at room temperature for an hour. Then, transfer the caramel mixture to the fridge and let it chill in there for about two hours. As the mixture chills, it should start to look more like caramel. "The sauce thickens up as it cools in the fridge," Brookes notes. "It's quite runny when freshly cooked." 
Serve your homemade caramel sauce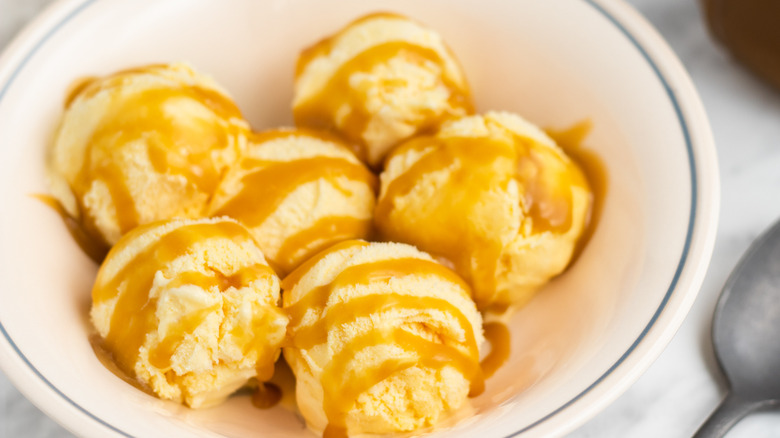 Catherine Brookes/Mashed
Once you let the caramel chill, take it out of the fridge and serve! There are plenty of ways to enjoy this yummy sauce, and Brookes gives a few great examples. "On ice cream, brownies, drizzled over cupcakes or apple pie/crumble," she says. We also think it would go great on a latte or iced coffee, or even drizzled over some cookies.
As for leftovers? "Store in the fridge in an airtight container for up to 2 weeks," Brookes shares. We hope that you enjoy making and eating this delicious caramel sauce as much as we do! 
Homemade Caramel Sauce Recipe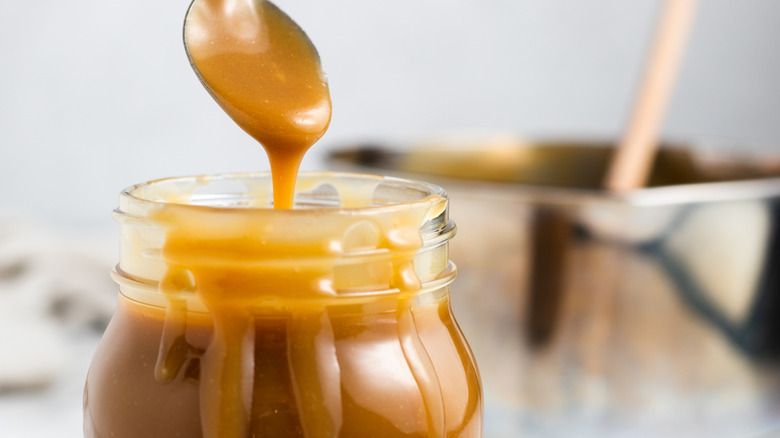 Catherine Brookes/Mashed
Prep Time:
Cook Time: 20m
Yield: 16 Servings
Ingredients
¼ cup + 3 tablespoons butter
½ cup + 3 tablespoons light brown sugar
½ cup white sugar
⅓ cup + 1 tablespoon maple syrup
1 cup heavy cream
¼ teaspoon vanilla extract
Directions
Add the butter, brown sugar, white sugar, and syrup to a large saucepan and melt everything together gently over a low heat, stirring frequently.
Once the butter has completely melted, cook for another 5 minutes on the low heat, continuing to stir.
Add the heavy cream and stir it in. Bring the mixture to the boil then reduce to a low simmer and let it cook for about 10 minutes. Stir now and again.
Remove the pan from the heat and mix in the vanilla extract.
Leave to cool at room temperature for an hour before transferring to the fridge to chill for at least 2 hours. The sauce will thicken up as it chills.
Serve, and store leftovers in the refrigerator for up to 2 weeks.