John Travolta Texted This Rock Star For A Cookie Recipe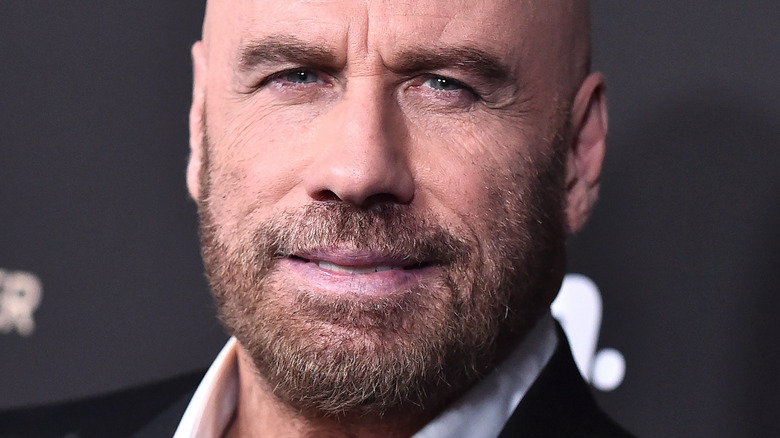 DFree/Shutterstock
We all know that John Travolta can dance. When the Oscar-nominee took the role of Tony Manero in "Saturday Night Fever," Travolta proved he had the moves to be crowned the king of the disco. When he danced the twist as Vincent Vega opposite Uma Thurman's Mia Wallace in "Pulp Fiction," the duo created one of the most beloved  moments from the Tarrantino film, per IndieWire, further highlighting Travolta's dancing chops. But, who knew the "Greased Lightnin'" singer could bake?
During an interview with US Weekly, Travolta gave fans a glimpse into his life and skills. The movie star conceded his daughter is better at parallel parking than he is. He let the world know he "loves a gin martini" once a week and, to get his morning going, he has "the strongest cup of coffee you could imagine using half a pound of Starbucks Sumatra blend. It's epic." He also confessed that he is a decent cook saying, "I don't often cook, but if I do, I'd consider myself a decent cook. I wouldn't embarrass you, and I'd make it flavorful." Well, you can add baker to his résumé, but you will never guess which rock star Travolta was texting for a cookie recipe. But, as the saying goes, friends that can do the shake together, bake together (or something like that).
John Travolta consulted this famous drummer
Per a TikTok video Motley Crue's drummer Tommy Lee posted this week, John Travolta texted the rock star to ask for the recipe for peanut butter chocolate chip cookies. Travolta typed in his text, "Tommy, can you send me that peanut butter Chico chip cookie recipe you have?" Lee responded, "Hahahah ok! Gimme a sec to find" with a winking emoji. Lee's video has received more than 250K likes thus far. And how could TikTokers not love it? Travolta even showed off his cookies baking in the oven, writing, "You didn't know I was Johnny Crocker."
Fans of Lee may not be surprised that the musician is also a foodie who has an Instagram account with the username @chefboyarl33, where Lee shares photos of dishes he has cooked. But Travolta, who is said to travel with two chefs, per HuffPost, well, it's surprising! Later in the video, Travolta can be seen sampling a brownie and saying, "Who would've thought that two superstars would spend their Wednesday nights baking brownies and cookies? With fresh lemonade! Tommy Lee and JT. Can't beat 'em!" And Lee responded with, "Oh my God, buddy. My wife and I were just saying the exact same thing. I'm like, 'Who's sitting around on a Wednesday night?' I go, 'Could you imagine if people knew Tommy and John are baking.' What happened?"
Per the New York Post, Lee and Travolta have been friends for some time, so maybe we'll see more recipe sharing in the future.