Joanna Gaines' Precious Moment With Son Has Instagram Ready For Christmas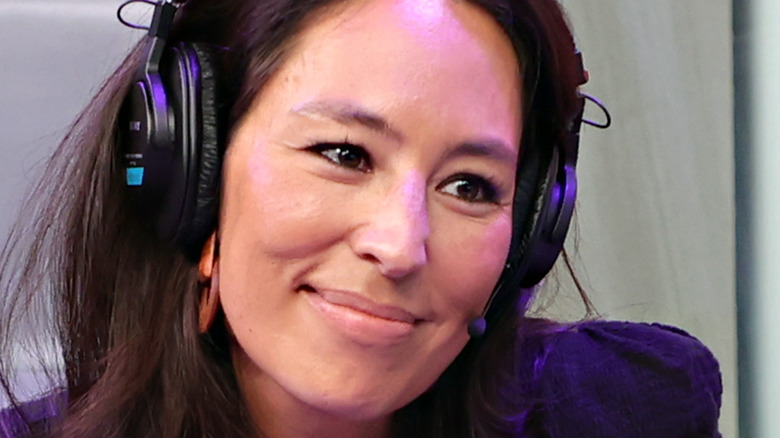 Cindy Ord/Getty Images
Joanna Gaines loves Christmas traditions. Per Taste of Home, the Magnolia Network creator shuns the overly coordinated matching ornaments, and instead loves to use décor that drums up some of her favorite memories. As she wrote in her Magnolia Journal, "While the Popsicle-stick picture frames have cracked over the years, and the photos within them have faded — it only makes me love them all the more."
Gaines is also known for putting up her Christmas tree earlier than most. Per The Today Show, in 2019, Gaines started decking the halls and trimming the tree on November 19 that year, causing hosts Craig Melvin and Savannah Guthrie to debate whether or not it was too early. Melvin said, "I feel like Turkey Day should be the line of demarcation." But Guthrie had a different take, explaining, "I feel like 'you do you.' If you want to put your decorations out, go for it."
Well, Gaines is at it again this year. The mom of five shared a sweet picture on Instagram this week that showed her with her son, both standing on stools to decorate a Christmas tree in their home, and the social media platform can't help but talk about it. Sometimes you just have to get in the spirit when it comes to you!
Gaines and her son have everyone feeling festive
Gaines explained her reasoning in the Instagram post, writing, "It was 54 degrees today so ... #CrewsTree." The Texan also included a cute Christmas tree emoji that we're digging. And her fans were all for it. One follower wrote, "I feel like this is permission for me to put my tree up early ... Anyone else? Lol." And another offered support by writing, "Great Idea. I support this decision." The magical-looking post has received close to 500,000 likes as of publication, including a thumbs up from fan Vanessa Bryant.
But here's the kicker for all those throwing shade and saying it's too soon: It turns out people who break out the holly and the ivy on the early side of the season are just happier people. Per Unilad, psychoanalyst Steve McKeown, founder of MindFixers and owner of The McKeown Clinic, said, "In a world full of stress and anxiety, people like to associate to things that make them happy, and Christmas decorations evoke those strong feelings of childhood."
Fans are clearly on board for early decorating and even putting up multiple trees. In 2017, Gaines posted a photo on Instagram sharing how she and her family had put up a second Christmas tree in their master bedroom. The post received close to 732,000 likes, with fans gushing over her tree-trimming skills. Sometimes, you just need a little Christmas regardless of what day is on the calendar.