Taco Bell Is Testing Out Crispy Dipping Flautas. Here's Where To Try Them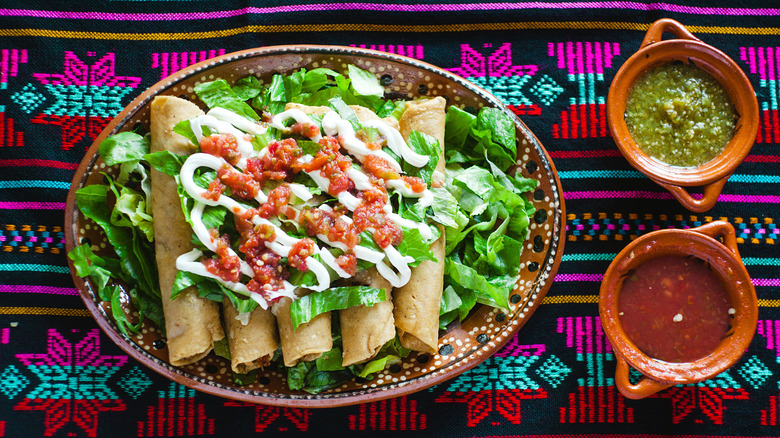 Marcos Castillo/Shutterstock
Taco Bell's menu is extremely customizable. You can always swap meat out for beans and make their items vegan by taking out the sour cream and cheese and replacing them with pico de gallo. But the chain is testing out new things and they've recently debuted Beefy Melt Burritos and a 30-day taco subscription service. So what's next?
According to FoodBeast, Taco Bell is now testing out Crispy Dipping Flautas. The outlet says that the flautas are rolled and crispy tortillas stuffed with the food chain's signature seasoned beef and melted cheese. The website also says that there are different sauces you can order to dip your flautas in, like Nacho Cheese, Creamy Chipotle, and Spicy Ranch.
There doesn't seem to be much more information out there about this product, which does make sense if it's in a test stage. In the past, Taco Bell has offered Rolled Chicken Tacos, which are pretty similar to the Crispy Dipping Flautas. YouTuber Joe Vargas even tweeted about how the rolled tacos, claiming they were actually flautas in 2016.
Where to get Taco Bell's Crispy Dipping Flautas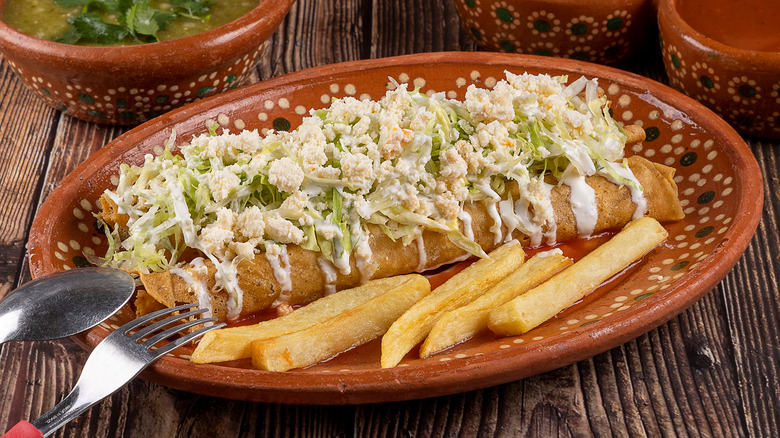 VICTOR M VELAZQUEZ/Shutterstock
Since Taco Bell is testing out Crispy Dipping Flautas, you won't be able to find it in stores across the country. So where can you grab the food chain's newest treat? Taco Bell customers in Oklahoma City are in luck. As FoodBeast explained, this is the only city mentioned where Crispy Dipping Flautas will be hitting the menu.
But if you're not in Oklahoma City, you can still look for pre-made flautas in stores. Shoppers found these Chipotle Chicken Flautas at Costco and had positive reactions to them. Another option is to make your own flautas! This recipe from My Latina Table is for potato flautas, which are vegetarian-friendly. My Latina Table also has a recipe for chicken flautas.
While Taco Bells nationwide might not have flautas, there are still plenty of delicious items on the menu. We've ranked some of Taco Bell's most popular items to help you decide what to try next, and you can also recreate some of the store's menu items with these Taco Bell copycat recipes.