Taco Bell Is Testing 3 New Beefy Melt Burritos. Here's How To Try Them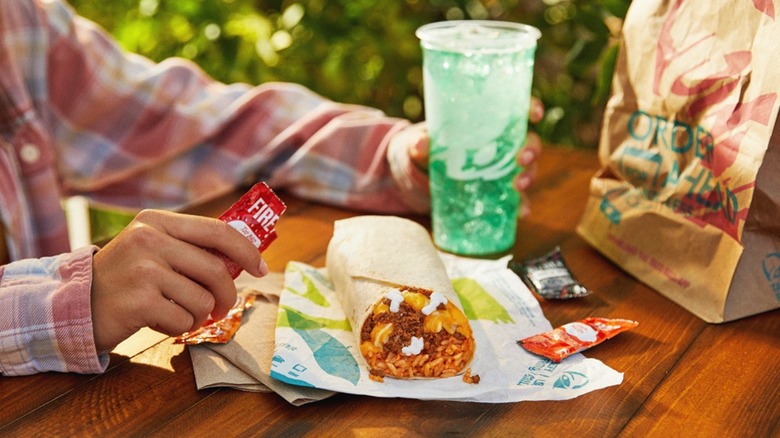 Taco Bell
While many people might be cheering the return of the Doritos Cheesy Gordita Crunch, Taco Bell has unveiled some new beefy melt burritos as part of a trial menu launch. Although Taco Bell offered a Cheesy Double Beef Burrito test earlier this year, it seems that another cheesy, beefy burrito is getting its own trial. According to a press release sent to Mashed, the new menu items are three different Beefy Melt Burritos: cheesy, crunchy, or spicy. Each new menu item is priced at just $2 each. Although there are variations of a beef burrito on the Taco Bell menu, these items offer some new ingredients. 
As reported by Chew Boom, the three limited offering menu items have some similar ingredients. All the burritos have seasoned rice, seasoned beef, nacho cheese sauce, three cheese blend, and sour cream. For the "spicy" offering, the base beefy burrito adds jalapeños and a creamy chipotle sauce. Although the combination of these ingredients is new, each component is currently on the Taco Bell menu. For the crunchy burrito, the menu item adds Queso Tortilla Strips. While the Queso Tortilla Strips are a new option, some Taco Bell fans might see a connection to the Beefy Frito Burrito, which was previously discontinued (per Eat This Not That). Many people enjoy that crunchy texture in a burrito. While the new Beefy Melt Burritos aren't available nationally, lucky residents of one state can test them out.
Where can people order the new Beefy Melt Burritos?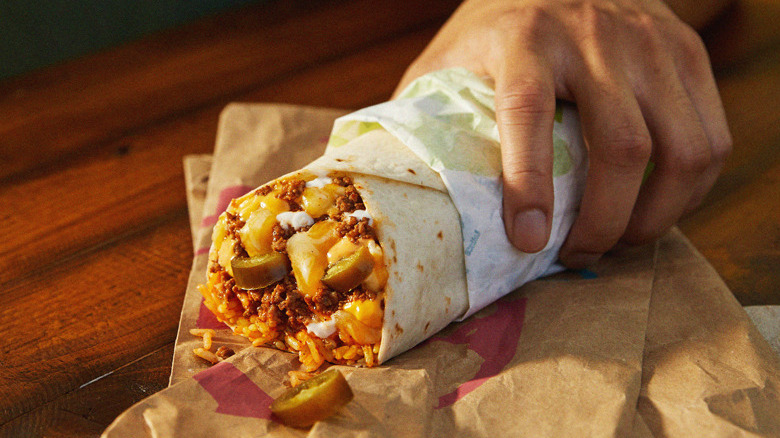 Taco Bell
When Taco Bell announces new menu items, many people long for that first taste. As excitement builds for the three new Beefy Melt Burritos, only a small group may be able to satisfy that craving. According to a press release sent to Mashed, the three new menu items are being tested in Columbus, Ohio only, for a limited time.
For guests who would prefer not to set off on a road trip, the customizable Taco Bell menu could have any guest creating a similar version at their local restaurant (via Taco Bell). Although the Queso Tortilla Strips may not be available, the other ingredients are already on the Taco Bell menu. Simply customize a beef burrito with three cheese blend, sour cream, and additional items, like jalapeños. Taco Bell has used its customizable menu via its app as a way to stand out within the quick service restaurant space. Although some people might feel that these menu customizations add to the total bill, others appreciate the ability to build their own tacos, burritos, and more. If you can't get your hands on a new Beefy Melt Burrito, you may get to order the next best thing.