Fans Are Loving Martha Stewart Day Drinking In The Bahamas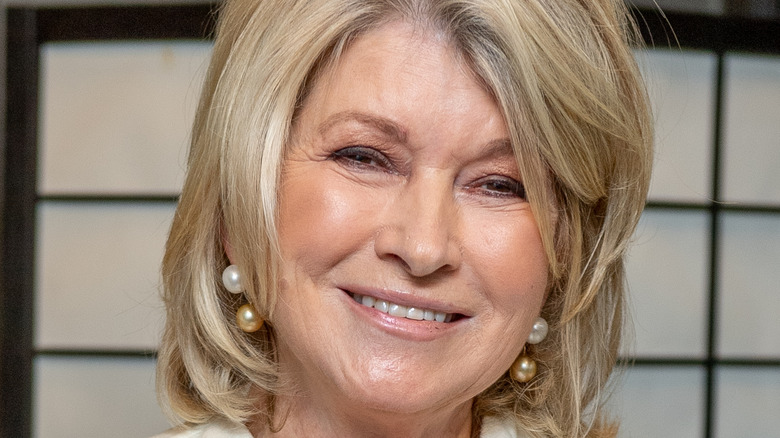 Roy Rochlin/Getty Images
Martha Stewart is no stranger to the occasional drink. While quarantining during the pandemic, she famously gave us the Martharita, and the media mogul even has her own wine label. But per a 2017 interview with The Cut, Stewart revealed she doesn't really partake of adult beverages very often. She said, "I don't drink a lot. But I love good wine." Of course, like anyone else, Stewart can be susceptible to overindulging. Back in 2020, Insider highlighted Stewart's hilarious "drunk comment" about some baby chicks. But she owned her tipsy comment. Stewart realized the alcohol might have been talking, writing, "What a mess. I have been drinking." 
But even when she does indulge, you might expect it to happen late in the day. She told The Cut that her days of drinking before dinner is on the table were long past her: "Yesterday, I tasted 12 wines ... I never drink it before dinner, ever, I couldn't function for a second if I had to drink it at lunchtime or something like that." Of course, there are always exceptions to hard fast rules, and a trip to the Bahamas is probably one of them. In fact, if you check out Stewart's Instagram page, you will see the queen of the cocktail hour selfie with her signature smolder demonstrating how to enjoy yourself before dinner, and fans are loving it.
A piña colada and a nap
If you like piña coladas and getting caught in the rain, or at the very least in a pool, you are going to love Stewart's latest picture. On her personal Instagram account, she recently posted a photo of herself wearing sunglasses in a pool, looking longingly at a piña colada in a Four Seasons Resort Bahamas cup. The picture was taken by Kevin Sharkey, the executive director of design at  Martha Stewart Living Omnimedia (according to his Instagram account), and it definitely captured a vibe. Stewart wrote, "A pina colada @fsoceanclub new pool. Posted and imbibed at 11 AM. Nap shortly thereafter!" Sounds well-deserved to us, and her fans agree.
The post has received close to more than 41,000 likes, and plenty of fans have shared words of admiration and love. Some referred to it as a "thirst trap." A different user responded with words of encouragement, writing, "You work harder than anyone I know. Enjoy the relaxation and have as many pina colada's as you want!!!" And another follower shared, "That's what happens when the weekend starts on a Thursday." Amen to that. 
Stewart has long been a fan of the piña colada and even shared a recipe back in 2017. Stewart wrote in that Instagram post, "Party like it's #NationalRumDay! Our classic piña colada blends fresh pineapple with cream of coconut and (of course) rum." Looks like Stewart's in another partying mood.