This Taco Bell Wedding Cost A Surprising Amount Of Money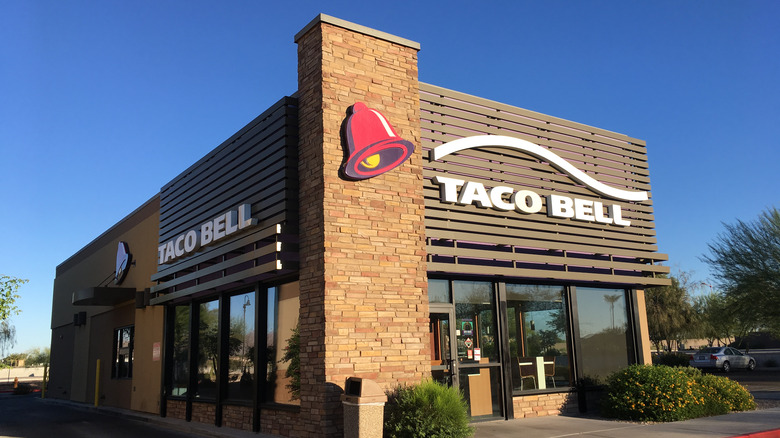 JJava Designs/Shutterstock
Imagine loving Taco Bell so much — as much as the person you're marrying even — that you choose the fast-food chain as your wedding venue! It turns out, Taco Bell is quite the sought-after venue for burrito-and-taco-loving couples to tie the knot.
Taco Bell even has an entire website called Taco Bell Wedding dedicated to weddings at its flagship Las Vegas location — that's how many people think of Taco Bell as their dream wedding venue. Per the website, you can exchange vows at Taco Bell's saucy chapel, walk down the aisle with a glorious bouquet made of Taco Bell sauces, host a reception for up to 15 at the restaurant, and give your guests Taco Bell wedding swag with "Just Married" t-shirts, champagne, and, the real winner: a Cinnabon Delights wedding cake. According to a TikTok video, packages start from $600, going up to $2,100 with booze. You might even want to give copies of this Taco Bell literary journal as favors.
If you want a Taco Bell wedding, Taco Bell Las Vegas will pull out all the stops to turn their cantina into your dream venue. A young couple from California, however, ditched the classic Las Vegas venue for a much prettier Taco Bell spot. Deemed by Thrillist as "the greatest Taco Bell in the world," the couple married at Taco Bell's Pacifica, California, location, which overlooks the water, and, unsurprisingly, shelled out quite a bit of cash for the opportunity (via Insider).
One couple chose the Pacifica, California, Taco Bell for its scenic location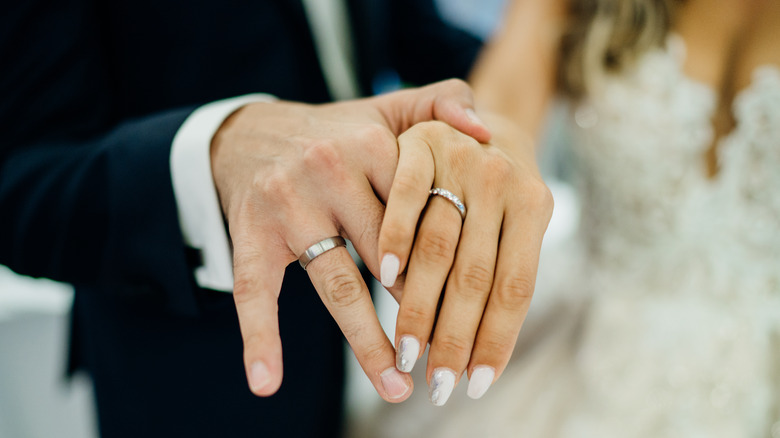 eldar nurkovic/Shutterstock
Insider reports that Analicia Garcia and Kyle Howser hosted their wedding reception at the Taco Bell in Pacifica, California, for $4,000. The couple booked a patio facing the sea for four hours, and guests could order any food and non-alcoholic drinks from the menu — as much as they wanted — for the price. That means unlimited Beefy Melt Burritos and hard tacos!
But that's not all: The Taco Bell staff went the extra mile to throw in a few surprises for the newlyweds. Up until the Garcia-Howser wedding, the Taco Bell in Pacifica had never been open for wedding bookings. It's only when the two charmed the district manager with stories of how the two fell in love over their $5 taco box date nights during college that the manager made an exception (via SFGate).
Considering this was Taco Bell Pacifica's very first wedding, the staff went on to decorate the entire venue themselves for the wedding reception. They even made custom Taco Bell bride and groom caps for the couple as well as a heart-shaped cake — made entirely out of Taco Bell sauce packets, of course. While it's unclear whether Taco Bell Pacifica or any other franchise, for that matter, is open to weddings, one thing is for sure: Even Taco Bell managers can be wooed with a classic love story.