15-Minute Rice Pudding Recipe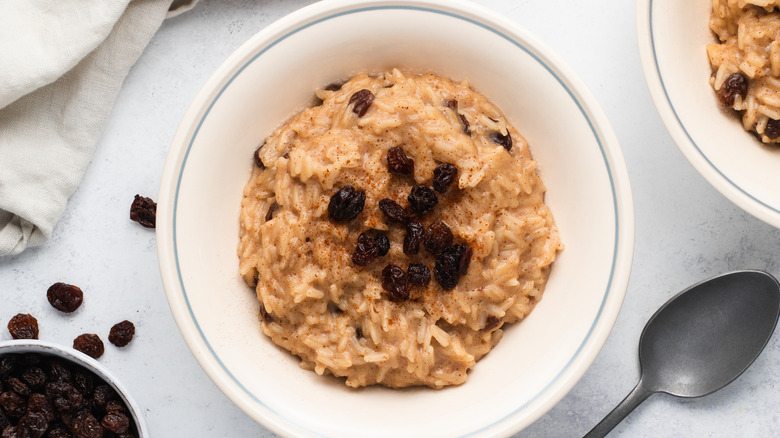 Catherine Brookes/Mashed
Rice pudding is a simple and tasty dish, and countries all over the world have their own spin on it. For the most part, you serve rice pudding with the main ingredient of rice (of course!), milk, and then cinnamon and sugar to add a little bit of sweetness. Unlike many other rice dishes out there, rice pudding is unique because it's more of a breakfast or a sweet dessert rather than a dinner staple. If you have tried rice pudding before, then you know how good it is — and if you haven't, it's a must-try dessert!
Recipe developer Catherine Brookes of Blue Sky Eating came up with this simple yet flavorful 15-minute rice pudding recipe that you can whip up in no time. "I love the flavors in this rice pudding. It's sweet and creamy with a hint of spice," Brookes says. "And even better it only takes 15 minutes to make!" This recipe also provides a useful way to use up leftover rice — so let's get right into it.
Gather the ingredients to make 15-minute rice pudding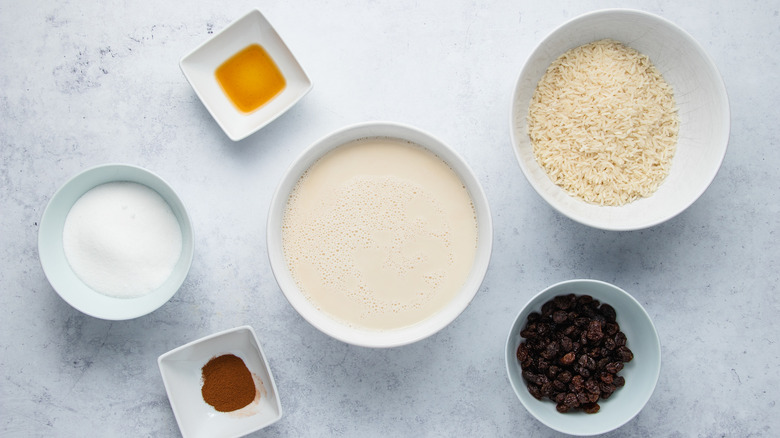 Catherine Brookes/Mashed
Once you are ready to make the rice pudding, that means a trip to the store is in order. Be sure to check your cupboards first for items you may have at home already. Then, put together a shopping list. For starters, you will need a cup of jasmine rice. Next, grab either milk or non-dairy substitute — Brookes says that she used almond milk for this recipe. You will also need cinnamon and sugar. Then, grab some raisins for the actual dish and extra for topping (which is entirely optional, by the way). Lastly, pick up some vanilla extract. This recipe takes just a few ingredients and is super affordable, which we love! 
Add the ingredients to a saucepan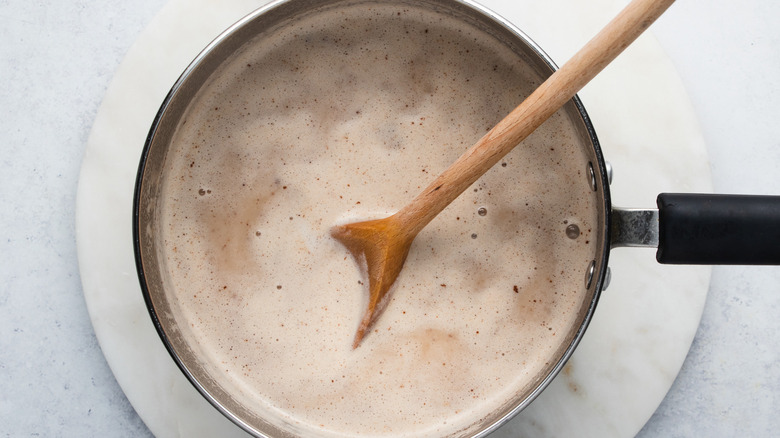 Catherine Brookes/Mashed
Okay, so you finished the grocery shopping and now you should have set all of the items out on the counter in front of you. That's a great start, but in this step, we're ready to get down to the nitty-gritty: the cooking! Get things started by grabbing a saucepan. In it, you will need to add just a few ingredients, including the jasmine rice and whichever milk you opt to use. Then, sprinkle in the cinnamon and sugar. Last but not least, throw in the raisins. Using a spoon, stir the mixture to combine.
Cook the pudding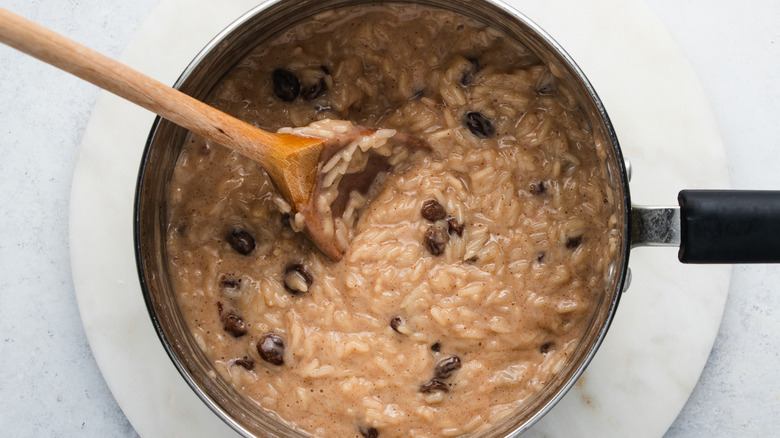 Catherine Brookes/Mashed
Once you have all of the ingredients loaded in the saucepan, you can walk over to your stove. Place the saucepan on top of the burner and crank up the heat to high. Continue cooking the rice pudding on high heat until you see bubbles reach the surface, as that means it's boiling. Once the liquid starts to boil, reduce the heat to medium and let it simmer. Set your timer for 13 minutes, and be sure to stir frequently. Towards the end, the rice should be tender and creamy, which is a good indicator that it's done cooking. 
Add the vanilla extract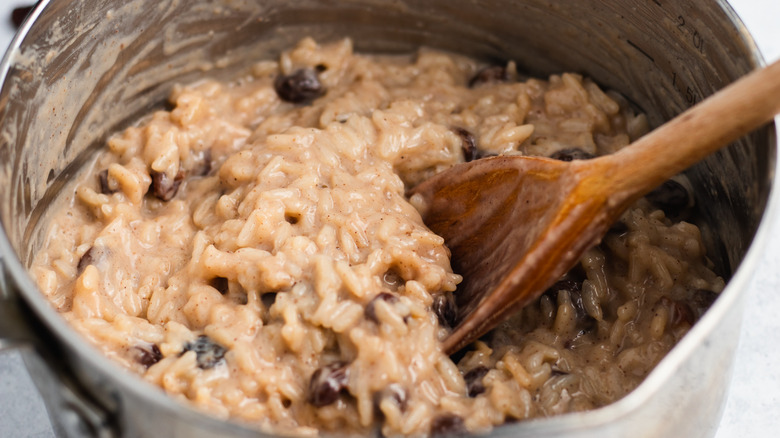 Catherine Brookes/Mashed
Now that you have finished cooking the rice pudding, you can take it off of the heat. Use caution during this step as the pan will be very hot right when it comes off of the heat. The last thing you will need to add in vanilla extract. Go ahead and drizzle it in and then stir the rice mixture to combine. "The vanilla is added last because it contains alcohol which can burn off too quickly if added early, taking away some of the flavor with it," Brookes explains.
Serve your rice pudding and enjoy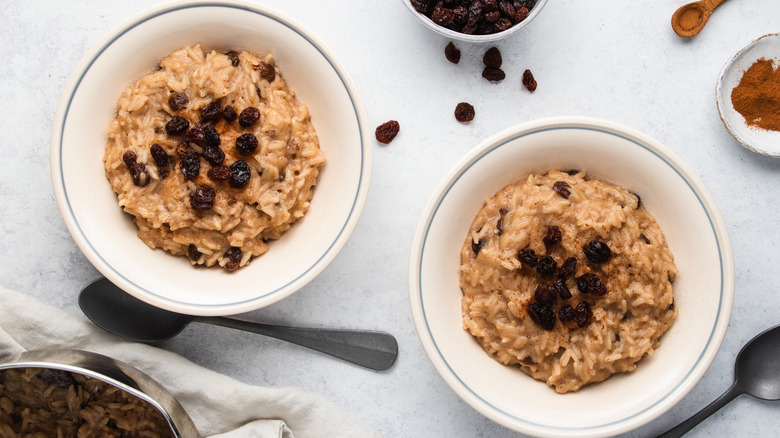 Catherine Brookes/Mashed
This rice pudding is best eaten immediately. The warmer, the better, in our opinion! Feel free to serve it in a bowl or a dish of your choosing. It's also great if you want to add a few extra raisins or another sprinkle of cinnamon. "Raisins are a great source of fiber, vitamin C, iron, calcium and antioxidants," Brookes says. "Cinnamon has anti-inflammatory and antimicrobial properties and has also been shown to lower cholesterol." If you want to add anything else, that's great! "It's amazing served with some fresh berries and a drizzle of honey," Brookes raves. 
Leftovers won't keep long, so be sure to enjoy this dish soon. Brookes says that the pudding will last "up to 24 hours in the fridge," and notes that you may have to add a little more milk to help it reheat. We hope you enjoy this simple, quick, and delicious 15-minute rice pudding recipe!
15-Minute Rice Pudding Recipe
It's never been easier to whip up a sweet dessert thanks to recipe developer Catherine Brookes' simple and delicious 15-minute rice pudding recipe.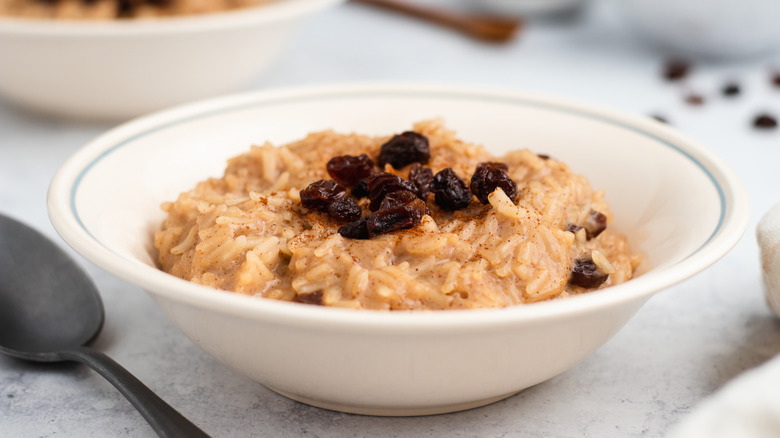 Ingredients
1 cup jasmine rice
3 cups milk or non-dairy milk
½ teaspoon cinnamon
⅓ cup sugar
⅓ cup raisins
½ teaspoon vanilla extract
Optional Ingredients
cinnamon for garnish
raisins for garnish
Directions
Add the rice, milk, cinnamon, sugar and raisins to a large saucepan and stir together.
Heat on a high setting until boiling, then reduce to a medium simmer. Cook for 13 minutes, stirring frequently until the rice is tender and creamy.
Remove from the heat and stir in the vanilla extract.
Serve the pudding warm and sprinkle with extra raisins and cinnamon, if desired.
Nutrition
| | |
| --- | --- |
| Calories per Serving | 740 |
| Total Fat | 7.1 g |
| Saturated Fat | 0.9 g |
| Trans Fat | 0.0 g |
| Cholesterol | 0.0 mg |
| | |
| --- | --- |
| Total Carbohydrates | 150.0 g |
| Dietary Fiber | 4.6 g |
| Total Sugars | 62.4 g |
| Sodium | 193.7 mg |
| Protein | 19.3 g |