Cinnamon Sugar Pumpkin Seeds Recipe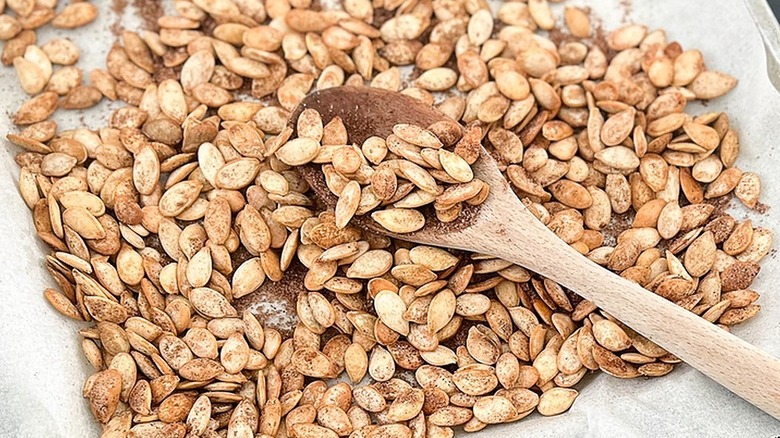 Erin Johnson/Mashed
If pumpkins could talk, they'd have a lot to boast about. It seems that pumpkins were destined to become a go-to for everything fall-themed — like a classic pumpin pie or a pumpkin-spiced cheesecake — or something whimsical, like a Jack-O-lantern. The part of the story that tends to get glossed over, however, is that all of this pumpkin creativity adds up to quite a lot of pumpkin seeds never getting to fulfill their life's purpose. This purpose, of course, is to ensure the propagation of the next generation of pumpkins. The seeds don't have to go to waste, however, and you also don't have to use them up by planting your own pumpkin patch. Instead, recipe developer Erin Johnson has the perfect solution to using all of those leftover pumpkin seeds — eat them!
"I like to make these so that the pumpkin seeds from carving pumpkins don't go to waste," Johnson explains of her cinnamon sugar pumpkin seeds recipe. Moreover, as she points out, their sweet crunch is the "perfect addition" to autumn-themed salads. Of course, these sweet little seeds are a perfect snack all on their own, and best of all, they're super easy to make.
Gather your ingredients to make cinnamon sugar pumpkin seeds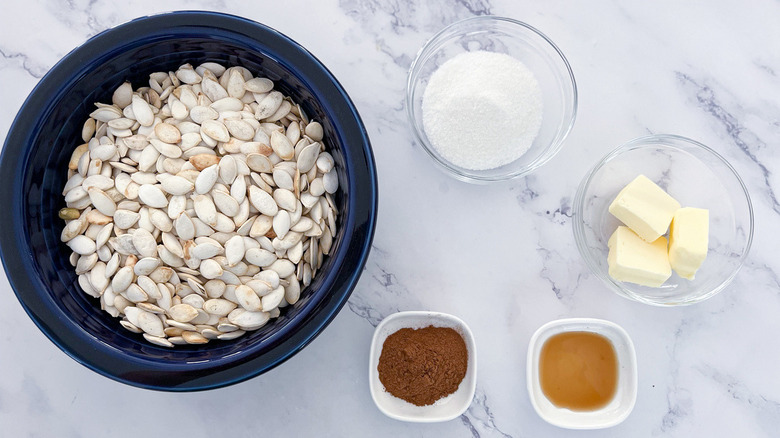 Erin Johnson/Mashed
To make Johnson's recipe for cinnamon sugar pumpkin seeds, you'll naturally need to start by having plenty of thoroughly dried pumpkin seeds. You can find them pre-dried and ready to use for this recipe in grocery and health food stores. You'll also need some butter, vanilla, sugar, and cinnamon to round out this recipe. And that's it! As you can tell by this list of ingredients, this is an easy recipe to whip together, and many of the ingredients are likely already sitting in your pantry.
How to dry out your pumpkin seeds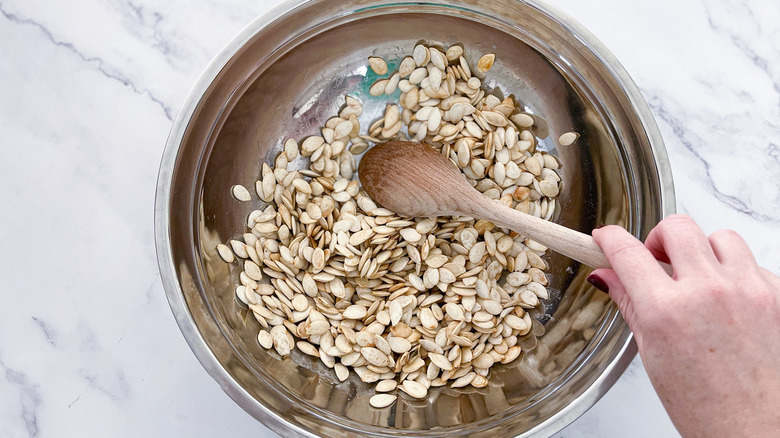 Erin Johnson/Mashed
Because this recipe calls for thoroughly dried pumpkin seeds, you may be wondering how you can accomplish this with fresh seeds from a pumpkin. Luckily, it's easy to dry out pumpkin seeds, it just takes a little bit of time. According to Johnson, you can simply spread out your seeds across a baking sheet and then pop them in a 200 F oven. Bake them for three to four hours, and be sure to stir often. Once they're done, the seeds will be thoroughly dried and ready for a cinnamon sugar treatment!
Stir together the pumpkin seeds, butter, sugar, and cinnamon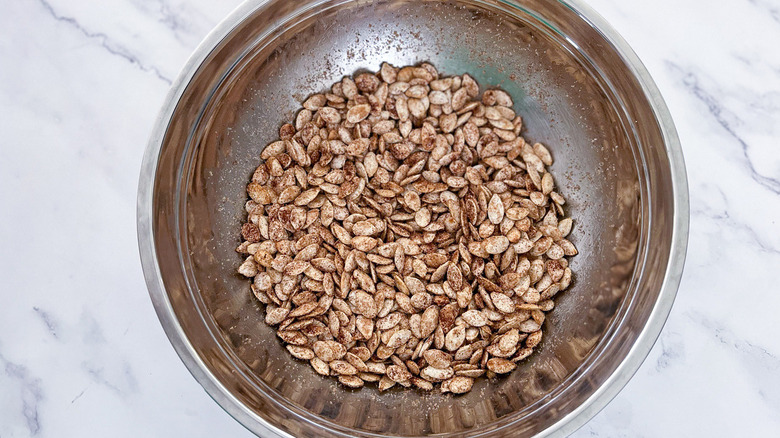 Erin Johnson/Mashed
Now that you have some dried pumpkin seeds ready to go, it's time to give them some flavor. Preheat your oven to 350 F and melt the butter in the microwave in 30-second increments. In a bowl large enough to accommodate three cups of pumpkin seeds, stir together the seeds, the melted butter, and the vanilla, making sure all of the seeds are coated thoroughly. This will help the cinnamon and sugar to adhere to the seeds. Then add in the sugar and the cinnamon, and stir to coat all of the seeds thoroughly once again. 
Pop your seasoned pumpkin seeds in the oven and set your timer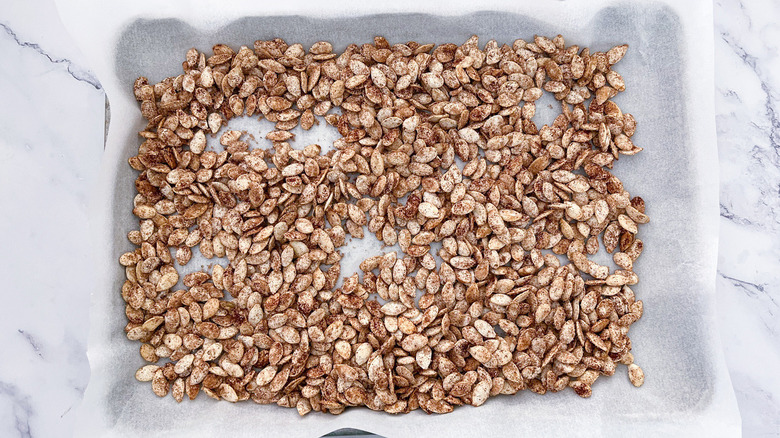 Erin Johnson/Mashed
Now, all that is left to do is to bake the sweet cinnamon and vanilla flavor into the pumpkin seeds. Line a sheet pan or baking sheet with parchment paper, and pour the seasoned pumpkin seeds on top. Hopefully, your oven has preheated by now. If so, pop the baking pan into the oven and set a timer for five minutes. At the end of five minutes, stir the seeds around so that they can toast evenly. Then set the timer for another five minutes. Repeat until the seeds have been baking for 25 minutes — at which point the seed should "appear dry and no longer stick to each other," Johnson advises. 
Allow the cinnamon sugar pumpkin seeds to cool before serving. A sprinkle of sea salt on top makes a nice contrast, if you like that sort of thing. Your cinnamon sugar pumpkin seeds can be stored in an airtight container for up to two months. These cinnamon sugar pumpkin seeds are a tasty snack on their own, and Johnson also notes that they make a good food gift for the holidays.
Cinnamon Sugar Pumpkin Seeds Recipe
Make good use of your leftover pumpkin seeds with this cinnamon sugar pumpkin seed recipe.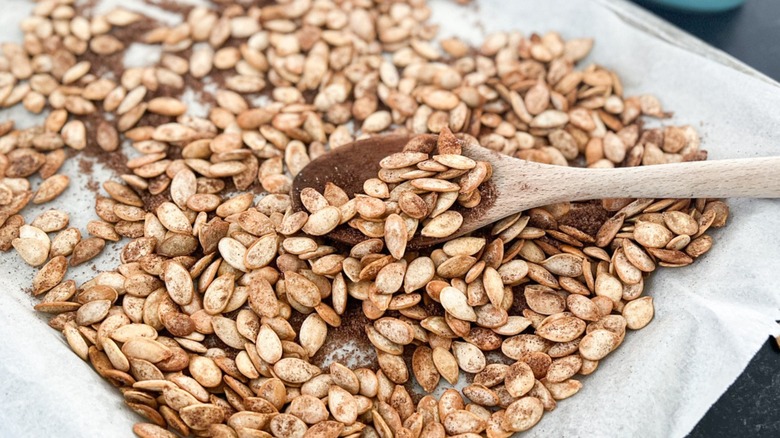 Ingredients
4 tablespoons butter
3 cups pumpkin seeds, thoroughly dried
½ teaspoon vanilla
3 tablespoons sugar
2 teaspoons cinnamon
Directions
Preheat oven to 350 F.
Melt butter in the microwave in 30 second increments until it is completely melted.
Combine the seeds, butter, and vanilla in a large bowl. Stir until the seeds are all coated in the butter.
Add the sugar and cinnamon. Stir until all the seeds are coated in the sugar and cinnamon.
Pour the seeds onto a large, parchment-lined baking sheet.
Bake for approximately 25 minutes or until the seeds are dry, stirring every 5 minutes.
Allow the seeds cool before serving.
Store in an airtight container for up to 2 months.
Nutrition
| | |
| --- | --- |
| Calories per Serving | 273 |
| Total Fat | 23.6 g |
| Saturated Fat | 6.3 g |
| Trans Fat | 0.2 g |
| Cholesterol | 12.2 mg |
| | |
| --- | --- |
| Total Carbohydrates | 8.3 g |
| Dietary Fiber | 2.6 g |
| Total Sugars | 4.3 g |
| Sodium | 3.4 mg |
| Protein | 11.8 g |