These 3 Treats Are Returning For Hostess' 2021 Holiday Lineup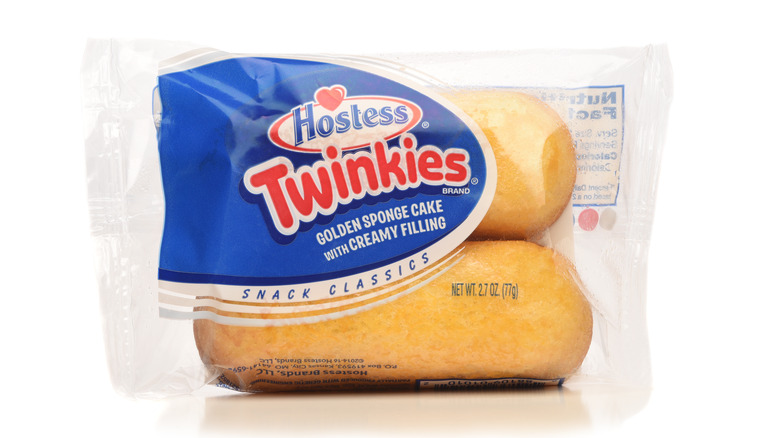 Steve Cukrov/Shutterstock
Hostess, the maker of nostalgic bite-sized treats like Twinkies, Ding Dongs, Sno Balls, and of course, cream-filled Hostess Cupcakes, has produced a wide lineup of sweet treats over the years, from longtime favorites to limited-edition seasonal treats, like the fall favorite Pumpkin Pie Twinkies and summery Strawberry-flavored cupcakes.
This holiday season, the iconic snack brand is bringing back three of its latest seasonal creations for a limited-time, in an aim to add a little extra joy to the jolliest time of the year. According to Brand Eating, Hostess will be reviving a trio of festive holiday offerings, which all made their original debut in the last couple of years.
"As consumers break out their ugly sweaters and festive decorations, more and more they are also reaching for the Hostess holiday-themed snacks that are quickly becoming a staple of 'the happiest season of all,'" Christopher Balach, director of all-day snacking at Hostess Brands, said of the holiday launch (via Food Business News). "We hope to sprinkle in a little holiday cheer with this tempting lineup of seasonal classics." Here's what's coming to store shelves soon.
Hostess' holiday treats include festive twists on old classics
Hostess' limited-time offerings will include four previous holiday favorites, which will be hitting shelves soon for a limited-time only this year, says Brand Eating. The special-edition winter white Holiday SnoBalls — which feature a creme-filled chocolate cake coated in marshmallow and coconut — will be making their return this year, in addition to some newer offerings.
Mint Chocolate Twinkies, which debuted during the 2019 holiday season, will also be returning to shelves for the holiday season. These specialty treats feature a creamy mint filling encased in a chocolate sponge cake shell and come individually wrapped in boxes of 10 for convenient holiday snacking — and stocking stuffer gifts!
Also included in the holiday lineup are Hostess Holiday Cupcakes, which take the brand's classic yellow cake cupcakes and add a green frosting squiggle and festive red and green sprinkles on top, as well as Hot Cocoa and Marshmallow Donettes, a cocoa-flavored version of the company's mini-donuts in a 10-ounce bag. Fans of Hostess' limited-time offerings should act fast; these festive treats will only be available in stores through December 25, according to Brand Eating.