Hostess Is Bringing Back These Donettes Flavors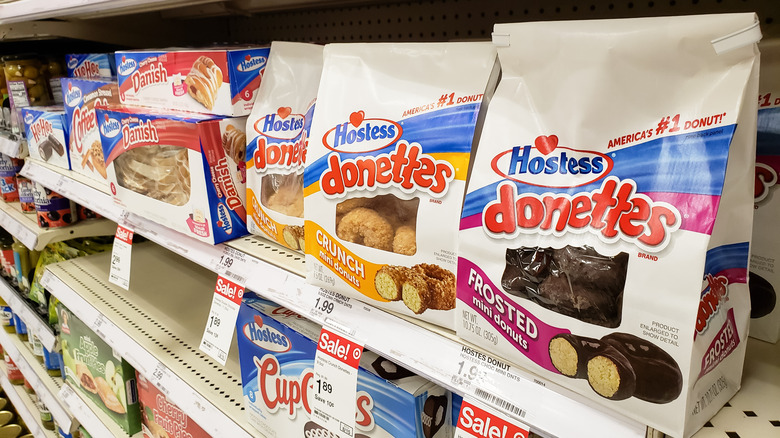 TonelsonProductions/Shutterstock
For many, Hostess Donettes are a sweet treat that takes them straight back to childhood. Sure, they're not made with artisanal ingredients or particularly revolutionary flavor combinations, but sometimes, simplicity and nostalgia is all you need in a snack. The classic variations of this Hostess staple — the powdered Donettes covered in white sugar dust, the chocolate (and chocolate frosted) flavor, and the glazed variety — are available year-round (via Hostess). However, fans who want even more options to choose from are in luck, as a few limited-edition variations are returning for just a short window of time, according to Brand Eating.
The first are the Strawberry Cheesecake Donettes. These are strawberry cheesecake-flavored mini donuts with a vibrant pink hue, covered in a layer of white icing. Another flavor returning is the Caramel Chocolate Donettes, an upgrade for any chocolate lover. Chocolate-flavored mini donuts get enrobed in a layer of decadent caramel icing. Both flavors are only available until September 12. So, if you're interested, you'll want to make sure you get your hands on some sooner rather than later.
There's a third new flavor to find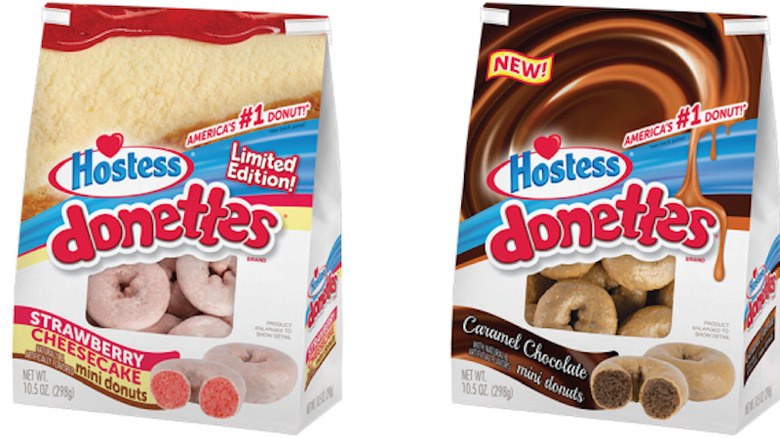 Hostess
The Strawberry Cheesecake Donettes first debuted last year, as part of a campaign that ran in the summer of 2020, tantalizing fans and encouraging them to guess what the new flavor would be (via Simple Most). The Impulsive Buy reviewed the sweet treat when it first hit shelves and rated them a 5 out of 10, finding the flavor decent and pleasantly fruity but noting the texture was inconsistent and a little dry at times. The YouTube channel The Stupid Food Review Show reviewed the Caramel Chocolate variety when it was initially released in 2020 as well. After sampling the mini donuts, the reviewer said "I'm not saying it's unpleasant, but it's just kind of like a sweet chocolate-y donut," adding that the caramel flavors weren't coming through very strongly. If you're a fan of those particular flavor combinations, you may just want to sample them for yourself to see how you like them.
For fans always seeking new flavors, there's also a third limited availability flavor listed on the Hostess website: the Caramel Crunch Donette. It resembles the classic Crunch Donette, but with a "warm, coconut crunch" layer on the outside.​​ That one is sticking around until November 25, so you have a little more time to find a package.