60% Agree This Brand Has The Best Canned Cranberry Sauce For Thanksgiving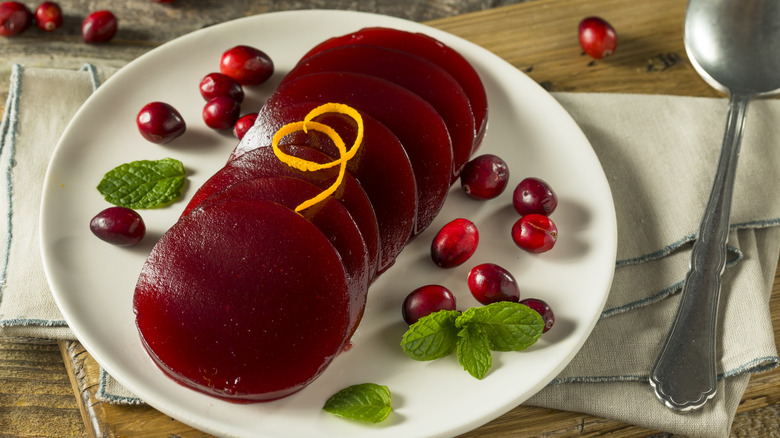 Brent Hofacker/Shutterstock
Whether you're a canned cranberry sauce die-hard or are firmly on team fresh cranberry sauce, chances are you're in the minority when it comes to your appreciation for this festive red topping. The tart condiment has long been maligned by many as the least important side in a holiday spread — including by Mashed, which placed the dish dead last in a ranking of Thanksgiving sides. "Top Chef" host Padma Lakshmi also hates the jellied stuff so much that she has long banned canned cranberry sauce from her Thanksgiving table.
Given its already controversial existence, cranberry sauce tends to inspire passionate opinions among those who do actually love the cylindrically shaped food. Fans of the tart side typically have a go-to brand for their holiday feasting as well, from unfussy sliceable iterations complete with tin can indentions to more elevated jarred preparations.
To get to the bottom of this fruity debate, Mashed polled 607 U.S.-based respondents to assess their favorite brand of canned cranberry sauce for Thanksgiving, choosing between six options.
The leader of cranberry products has the best sauce, according to the poll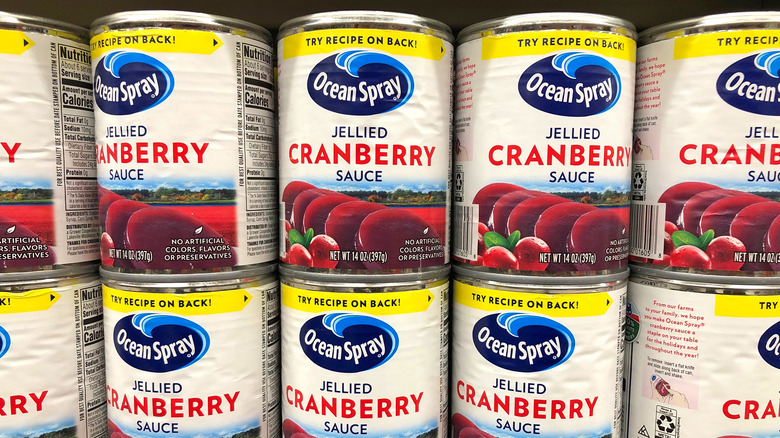 Sheila Fitzgerald/Shutterstock
Coming in dead last in the poll, with just 1.98% of votes, making it the least favored canned cranberry sauce, is Woodstock Foods, an organic brand that offers both jellied and whole cranberry sauces.
Market Pantry, one of Target's in-house grocery brands, received the second least amount of votes with 6.59% of the total. It was followed closely by high-end culinary retailer Williams-Sonoma — which offers jarred versions of jellied cranberry sauce, in addition to a chunky New England-style cranberry relish; they received 6.75% of the votes.
Falling in the middle of the pack with 7.91% of the total is 365 Everyday Value, Whole Foods' line of affordably-priced groceries. And pulling in the second most votes for best canned cranberry sauce with 17.13% of the total is Trader Joe's, which offers a jarred jellied version of the tart condiment.
Leading the pack with a whopping 59.64% of the total vote, making it the most favored option, is cranberry kingpin Ocean Spray, which offers both jellied and whole berry cranberry sauces. While it's unlikely that even the most popular of canned cranberry sauces can win over everyone at the Thanksgiving table, this beloved brand just might be your best bet.