Target's New Grocery Brand: What You Need To Know About Good & Gather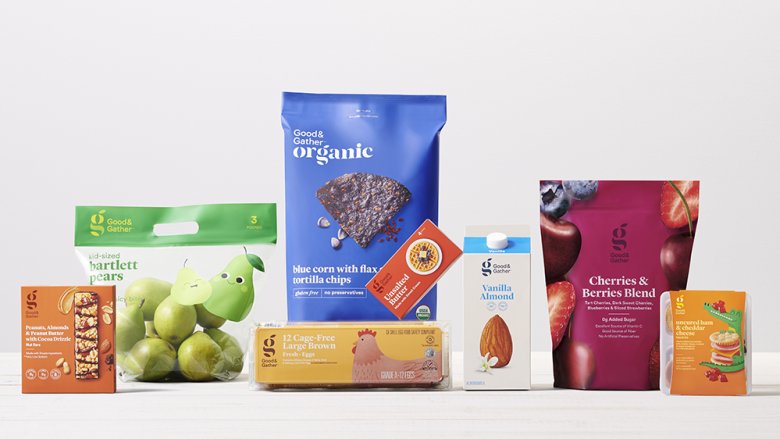 Target is well-known for being the store you go to with just a few items on your list — and exit an hour later with a cart full of glorious finds and no idea how you just spent several hundred dollars. For Target fans who like to eat, there's yet another reason to fork over your cash, as they've just announced the launch of a completely new food and beverage brand, Good & Gather. 
Target already has a few of its own food and beverage brands that you might be familiar with (Archer Farms, Simply Balanced, and Market Pantry), but the company still isn't necessarily known for being a "one-stop shop," as Walmart has evolved into. Target has plans to eventually phase the first two of their foodie brands out, bringing those products under the new label, and will reduce the number of Market Pantry products. 
Customers will be able to spy some of the new brand's products in stores and online September 15, 2019. The first 650 products will include bagged salads, granola, sparkling water, cheese, deli fresh entrees and sides, fresh veggies, chips, and nutrition bars (via USA Today). By the end of 2020, there will be well over 2,000 Good & Gather products across many delicious categories, with 1,000 more items landing in stores next spring, and another by the time the calendar turns over to 2021. New products will include trendy items, such as avocado toast salad kits and beet hummus, but the brand will still offer staples such as milk, eggs, and cheese. 
"Our guests are incredibly busy and want great-tasting food they can feel good about feeding their families," says Stephanie Lundquist, executive vice president and president, Food & Beverage, Target. "We saw this as a huge opportunity for Target to help. So our team got to work on our most ambitious food undertaking yet, reimagining our owned food brands to serve up convenient, affordable options that don't cut corners on quality or taste. Good & Gather is our way of helping even the most time-strapped families discover the everyday joy of food."
Nearly 75 percent of customers who shop at Target add at least one food item to their shopping carts, so expanding existing product lines and adding new, fresh, and interesting items was a natural step for the company. And they've got high hopes for Good & Gather, expecting it to be a multibillion-dollar brand by the end of 2020 (via CNBC).
One of the goals of the new brand is to offer products with high-quality ingredients that are made without artificial flavors and sweeteners, synthetic colors, and high fructose corn syrup. They all have a money-back guarantee, and there will be an extension to existing lines, including new kids, organic, seasonal, and signature items.