Fans Are Loving These Andrew Zimmern M&M's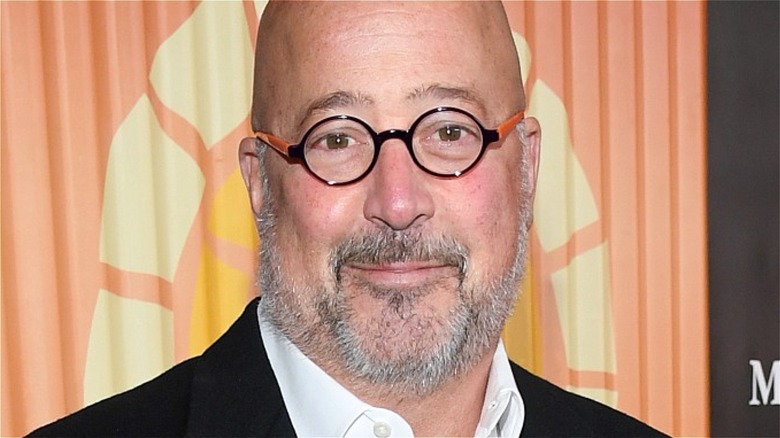 Kevin Mazur/Getty
Favorite candies can usually tell a lot about a person — take the case of Andrew Zimmern whose love of M&M's is well-known and appreciated. While the TV personality has previously touted his fondness of unusual flavors like coffee nut M&M's, this holiday season his emphasis appears to be on the look, rather than the flavor in the candy bowl. In a recent Twitter post, Zimmern shared his own batch of personalized M&M's, commenting "how cool" this feature is. 
For his design, Zimmern chose blue, white, and cream M&M's, some that are decorated with the phrase "family dinner" and some others that are printed with Zimmern's face. It is unclear if these sweet treats are part of an upcoming holiday dinner, an invitation to feast, or just because he wanted to do it. But either way, people are loving it.
Several fans commented on Zimmern's design with nothing but praise. "You can put your face on those things? Hahaha nice!" one person said, while another added, "It's the latest in Zimmernisms! I love it!" One follower even said, "I would love to buy these!" 
Whether or not these personalized candies are in fact a new Zimmernism, a holiday gift, or just the celebrated chef sharing something that he loves, it's good to know these personalized M&M's aren't just for the rich and famous. Everyone can get in on the fun.
Here's how to make personalized M&M's like Andrew Zimmern
While Andrew Zimmern thinks that personalized M&M's are great, the special candies aren't just limited to chefs with their own television series. Anyone can visit the brand's official store to create these one-of-a-kind candies. According to the M&M's website, the "design your own" feature has more than 20 colors to choose from, but some colors cannot be personalized with messages or photos. Each order allows up to three different candy hues.
Depending on the color choices, the M&M's can have a message, clip art, or even a personalized photo. A total of four designs and/or messages can be used in one order — there is a character limit for the messages as well. And a great rule of thumb may be, if grandma wouldn't appreciate the sentiment, it might deserve a little edit.
It appears that there are many ways for the personalized M&M's to be ordered. From a single package to sets of candies, the cost varies depending on your preference. Based on reviews, many people are quite happy with the personalized options. From wedding gifts to birthdays, it seems that red and yellow aren't the only infamous M&M's candies that can be served to guests. Now you can create your own mix!