24% Said This Was Their Least Favorite Side Dish To Make For Thanksgiving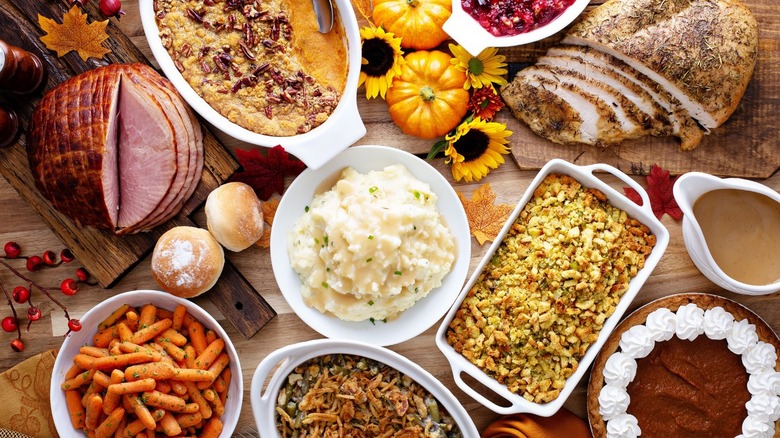 Elena Veselova/Shutterstock
While many people are in the mood to talk turkey, the Thanksgiving table is often overflowing with other food items. Although many love discussing their favorite foods, the controversy over the least favorite side dish might be more heated than a conversation with spirited Cousin Eddie. Still, deciding what holiday foods to put on the table and which ones to leave off could entice a few hosts to just place a to-go order from a restaurant, especially since people's preferences change year after year, making it all the more difficult to plan the big meal.
When it comes to favorite Thanksgiving foods, there is also a mix. Fox News recently spoke to analysis site Zippia.com regarding its recent findings for preferred side dishes for the holiday. Zippia.com Marketing Manager Kathy Morris told Fox News mashed potatoes topped the list for the second year in a row. While bread was a close second, green vegetables are far removed from the top choices. 
From most searched recipes to even just that hint of a flavorful memory from grandma's kitchen, there is no mistaking that food and the holidays are forever intertwined. But, a new Mashed survey reveals which side dish most hosts hate preparing for Thanksgiving — and it's not all too shocking.
People aren't grateful for having to make Brussels sprouts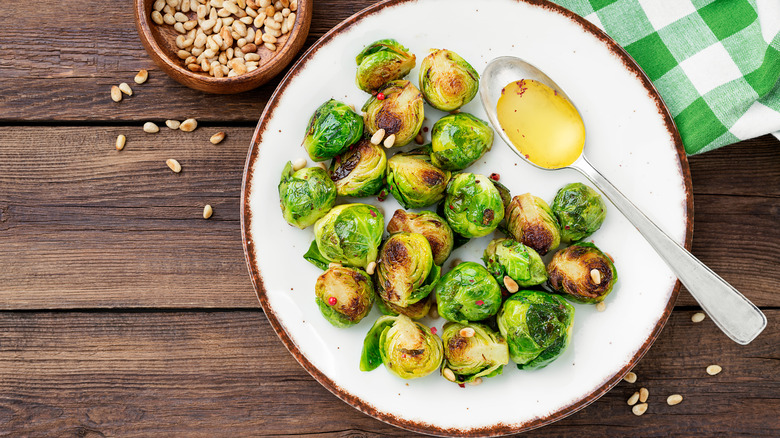 nelea33/Shutterstock
Food debates can create very spirited conversations. And even though the Thanksgiving table is said to be filled with gratitude, running out of the best Thanksgiving side dishes and leaving only the least favorite items could have some guests wishing they had gone to Cracker Barrel for Thanksgiving dinner instead. According to Instacart, a recent survey they conducted said that candied yams do not bring sweet feelings to the holiday table (per Fox Business) — but a Mashed survey found a different dish that most hosts hate preparing.
Mashed surveyed 602 U.S-based readers, and 24.25% said that Brussels sprouts were their least favorite side dish to make for Thanksgiving. It appears that cruciferous vegetable can't even get a thumbs up from the Grinch during the holidays. The survey findings squarely put Brussels sprouts on the naughty list, but there were some other least favorite side dishes to make, like cranberry sauce (taking in 18.11% of the vote), green bean casserole (17.28%), and yams (15.12%) rounding out the top picks. Though, faring better were of course mac and cheese (9.97%), stuffing (9.14%), and mashed potatoes (6.15%). 
Based on these findings, guests might feel grateful if Brussels sprouts were left off the menu, even if they are slathered in butter and cooked with bacon.