What Marcus Samuelsson Makes With His Thanksgiving Leftovers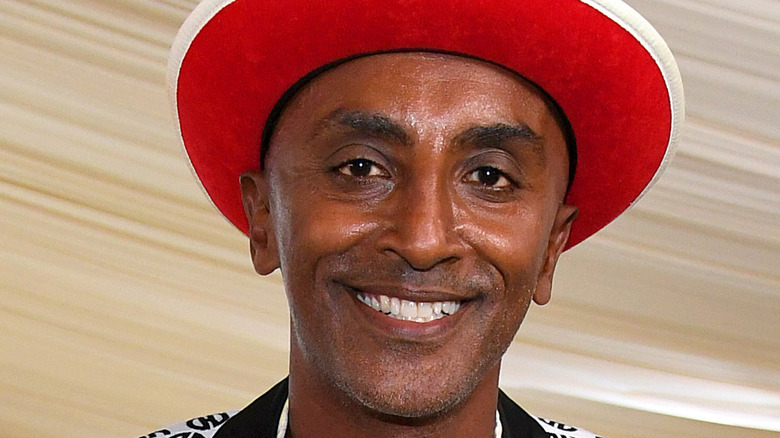 Kevin Mazur/mg21/Getty Images
Most people have one holiday that they look forward to just a little bit more than the others, and for many food lovers, that holiday is Thanksgiving. Not only does the November holiday bring with it a full day of eating, but for those with an affinity for cooking, Turkey Day is also a time to try out some great recipes in the kitchen, like Marcus Samuelsson's caramelized Brussel sprouts. The chef recently detailed his go-to Thanksgiving veggie dish on an episode of Al Roker's "Cooking Up A Storm" podcast, during which he noted that the vegan-friendly recipe incorporated berbere, a spice mix from Samuelsson's native Ethiopia that he said was "like currency" in the country (via Today).
Another reason foodies love Thanksgiving so much? All of those delicious leftovers that sit around just begging for someone to get creative with them in the days (or hours) after the main event. Layering them up to create the ultimate Thanksgiving leftover sandwich is one of the best ways to start clearing out the Tupperware containers littering your fridge – which, by the way, the USDA suggests you should try and empty out completely within four days. However, even turkey sammies can get tiring after a while. If you're looking to whip up something a little different, chef Samuelsson has you covered once again with a unique recipe for his Thanksgiving leftovers that sounds so delicious, you might want to roast a turkey more than once a year.
Marcus Samuelsson transforms Thanksgiving leftovers into turkey ramen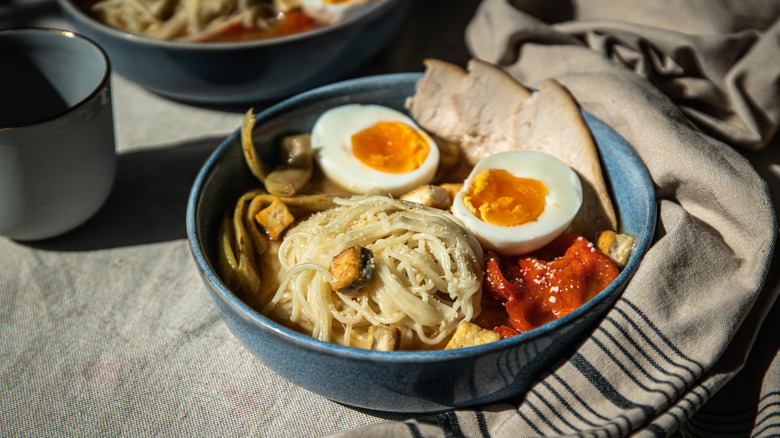 Sofiia Popovych/Shutterstock
As far as Thanksgiving leftovers go, it's hard to beat a delicious sandwich. Even Marcus Samuelsson supports chowing down on one on the Friday after turkey day to fuel up for your shopping adventures, but after that, the chef has another dish in mind. The restaurateur explained during a recent appearance on Al Roker's "Cooking Up A Storm" podcast that he spends the Saturday after Thanksgiving removing all of the remaining meat from his bird to make a broth. "I just put the bones in, some onions, shallots, rosemary, even put some miso in, let that simmer," he said on the episode, according to Today. Samuelsson then strains his turkey broth and adds in some leftover veggies from his Thanksgiving meal.
At this point, it probably sounds like the Food Network star uses his leftovers in another traditional manner and makes a batch of turkey soup. However, that is not the case. The chef explained that he then heats up "some really good ramen" to transform the savory liquid into what he claims will be the "most delicious turkey ramen dish you've ever had." Not a fan of ramen, or have even more leftovers to use up? No problem! Samuelsson also has a recipe for Leftover Thanksgiving Hash on his website that will not only use up some of that extra turkey but those leftover Brussel sprouts as well. Yum!