The Best Way To Use Leftover Thanksgiving Turkey According To 52% Of People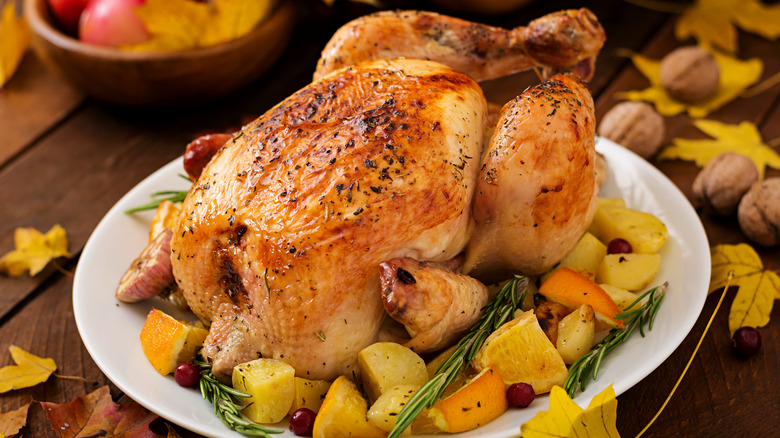 Timolina/Shutterstock
While some people spend all of November dreaming of the Thanksgiving dinner they're going to indulge in come Turkey Day, others await the days after the holiday — meaning, they're more excited about all the leftovers. In fact, a SWNS survey reports that nearly 70% of Americans think that Thanksgiving leftovers are better than the holiday meal itself. Whether it's turkey, mashed potatoes, stuffing, or pumpkin pie, many people happily find themselves eating what's left from the big feast for days after the event. 
But, not all leftovers are created equal. As for which of the Thanksgiving dishes make for the best post-holiday meals, the same SWNS survey found that 62% of people think turkey is the most versatile and most worthy. There are endless options of ways to repurpose your leftover turkey as well, from sandwiches to casseroles and more. To find out the best way, Mashed polled 602 people across the U.S. on their favorite use for leftover Thanksgiving turkey. Here's what over half of the respondents say they prefer the most.
The consensus is turning Thanksgiving leftovers into turkey sandwiches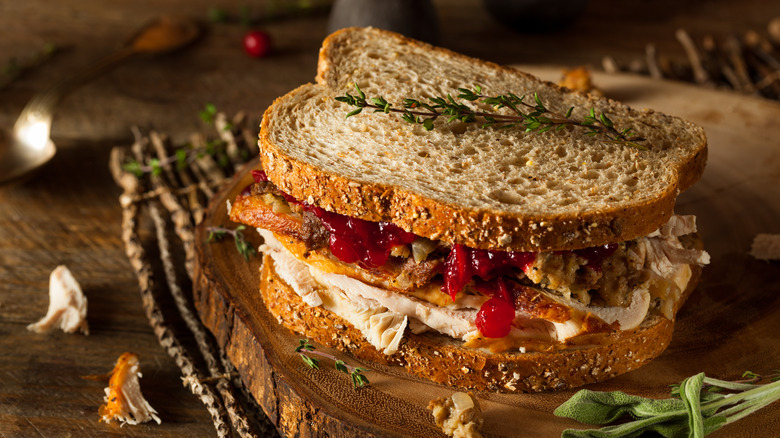 Brent Hofacker/Shutterstock
According to the results of the recent Mashed poll, the best way to use up Thanksgiving turkey leftovers is to put them to good use in a hearty sandwich. That's right, 51.99% of those surveyed dubbed the turkey sandwich their go-to post-holiday meal. You can keep it simple with turkey or layer on your other leftovers, too, like mashed potatoes and stuffing. Even Al Roker of NBC's "Today" is a fan of the turkey sandwich — and has strong opinions on how to make the best one. "I start with a good, crusty bread, mayo, the turkey, some stuffing, some cranberry sauce, a little more mayo, then cut it," he explained (via Shape).
There's plenty of other ways you can reuse your leftover Thanksgiving turkey — according to the poll, turkey pot pie was the second most popular choice, a favorite among 16.45% of survey respondents. Next popular was a turkey casserole taking 11.79% of the votes, followed by turkey soup with 10.80% of people opting for that choice. Other more creative options that are less common (but sound just as delicious) include turkey nachos, which received just 5.48% of the votes, and turkey breakfast hash nabbing 3.49% of the vote. Regardless of how you choose to use up your turkey, judging by these options, it'll make for plenty of tasty meals to come.