Instagram Can't Get Enough Of Duff Goldman's Baby Eating Bananas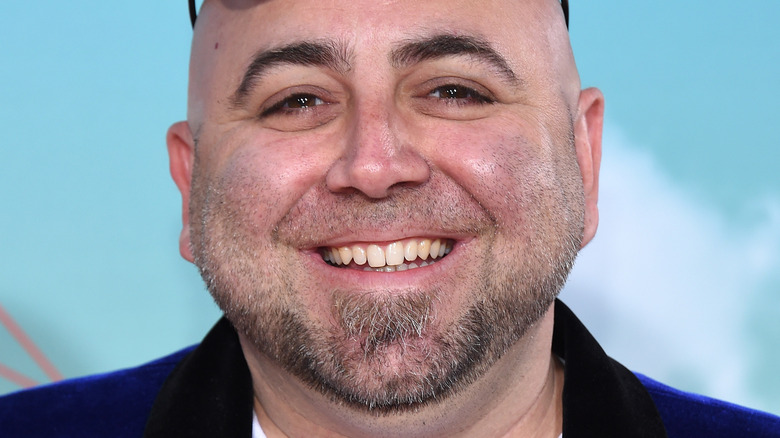 DFree/Shutterstock
Duff Goldman understands exactly how to entertain us with food. Lately that entertainment has been in the form of his adorable young daughter Josephine trying "all the new things." We've oohed and ahhed over the young tot protectively clutching her Bamba snacks, eating cheese, and smiling with sticky Cheerio's stuck to her face. Next up in the "Josephine eats adorably" saga: bananas.
Goldman captions his latest adorable Instagram post simply, with just a trio banana emojis, and sets the video to the tune of Harry Belafonte's "Banana Boat (Day-O)." Little Josephine is sitting on a bed happily eating banana slices in her fruity yellow Burt's Bee's onesie, which Goldman previously posted about. Twenty-four hours and over 31,000 likes later, Goldman has us singing Day-O while avidly searching our own houses for bananas as we watch this sweet tot experience one of our favorite foods.
Because, as fan amber_lee_e says in the comments, "Literally nothing cuter than watching babies eat!"
Tally us bananas
As fan juliemalczewski describes, not only is watching the young babe eat adorable, but so is watching her grow up. "She is so cute Duff! I can't believe how big she is already!!!" they commented on Goldman's Instagram. Josephine was born in February 2021 and fans have simply adored watching her go from tiny newborn to banana-trying baby. Proud dad Goldman seems happy to help feed this baby fever and was clearly in love at first sight — in his announcement about her birth, he wrote "Her name is Josephine and she is the most beautiful thing I've ever seen in the whole world. Some friends have told me that the love I'll experience when looking at my daughter will be different than anything I've ever experienced and they were totally right," (via Instagram).
Another follower, who is definitely thankful for more adorable Josephine moments, says what everyone seems to be thinking: "Why is this just so relaxing? Josephine just chillin' with her snack......" Fan bondedinoz also shares, "Can't get enough of this Dolly! Adorable!" 
We agree, we could watch this sweet baby all day too.