The Reason Raising Cane's Is Giving Away Sauce To Fans All Month Long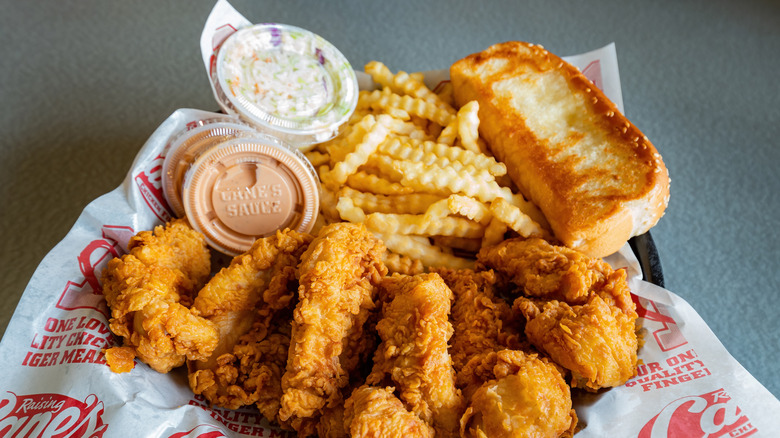 Kit Leong/Shutterstock
Raising Cane's has certainly made a name for itself with its delicious chicken, and an important part of that equation is the chicken chain's iconic sauce. The Raising Cane's website explains that the recipe for the sauce is kept under wraps, revealing only that "it's tangy with a little bit of spice, made for our chicken fingers but it tastes great on everything." For those who want enough sauce to put on everything, we have exciting news. According to a press release received by Mashed, Raising Cane's is handing out millions of Cane's Sauces for free all through the month of December.
Wondering what prompted the chain is giving away so much sauce? As explained in the press release, "Technomic asked consumers which sauce or condiment they find most craveable," and Raising Cane's sauce won by a landslide. The company's founder and CEO said it was an honor "to have it recognized by our Customers as the best sauce in the business."
How to get free Raising Cane's sauce
For fans of Raising Cane's, the free sauce is great news, and for anyone who hasn't tried Raising Cane's, this could be an incentive to head to your nearest location. You don't even need to make a purchase to get your free sauce, but it might be better to have some chicken and fries to dip in it. Although you don't need to buy anything, you do need to be part of the Caniac Card Club. 
According to Raising Cane's website, to sign up, just head to a store, ask for a card, then visit their website to register the card. From there, you'll confirm your membership through email. If you're just now signing up for a card, you'll get a free Box Combo in addition to the sauce! According to the press release shared with Mashed, you'll need to show your Caniac Card to get your free sauce, and you can redeem one free sauce each Wednesday in December. The main thing to keep in mind is that you have to use these offers by December 31, so don't wait too long to collect your sauce. And if these free servings aren't enough, you can try this copycat Raising Cane's sauce recipe.