What Buddy Valastro's New Las Vegas Café Has To Offer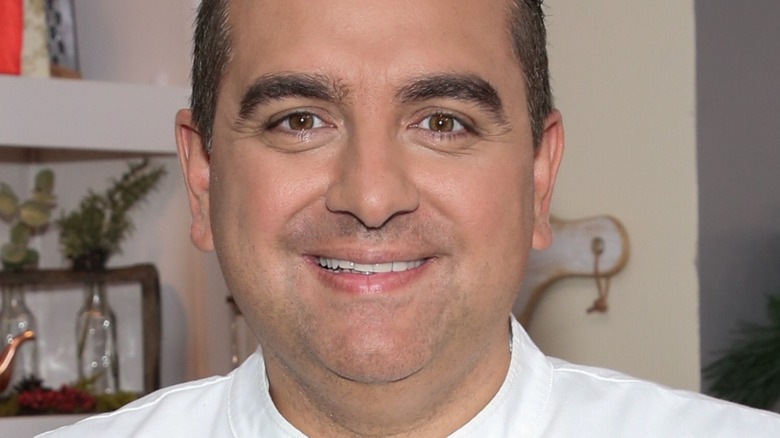 Paul Archuleta/Getty
This festive season, we bring you tidings of joy from a man named Buddy. Not Buddy the Elf, but Buddy the Cake Boss. He's opening a new restaurant, and where else but Vegas, baby? Yes, he already has three restaurants there –- Buddy V's Ristorante, Carlo's Bakery, and PizzaCake –- but now he's doubling down on his bet by opening The Boss Café at The LINQ Hotel. As Valastro explains (via press release from LINQ parent company Caesars Entertainment), "After successfully launching my first restaurant in Las Vegas, I completely fell in love with not only the city, but its culinary landscape and its people." 
It's no surprise that Vegas would be Valastro's kind of town. After all, the City of (Neon) Lights was very good to another Hoboken boy, Ol' Blue Eyes. Valastro's not headlining the casinos a la Sinatra, nor does he seem to have assembled his own Rat Pack (if he does, we'd love to see Valastro's buddy Duff Goldman in the Dean Martin role!), but he credits Las Vegas with being "the town that gave me the opportunity to show that I'm more than just a baker, but a chef."
So what will The Boss Café have to offer when it opens in early 2022? Well, for one thing, "mutz" is definitely on the menu. 
More details on the Boss Café menu
About that "mutz" — that's what Valastro calls his padre-in law's handmade fresh mozzarella (via Caesars Entertainment). Evidently, the delicacy will be the star of the show at The Boss Café. Prepared live daily in a show kitchen, "mutz" will feature in many dishes, including atop warm rustic bread, topped with roasted peppers, basil pesto, an olive-tomato relish, or a classic combo of tomatoes, basil, and balsamic vinegar.
While that sounds fancy, the spot is meant to be casual, as Valastro tweeted that the menu will also include "New York/New Jersey style Italian sandwiches" and "handcrafted artisan style pizzas." Of course, in Boss Café lingo, the latter are called "Grandma Squares" and will be available in your choice of margherita, pepperoni, or supreme. Sandwiches will be served either on focaccia or, for a more Jersey experience, in the form of a hoagie (aka sub, to non-Jerseyites). If you want something on the lighter side, you can order a salad such as the bread-based Pop's Panzanella or the Hoboken Chop (which sounds like a wrestling move).
The dessert menu will, of course, have Buddy's famous cakes along with Carlo's Bakery faves including cannoli, tiramisu, and lobster tail pastry. (FYI, this last item, according to Great Italian Chefs, is more correctly known as "sfogliatelle," but admittedly that's pretty hard to spell out on a chalkboard.) It would be a crime not to save room for a sweet final course at a restaurant owned by a guy called Cake Boss, so plan accordingly!