Twitter Is Loving Padma Lakshmi's Boozy Advent Calendar Request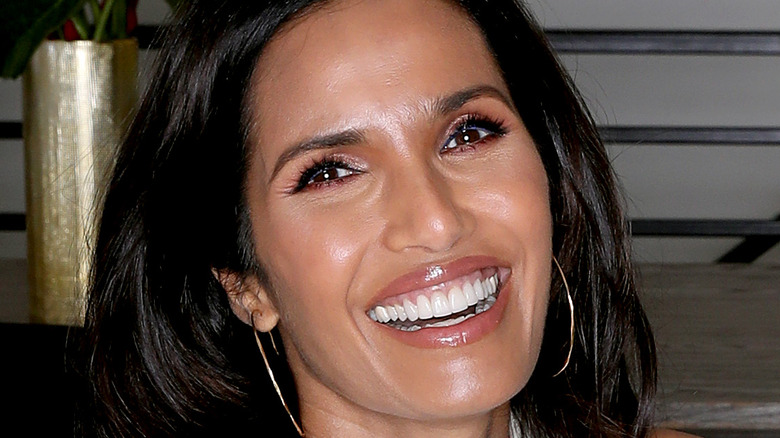 Rick Kern/Getty Images
Let's be real for a minute here. Parents sometimes want to enjoy the holidays in a way that's not meant to be shared with children. They might not mean to take on a bah-humbug attitude but are, frankly, tired or looking for a way to treat themselves since they're so busy tending to everyone else. After all, someone has to cook all those cookies, wrap all those presents, and hang those stockings by the chimney with care. Or maybe, they just like adult beverages. Whatever the reason, Padma Lakshmi, celebrity host of top culinary shows "Top Chef" and "Taste the Nation," appears to be no exception in wanting something geared specifically toward the grownups. 
When Lakshmi took to Twitter Sunday looking for some liquid holiday cheer, users had her back, pouring into the comments with suggestions to help guide her. "Do they make Advent calendars, but with wine or tequila? You know, for the parents?" she tweeted. Turns out, such adult Advent calendars do exist and are actually very popular. "Boy, are you in luck," commented one user. There are not only wine and tequila products available but also Advent calendars featuring craft beer, whiskeys, and even Irish creams.
Twitter wants to help stock Padma Lakshmi's wine cellar and liquor cabinet
The responses to Padma Lakshmi's Twitter post provided not only details about adult Advent calendar selections but also links to products and pics of the creative calendars. Some brought up Aldi's wine advent calendars. Some users posted pics of a Costco wine calendar, which is advertised as a wine "Advent-ure" (via the Costco website). "My wife loves it so far!" user @onemanc1an wrote. Another tweeter shared a pic of a creative, homemade calendar featuring a 24-case box of Stella Artois bottles and a hand-drawn a grid with numbers, captioning it, "Isn't that why beer comes in cases?" A third user, @MacBandD, posted a pic of a calendar consisting of a wooden Christmas tree complete with daily nip "ornaments" which can be found on the Copperhead Distillery website.  
Lakshmi got specific in the comments, asking about a tequila-specific calendar. While Twitter didn't seem to have too many tequila calendar suggestions, those exist, too. For instance, there's the Arriba Tequila Advent Calendar, which also appears on a list of recommendations by Country Living. But no matter which calendar Padma Lakshmi picks, chances are it might be just the sort of thing a parent is looking for this time of year. As one tweeter wrote of his adult Advent calendar, "As the father of a three and a one year old, it's pretty much perfect."