Dove's New Holiday Chocolate Features This Crunchy Ingredient
There is certainly no lack of inventiveness in the world of chocolate. It should come as no surprise given the myriad of combinations that you can pair it with, from pretzels to peanut butter, even balsamic vinegar and cheese (via Trend Hunter). For example, M&Ms has a huge selection of rotating limited-edition holiday flavors, including this year's White Chocolate Pretzel Snowballs, and past iterations including sweets like the Sugar Cookie holiday flavor and Key Lime Pie. Kit Kat has even had wild flavors like Purple Sweet Potato and Rum Raisin (per Simply Sweet) — though, granted some of those hail from other countries.
Chocolate giant Dove has also had some awesomely innovative flavors such as Bourbon Vanilla Dark Chocolate, Salted Caramel Blonde Chocolate, Raspberry Rosé Dark Chocolate, and Almond Brittle Milk Chocolate (via PR Newswire). And this year is no different as Dove is bringing holiday cheer and spreading it around with its newest flavor, which nut fans will go nuts for with every bite!
Toffee almond crunch is Dove's holiday gift to us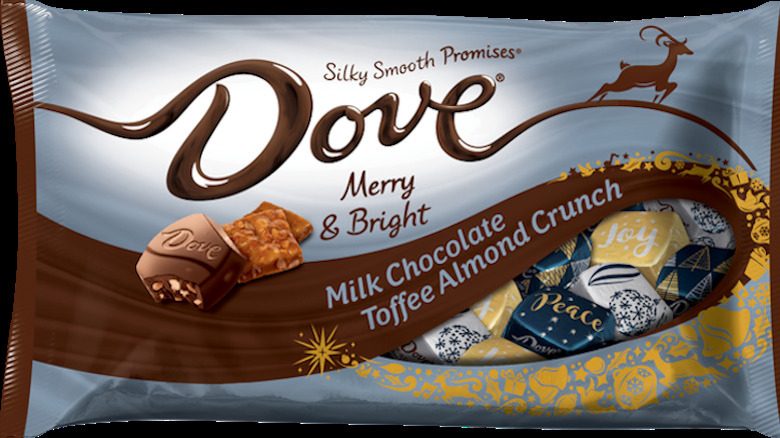 Tyler Middleton
One of the most exciting things about the holiday season is the gift that comes with announcements of limited-edition goodies. Dove made theirs extra early this year, but the release is just around the corner. Back in July, Best Products reported Dove's would be releasing a new and nutty holiday flavor this year, Milk Chocolate Toffee Almond Crunch. In addition to it being a real mouthful, every element of these new chocolates sound mouthwatering.
As a press release shared with Mashed describes the treat, it's "made with real almonds, smooth milk chocolate, and hints of toffee, with each bite of milk chocolate mixed with the crunch of toffee almonds." Sounds like a bit of crunchy, milky, chocolatey, and slightly salty heaven! It's not just the chocolate flavor that provides a nod to holiday cheer, however — the wrappers do, too. Each individually wrapped piece looks like a little gift and features special messages that are sure to perk up even the biggest Scrooges. Chocolate never ceases to makes lives merry and bright, especially at the holidays. Find these chocolates at retailers nationwide.