What Bobby Flay 'Isn't Good At' When It Comes To His Cookbooks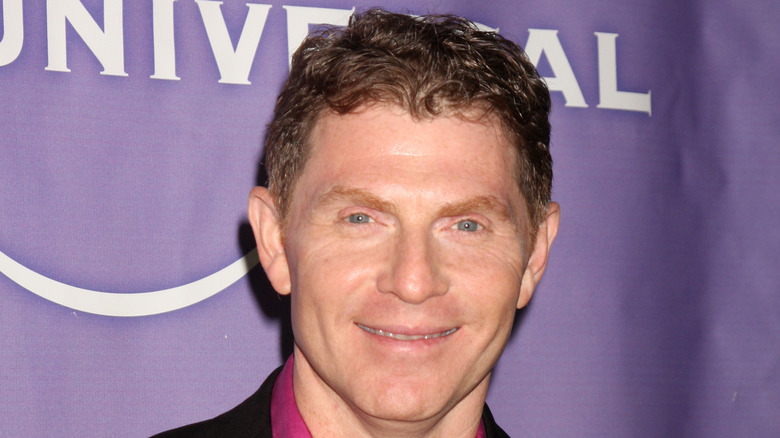 Kathy Hutchins/Shutterstock
Oh, Bobby Flay, what aren't you good at? This OG celebrity chef and (highly paid) longtime Food Network star is filled with culinary knowledge, from how to keep dishes warm on Thanksgiving to making the perfect cheeseburger. Flay has always shared his food knowledge on various media platforms, including countless Food Network series, more than a dozen cookbooks (via The Kitchn), and a hearty number of Instagram posts.
So it wasn't much of a surprise when, earlier this year, Flay announced he'd be entering the wide world of podcasting. The chef's iHeart Radio show, "Always Hungry With Bobby Flay And Sophie Flay," debuted in April 2021. As the name suggests, it features Flay's 25-year-old daughter Sophie, a reporter for ABC7 News in Los Angeles (via Blogograph). The father-daughter pair aren't just podcast co-hosts: on the most recent episode of their show, the two revealed an upcoming cookbook — Flay's seventeenth — called "Sundays With Sophie." In the conversation, the elder Flay also revealed one of his professional weaknesses.
He's not good at writing recipes down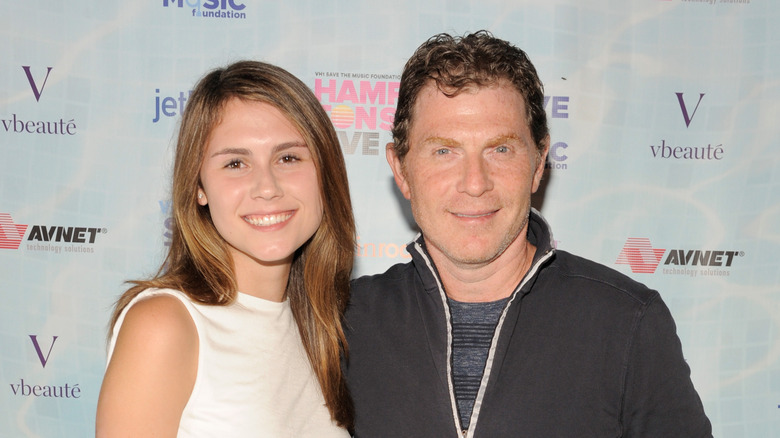 Matthew Eisman/Getty Images
On "Always Hungry," the podcast he co-hosts with his daughter Sophie, Bobby Flay recently teased a new cookbook the pair is working on, entitled "Sundays With Sophie" (via iHeart). The episode, entitled "The Making of a Cookbook," takes listeners behind the scenes of the work that goes into creating Flay's many, many cookbooks. And though Bobby is a kitchen wunderkind known for beating about two-thirds of his competitors on his blockbuster Food Network show "Beat Bobby Flay," on this episode of his podcast he reveals a professional weakness.
Although Flay has penned many a cookbook — the upcoming one is his seventeenth — he confesses that he just isn't good at taking notes and writing detailed recipes in preparation for such endeavors. "I'm really not good at writing down recipes," Flay tells his daughter. "I don't measure. I eyeball everything."
Therefore, Flay reveals, his cookbook production staff and recipe testers are of the utmost importance to his process. For "Sundays With Sophie," Flay notes, he has been working with a chef and food stylist named Susan Vu, whom he originally met at the Food Network kitchens. "I gave her all of the recipe titles and as much of the ingredients as I remembered and then she started testing them," Flay says. "She's got a great palate so I really trusted her." You know what they say, Bobby: teamwork makes the dream work.