This Is Bobby Flay's #1 Burger Rule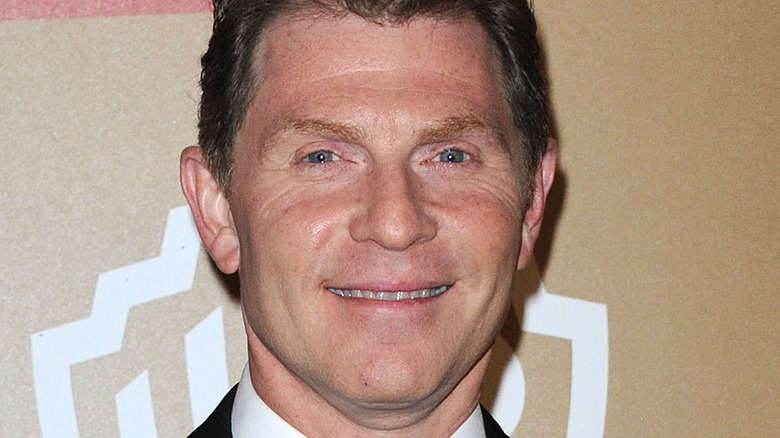 Shutterstock
Bobby Flay is our go-to guru when it comes to all things burgers. You can always depend on Flay and his grilling savoir faire to shepherd you in your quest to create the perfect burger. The host of Throwdown! with Bobby Flay has a lot of guide posts to help navigate all those pitfalls that can happen along the way when making this American classic. His first recommendation starts with the meat you use. Per Today, Flay says always start with 80/20 ground beef. Ok, we know this isn't the meat you think of if you're trying to be heart healthy or waist conscious; however, if you're going to eat a burger, counting calories should be off the table. "To me, if you're going to eat a burger, it might as well taste good," Flay reasoned. Fair point.
The winningest Iron Chef also shared with Food Network that the only thing you should be using to season your meat is salt and pepper. Flay eschews adding garlic, onions, or anything else to the meat that will form your patties, noting that once you do, you're making meatloaf. And when you go to form those disk shaped burgers, Flay says you always want to make a deep well with your thumb in the middle of the patty to avoid the flying saucer-shaped burger; never press it down with your spatula; and only flip it once. But none of these are his number one burger rule. 
Always melt the cheese on your burger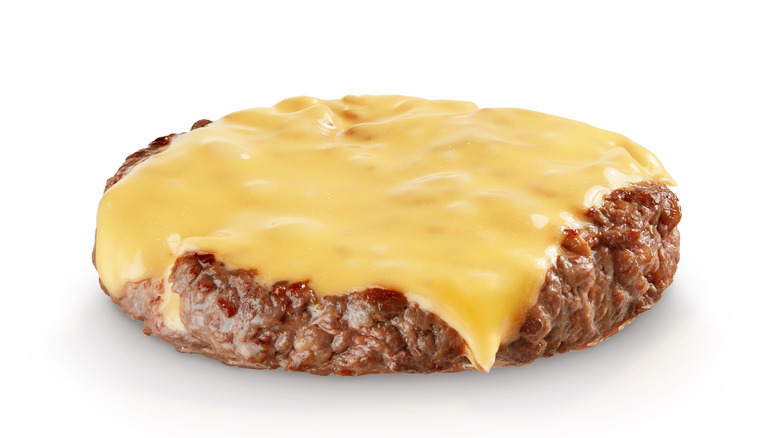 Shutterstock
Flay revealed his number one burger rule to Food Network and it might surprise you. "Melt the cheese completely," he declared. "Use two slices of cheese — I like classic American — and close the lid to allow the cheese to get nice and melty." That makes a lot of sense to us! 
Additionally, according to Today, Flay is pretty hardcore with this philosophy. There are even signs in his burger joint that remind cooks to "melt the cheese completely." Timing the cheese melt is really key, and the grill master explained that it should only take 30 seconds. And if you're making your burgers in a cast iron frying pan, Flay recommends adding a "splash" of H2O. This way when you put the lid on, there will be a little steam that will help the melting process along.  
Once you've satisfied Flay's number one rule, it's time top your burger off with whatever makes your taste buds sing. Of course, Flay has thoughts on that too: he's a kind of less-is-more type of burger guy, meaning he thinks we've gone "overboard" with all of the "stuff" we pile on it. However, Flay does believe in a good crunch when you eat a burger. "One must always 'crunchify' a burger," he added. "When eating a burger, there is nothing better than getting a mouthful of juicy burger and salty, crispy potato chips in one bite."