Sonic Just Brought Back This Fan-Favorite Cheesy Wrap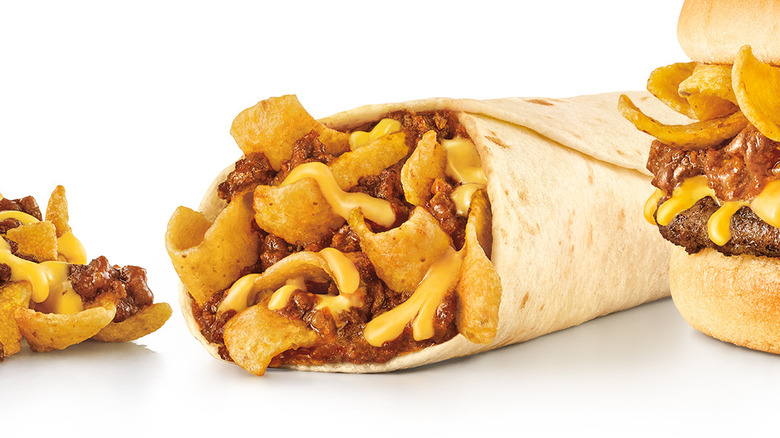 Sonic
Fans of Sonic's crunchiest, most crave-able, chili-and-cheese-topped wrap are in for a treat, as one of the drive-in restaurant chain's popular past items is back on menus for a limited time. According to Chew Boom, Sonic has officially brought back the Fritos Chili Cheese Wrap at participating locations nationwide. The wrap envelops Sonic's classic chili, melted cheddar cheese, and, of course, Fritos — the curvy, crispy, and undeniably addictive corn chips — in a soft and warm four tortilla (with the option to add diced white onions and jalapeños). It first debuted in 2018 alongside a Fritos Chili Pie and Fritos Chili Cheese Jr. Burger, a past press release reads.
Founded in Oklahoma in 1953, per its website, Sonic has since gone on to offer a variety of comforting menu items, from perennial favorites like cheeseburgers, mozzarella sticks, and classic cherry limeade to limited-time selections such as the Grilled Cheese Burger. While the company has long featured chili-topped items, like a Chili Cheese Coney dog and Chili Cheese Fries, the Fritos wrap is a more recent addition to its chili-centric menu innovations.
The snack-sized Jr. Chili Cheese Wrap is also returning to menus
Sonic's Fritos Chili Cheese Wrap has been so popular with the chain's fans that it has returned to menus multiple times, including in late 2020, per Brand Eating. The wrap even inspired its own catchy rap song, shared via the brand's Instagram account. If you're curious to try the dish but are only hungry enough for a snack, you're in luck: The Fritos Chili Cheese Jr. Wrap, a smaller version of the savory offering, is also returning to menus (via Chew Boom).
While the Fritos Chili Cheese Wrap has sold in the past for a suggested price of $2.99, thriftier drive-thru diners can opt for the Jr. version, which is priced at just 99 cents. If you love all things Frito pie-inspired, you may want to head over to Sonic now, as there's no telling when the wraps may disappear from menus again.