Valerie Bertinelli Always Has This Snack On Hand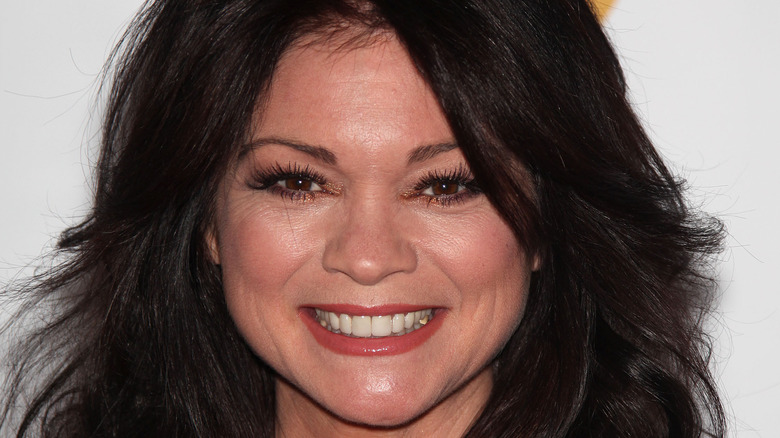 DFree/Shutterstock
Midnight munchies, afternoon hunger pangs, and tummy rumbles happen to all of us. Anytime you feel the ugly hangry monster making your stomach croon like Bailey the Beluga Whale from "Finding Dory," you know there is always that one snack that can satiate your appetite or curb a craving. In fact, a 2021 survey conducted by the International Food Information Council Survey made an interesting discovery. According to ABC13, approximately 60% of people in the United States confess they snack after 8 p.m. When hunger strikes, you have to eat. Even celebrity chefs have to have their favorite snacks around for such occasions, including actor and Food Network cooking star Valerie Bertinelli.
The host of "Valerie's Home Cooking" makes a killer Amped Up Snack Mix, a recipe that her mom used to make for her dad's poker games (via Food Network). And her Brown Sugar Sriracha Bacon Bites is the kind of snack that sweet-savory dreams are made of. Not to mention, we know her gumbo is one of her most requested dishes. However, when it comes to satisfying her own cravings, Bertinelli turns to an easy but beloved snack that many of us probably also keep in the pantry and refrigerator. And this combo is definitely a snack you will not feel guilty about eating before or even after a meal.
Bertinelli always stocks up on this classic snack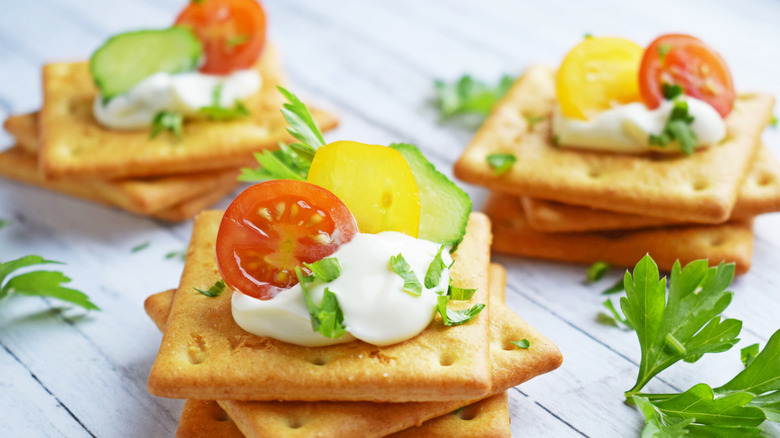 Nadejda Zaharevskaja/Shutterstock
Bertinelli revealed to Real Simple that she always needs cheese and crackers on hand. She likes to have them for snacking or if someone drops by unannounced. Bertinelli said, "I always have cheese and crackers on hand in case anybody just stops by." She went on to share her go to brand is gluten-free. The "One Day at a Time" actor said, "Milton's brand has these gluten-free crackers that I absolutely love." But Bertinelli doesn't always go for slices of cut-up cheddar or wedges of Brie. She shared she is a fan of the creamy variety, saying, "Philly cream cheese, the chive and onion. It goes with everything—including those crackers!"
Bertinelli is also a fan of veggies, especially if they are roasted. She told Woman's World, "I crave foods that are good for me too! Radishes with salt, pepper, and vinegar are great, as well as blackberries and roasted asparagus. I adore roasted veggies: They give you the crunch you need without the guilt!" We like Bertinelli's snacking style and will definitely be adding these to our shopping list.