In Guy Fieri's Career, One Recipe Stands Above The Rest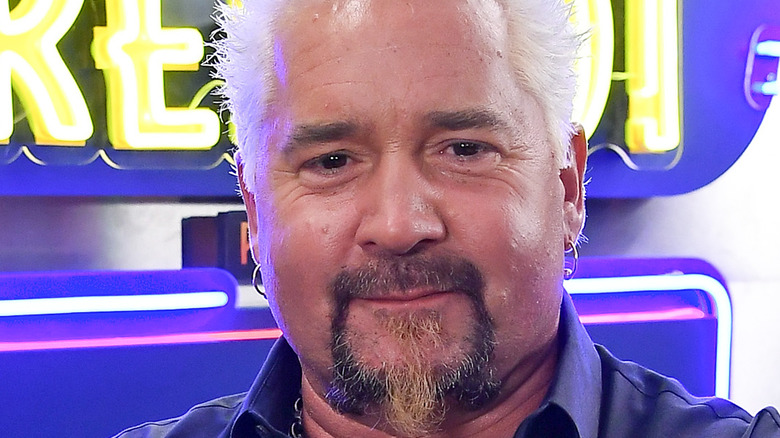 Steve Jennings/Getty Images
Every chef, celebrity or otherwise, has a signature dish that gets everyone cooking in their kitchens, and everyone's favorite host of "Diners, Drive-Ins, and Dives" is no different. Guy Fieri's Dragon's Breath Chili is the one recipe that stands out above all of his many dishes, and it definitely has internet tongues wagging their fiery approval. But don't take our word for it. His Dragon's Breath Chili has over 500 reviews and 5 stars on the Food Network site.
The overwhelming consensus is Fieri's chili is pure awesomeness with just the right amount of kick. A quick glance through the ingredients really tells the full story of this hearty dish. Fieri uses 1 pound of boneless chuck, 2 pounds of ground beef, and 1 pound of ground sausage, so it's super meaty. It also smells good with its potpourri of spices, which includes chili powder, cayenne, coriander, cumin, granulated garlic, granulated onion, and paprika. Then layer in the tomatoes, add a splash of lager beer and chicken stock, mix in your favorite fixings, and you've got nirvana. Plus, there is room to customize this dish and make it your own, which is also a key component to any good recipe, in our humble opinion. If you're not convinced that this is Fieri's most famous dish, just read some of its rave reviews.
It beat out Jimmy Fallon's chili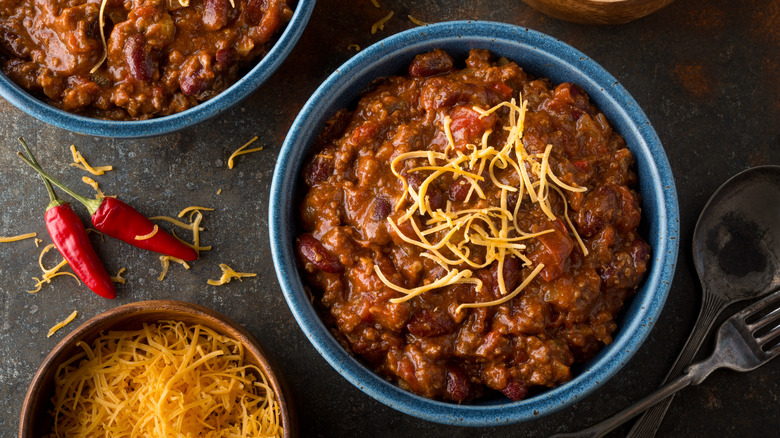 Foodio/Shutterstock
Per Food Network, one reviewer wrote, "I LOVE this chili. Not something I would make for a weeknight supper but so worth the effort for the weekend. I've used it to enter 2 chili cook-offs and won both ... Guy deserves an award!" Another posted, "This chili is the jam!", echoing other reviews that are peppered with words like "amazing" and "awesome."
In addition to the glowing reviews, Delish did a chili cook-off taste test that pitted Jimmy Fallon's chili against Fieri's and proclaimed Fieri's recipe the winner. The taste testers loved how Fieri's chili set their taste buds ablaze, which is just how they like this dish. The only thing they might alter is the oil. As Food Network reviewers mentioned, when you are using 3 pounds of ground meat, draining the oil is probably a good idea. If you are a vegetarian and want to get those same flavors that Fieri's chili offers, try Mashed's Dragon's Breath Chili Recipe with a twist. Our recipe experts swapped out the meat and replaced it with Beyond Meat products, and used vegetable broth in place of beef broth. Delish!