TikTok Is Loving Gordon Ramsay's Reaction To This 'Possum Burger'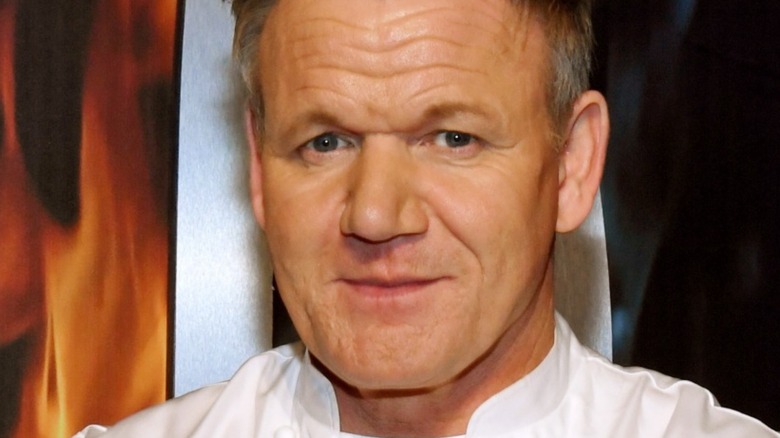 Ethan Miller/Getty
Chef Gordon Ramsay is known for his colorful language and all-too-honest critiques of dishes made by other cooks, both professional and amateur. He has truly seen and tasted it all, so he doesn't hold back when served sub-par food. And yet, his latest TikTok video shows fans that even a seasoned chef like Ramsay can still be surprised by what's for dinner.
In a duet with TikTok user @granttysonb, the first thing viewers hear is an audio sample of Ramsay's voice, presumably from one of his food television shows, in full chef mode while instructing someone to "grill the burger, not boil it" and to maintain an intense sear on the meat. Ramsay hears himself and immediately agrees with his sound culinary direction. However, his response takes a turn when @granttysonb opens his grill to reveal something much more surprising than a burnt bratwurst or boiled burger — and Ramsay's reaction is searingly funny.
Ramsay was truly shocked by what was on this TikTok user's grill
Gordon Ramsay fans love to hear the celebrity chef yell insults at cooks when they mess up one of his perfect recipes or fail to follow his culinary directions. In Ramsay's TikTok duet post with @granttysonb, he's quite surprised to see the TikToker lift the lid of their grill to reveal a live possum inside. Ramsay yells, "What the frick? Possum burger, get the hell out of there!" While his followers are loving that he responded to the post at all, most seem to be more focused on the surprising fact that he actually controlled his language, rather than staying on brand and dropping a full F-bomb. One follower commented, "Didn't realize frick was in Gordon's vocabulary."
In fact, this reaction was pretty mild for Ramsay. When cooks on "Hell's Kitchen" brought the chef undercooked lamb, for example, he famously described the chop as so raw that it still had wool on it (via YouTube). Ramsay didn't have any more to say to @granttysonb, captioning his post, "When I said #grill the #burger I didn't mean this !!!" As user @Ven chimed in, "That's what I call farm to table."