We Tried Oreo's Limited Edition Gingerbread Cookies: Here's What You Need To Know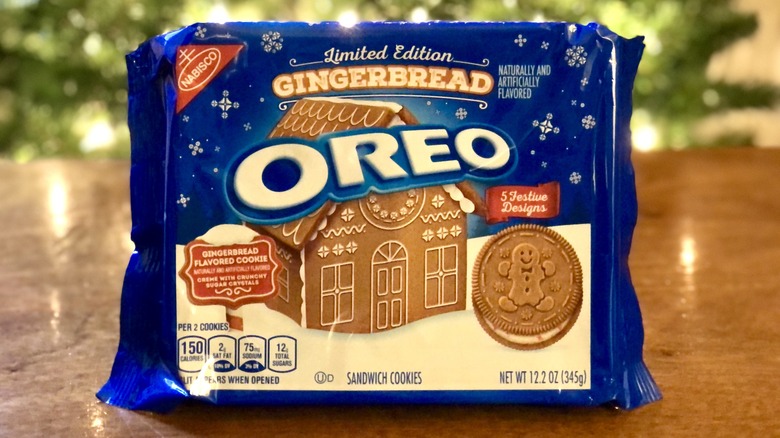 Jenny Kellerhals/Mashed
The Limited Edition Gingerbread Oreo cookies are back on the shelves, and we were lucky enough to grab a pack of them. You may have missed them last year because they're only available during the holidays, or maybe just because we didn't get out much in 2020, but now is your big chance to try this seasonal twist on the classic sandwich cookie. 
This small package comes with special Oreos stamped with five Christmas-themed designs, including a Christmas tree, gingerbread man, and a gingerbread house, as well as ones that say "Oreo JOY" and "Oreos for Santa." The cookies themselves are a unique gingerbread cookie flavor, sandwiching a filling that's been filled with crunchy sugar crystals. Given how many holiday edition and limited edition foods there are available this time of year, you may be wondering if it's really worth it to hunt down a package of Gingerbread Oreos. Here's everything you need to know about how they really taste and where to find them.
Nutritional breakdown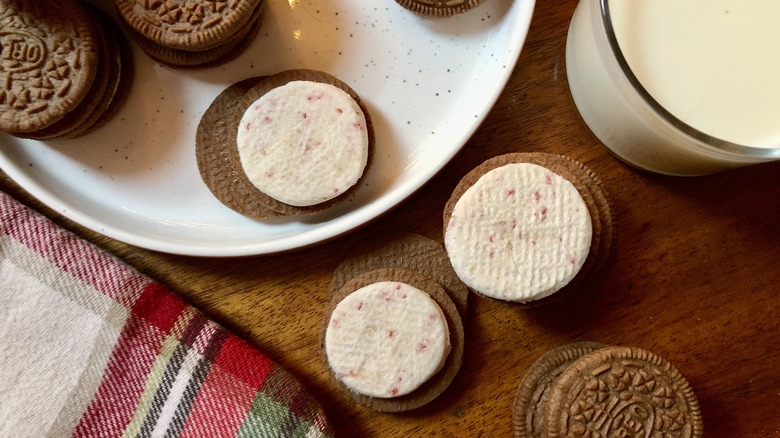 Jenny Kellerhals/Mashed
Let's get this out of the way early: It's the holidays, and we're just going to enjoy our Oreos and not stress about the calories — that's January's problem. But we understand if you want to pace yourself because there are so many tasty indulgences to go around this time of year. That said, let's get into the details! First, a standard package of Limited Edition Gingerbread is 12.2 ounces, which is smaller than the standard package of traditional Oreos, which weighs in at 14.3 ounces. One serving size is two cookies (there are 24 cookies total), and each pair is 150 calories. In comparison, traditional Oreo cookies will run you 160 calories per serving, but that's for three cookies. So, these gingerbread cookies are a little heavier than a traditional Oreo, but we happen to think it's worth it. 
A pair of the gingerbread Oreos also contains 7 grams of fat (with 2 grams of saturated fat) and 20 grams of carbs. There is somewhat good news for people who are specifically concerned with their sodium intake: One serving of gingerbread Oreo cookies contains 75 milligrams of sodium, which is a little less than the 135 milligrams per serving of traditional Oreo cookies. Per cookie, that's about 7.5 milligrams difference, which isn't really a lot, but we'll take it. If you don't need 24 gingerbread Oreos in your life, they're also available in a 3.1 ounce package.  
Where you can find them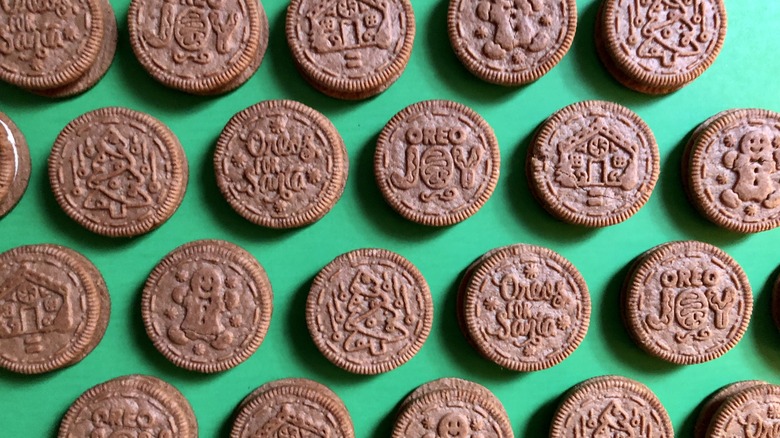 Jenny Kellerhals/Mashed
The biggest issue when it comes to limited edition flavors of anything this popular is where to actually find it. The first place you should look is the Oreo website, which helps guide you to the closest store that may have them in stock. Large retailers that have grocery departments, like Walmart and Target, are your best bets, and, as of publication, Target has the cookies available for sale online and will even ship them straight to your door. 
But those aren't the only places they're available. Plenty of national-chain grocery and drug stores are likely to carry gingerbread Oreos. They may not list the availability online, but the cookies may still be in stock. For example, we found a well-stocked shelf at Duane Reade (owned by Walgreens), alongside packages of Oreo winter-decorated cookies. They were even on sale, marked down to $3.99 from $4.99. (In hindsight, we should have bought them all.) If you don't have the time to go from store to store searching for the limited edition cookies, we'd suggest a quick search on Instacart to see which stores in your area currently claim to have them available.
If you've exhausted all of your major options, you may be tempted to turn to Amazon or eBay to get your hands on a package. Many third-party retailers sell the cookies, but with a sizeable markup.
Other holiday Oreo flavors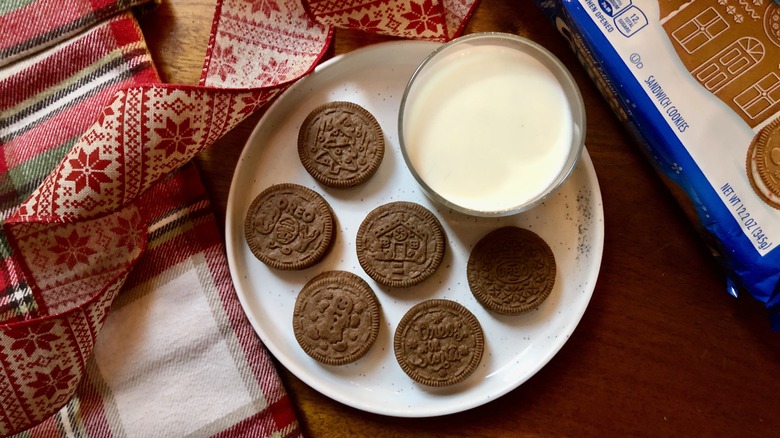 Jenny Kellerhals/Mashed
If you can't lay your hands on a pack of gingerbread Oreo cookies, don't fret. Oreo has several other seasonal cookie flavors available right now. If you haven't tasted the Apple Cider Doughnut Oreos, this may be your last chance before all of the leaves disappear. Serving the cookies with some warm cider beside a crackling fireplace sounds especially good right now, whether or not you spike the drinks. Oreo is also offering "winter cookies," which are essentially Double Stuf Oreos that are stamped with winter designs on the chocolate cookies and red vanilla creme filling. These are perfect for those who want to celebrate the season, but like to stick to the familiar flavors. Taking the classics one step further are White Fudge Covered Oreos, which are available on their own in a standard package and in a holiday tin paired with Fudge Covered Oreos. And who could resist a gift like that?
While they're available year-round, we'd argue that the Mint Oreo cookies are especially appropriate for this time of year. Candy canes are cute but can be a little overpowering. Mint Oreos on the other hand, are a smooth and creamy chocolate dream for mint lovers, and isn't that kind of happiness what the season is all about anyway?
How they taste
Jenny Kellerhals/Mashed
This particular limited edition gingerbread Oreo flavor was launched in 2020 and has returned for a second year, no doubt because of how well it was received last holiday season. But, this isn't the first iteration of a gingerbread-inspired Oreo. According to Best Products, Nabisco produced a different kind of Oreo gingerbread cookie from 2012 to 2015. That version was essentially the Golden Oreo cookie sandwiched around a gingerbread-flavored creme filling. The current gingerbread Oreo is made with actual gingerbread-flavored cookies and then filled with a special creme with flecks of crunchy sugar crystals in it. Even though the filling gives off strong sugar cookie vibes, it's not outrageously sweet. For that matter, the cookie portion is also nicely balanced — it's festive without being overly-spiced. 
The cookies include molasses and ground ginger — both of which are must-have ingredients for a proper gingerbread cookie — as well as cinnamon and cocoa. The cookie doesn't taste exactly like a home-baked gingerbread cookie, but more like a Belgian speculoos cookie — which is also an amazing cookie, so we're not complaining. The filling is slightly crunchy, but not so much that you're going to break a tooth on it. There are no strange aftertastes, and the spices are mild enough that you can eat a handful (or half the bag) without overpowering your taste buds.
The final verdict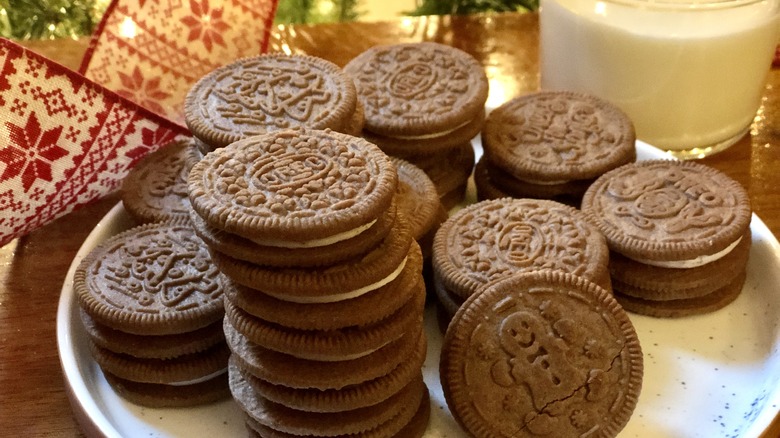 Jenny Kellerhals/Mashed
If you manage to casually come across a package of the Gingerbread Oreo cookies, we all but insist that you buy them, either for yourself or to give as a gift to someone you like. We'd even put them on a nice plate at a family Christmas party and not feel the least bit bad about not baking gingerbread cookies from scratch this year.
Now, if you have to work a little harder to find them, we might recommend taking into consideration how much of an Oreo fan you are. If you have to try every flavor, this one can't be missed. If you're a casual eater of Oreos, but not all of them do it for you, we think you'll still probably be into these. If you know and love speculoos cookies, but are having a tough time finding those in stores, definitely give these a try. If you're a gingerbread fan, but not necessarily a purist, these are going to be just delightful. But, if you've got pretty strict opinions on what makes the perfect gingerbread, it's okay to pass on these.
Sadly, there's no telling exactly how long these gingerbread Oreos will be available, but we'd bet that they'll probably be gone by the time the ball drops on New Year's. So if you want a package, the time to find them is right now. We know that there are so many special holiday foods available this time of year, but these are one of our new favorites.