Oreo Is Bringing Back This Beloved Flavor Just In Time For The Holidays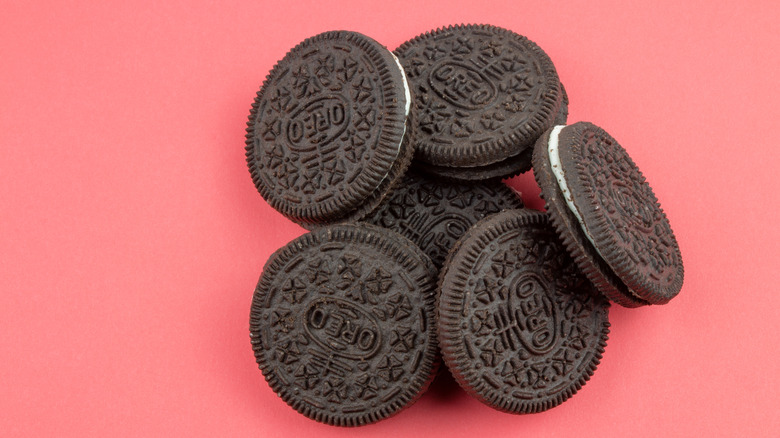 Pao Laroid/Shutterstock
With Thanksgiving just a few short days away, it looks like it's finally time to say a tearful goodbye to our favorite autumnal goodies. Most coffee shops have already retired pumpkin spice lattes for the year in favor of their long-awaited holiday beverages, while restaurants such as Shake Shack have introduced some yummy festive desserts for customers to try. Grocery stores are also finalizing their preparations for the upcoming holidays by clearing the straggling bags of discounted Halloween candy from their shelves to make room for the many flavors of the season like peppermint and eggnog.
Gingerbread is another quintessential holiday treat that Epicure and Culture says has been a Christmas tradition since the 17th century, and if you consider the aromatic flavor to be your favorite of the season, we have some good news for you. According to Brand Eating, Oreo's beloved gingerbread-flavored cookies are back just in time for you to snack on as you wrap presents and decorate your house with twinkling lights for the holidays. Here's what you need to know about the limited-edition holiday cookies.
Gingerbread Oreos won't be around for long
Quell your sweet tooth this holiday season with a handful of Gingerbread Oreos, which Brand Eating reports are now available at select grocery stores for a limited time. Just like last year, the festive version of milk's favorite cookie features a layer of crunchy, sugar crystal-infused creme in between two gingerbread-flavored wafers that have been stamped with a variety of seasonal images. "The balance between the cookie and the creme is great," wrote one reviewer on The Impulsive Buy who also said that they enjoyed the texture that the sugar crystals provided. "Their red color, paired with the undeniably cute designs on the outside, really brings the jingle bell vibes full circle," they added before ultimately awarding the snack an impressive 9-out-of-10 rating.
On top of being perfect for dunking into milk or a mug of hot cocoa, the Oreo website says that their gingerbread-flavored treats make great additions to holiday cookie platters and gift baskets, and will also make an excellent snack for Santa after he climbs down your chimney in a few weeks. If you're looking to get your hands on some, Brand Eating says that Walmart and Albertsons' stores are both confirmed to be carrying 12.2-oz packages of the festive sandwich cookie, which will run you around $4 each. Keep in mind that Gingerbread Oreos are limited-edition, so to ensure that you'll be able to snack on them all holiday season long, get them sooner than later.