This Is The Location Of The World's Largest Arby's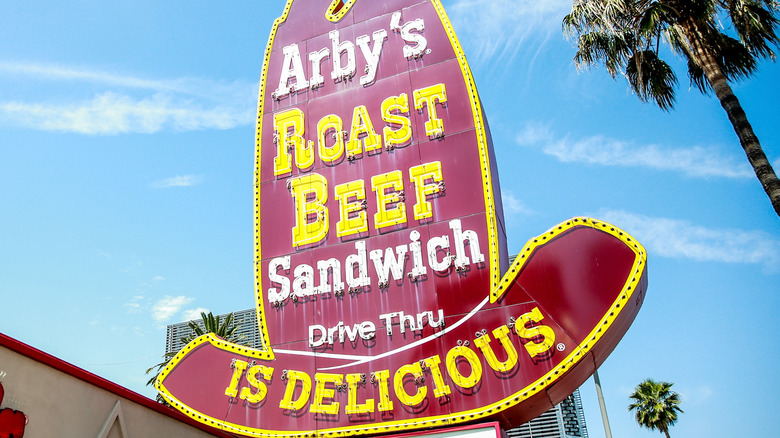 Rich Fury/Getty Images
Whenever you think of fast food, the first image that pops into your head is probably the McDonald's down the block from your house, or that one Burger King up the street from your apartment. You never really picture any of those run-of-the-mill fast food places to look like anything more than one-story, relatively small buildings that would fit into any mall plaza or suburban street corner. 
However, the world of fast food has never been about being "small fries" — everyone in the market of burgers and chicken tenders wants to impress, whether it's the food or the size of the restaurants. For instance, in Orlando, Florida, joining the colorful and whimsical ranks of Disney World and Universal Studios, you can find the World's Largest Entertainment McDonalds. At an impressive 19,000 square feet, this three-story monument known as an "Epic McD's" offers everything from an expanded menu — with Belgian waffles, paninis, a-build-your-own-pizza option along Quarter Pounders and their famous fries — to an action-packed arcade that would surely blow your childhood PlayPlace out of the water (via Reader's Digest). Meanwhile, if you're craving some Chik-Fil-A in downtown Manhattan, you can swing by the one at Fulton Street — a 12,000 square foot affair that's five stories tall and complete with a rooftop terrace to enjoy your famed chicken sandwiches the Wall Street way (via Chik-Fil-A's The Chicken Wire). 
Of course, for a place that has all the meats, Arby's needs plenty of space too — and you can find their particular mansion of meats in Colonial Heights, Virginia. 
It may not look like an Arby's at first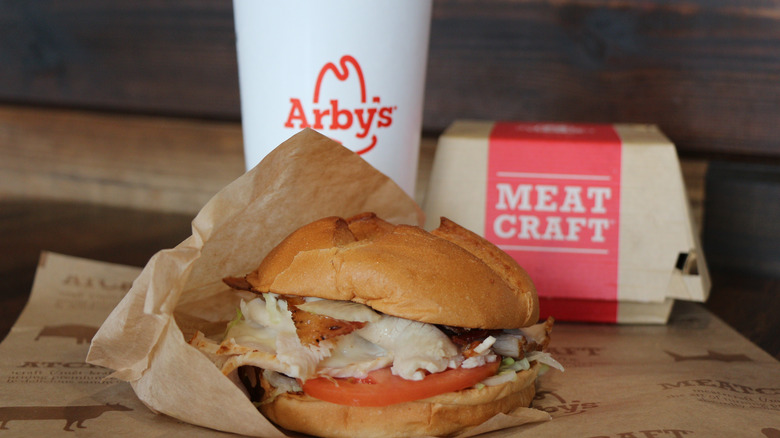 Deutschlandreform/Shutterstock
If you were expecting to see an Arby's in the shape of a giant roast beef sandwich, you would unfortunately be mistaken. The world's largest Arby's doesn't look like your average Arby's at all, save for the retro-style Arby's sign high above the road like a beacon. 
Resembling a roadside rest stop, the world's largest Arby's is designed to be welcoming and comfortable to all travelers on Interstate 95. Smooth granite tiles go under a procession of American flags, leading to a large stone-hewn fireplace right across from the counter. The dining room, lush with carpeted floors and padded booths, is illuminated by floor-to-ceiling windows, bathing the expansive area in warm sunlight. Ornamental totem poles and vibrant greenery extend to the vaulted ceiling, where industrial piping crisscrosses the exposed wooden beams. It feels less like your neighborhood Arby's, and more like a lodge, where you can pull off the road, grab some curly fries, and melt away those winter blues by the stone fireplace.
Reviews for the world's largest Arby's have been fairly positive. "This must be the Primo-Arby's restaurant. The facilities are quite remarkable for a chain, 'fast food' type place." commented one TripAdvisor user, praising the vast menu and the outdoor seating areas. 
"Legit not sure why this Arby's is rated under 4 stars." said another Yelp reviewer. "It is crazy cozy inside and the employees are so kind! And on top of all that, you get Arby's!"