Dunkin's Yearly Review Emails Have Customers Second-Guessing Their Lives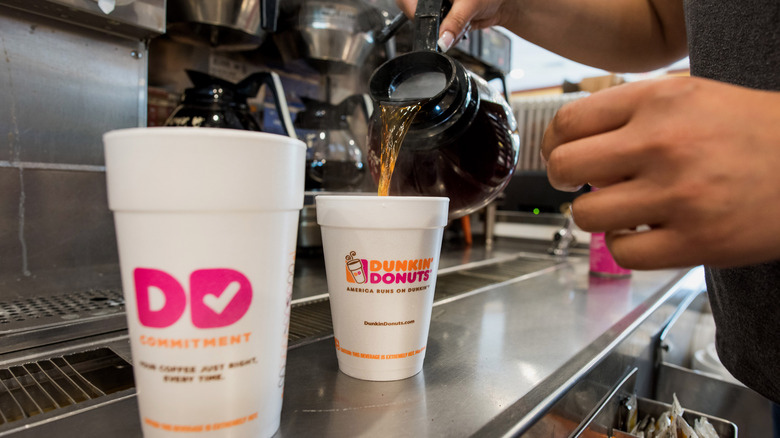 Bloomberg/Getty Images
Loyalty programs and restaurant chains are all the rage. Whether it's Chick-fil-A, The Cheesecake Factory, McDonald's, or another big name in the business, brands have created these incentives to keep you coming back (via Restaurant Dive). One standout loyalty program can be found at Dunkin', where every dollar you spend earns you five points (via the Dinkin' website). Hit 200 points and you get a free beverage reward coupon. But that's not all. If you are a DD Perks member, you may have recently received a very personal email in your inbox. 
Per Dunkin's website, last year, the coffee and donut chain sent out a "Year in Review." And as indicated by social media posts like the one u/ChocoCat shared on Reddit, the review was issued this year, too. It details the number of days you made a Dunkin' run well as the day of the week you typically visit. In addition, it shares the time of day you tend to stop by, how many free beverages you've earned over the course of the year, and how many points you've earned. 
If you don't get your email, Dunkin' explains all you need to do is log in to your DD Perks account, select 'Manage Profile' from the dropdown, and check the email box. But before you do, you might want to check out what some DD Perks members have been sharing on Twitter and Reddit. It may leave you laughing out loud or thinking twice about some of your decisions.
Dunkin's review emails created a mix of feelings
A member of the Reddit community, u/ChocoCat, shared an image from their annual review. It showed that they'd visited Dunkin' 138 times. The poster included this comment: "Dunkin sent me an email this morning to show me how much of an addict I am." Lots of fans of the coffee shop humorously chimed in. One person revealed that a cool employee perk meant they wouldn't get a review email: "It's times like these that i'm grateful to be a dunkin employee....can't gather data on my coffee addiction when i don't have to pay for my drinks! the only yearly report i'm getting is my w2." 
Yet another saw a silver lining in not having a car, writing, "Omg thank god I don't have a car right now cause mine would have been 365 or higher. Sometimes I would go twice a day." Others found it "neat" or "interesting" to see a summary of their Dunkin' activity over the course of a year and hoped the practice would continue. Twitter also weighed in on the emails, with one user jokingly tweeting, "I just know Dunkin did NOT send me a year in review. Goodbye." And another member of the Twitterverse wrote what everyone who read their year in review was thinking, "Why would Dunkin' Donuts send me this?"