Instagram Is Loving Duff Goldman's Holiday Present For His Daughter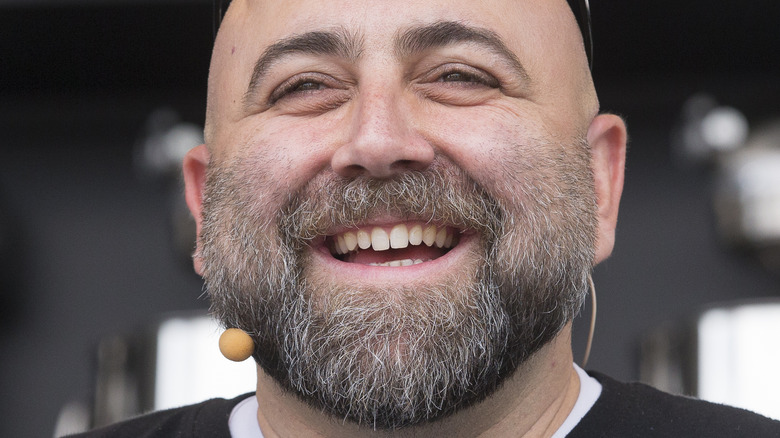 Sterling Munksgard/Shutterstock
When you think of star baker Duff Goldman, images of elaborate cakes might spring to mind as he often teams up with trained artists and designers to create some very ornate baked goods, including those seen on the competition show, "Buddy Vs Duff," like a recent winter wonderland creation that received a perfect score on the holiday season finale. According to Welcome to Baltimore, Hon!, Duff's wedding cakes typically sell for $1,200-$1,500, despite rumors that his elaborate pieces sell for upwards of $20,000, and his bakery finishes about 15 cakes a week — so he's always pretty busy in the kitchen.
So, when the holidays rolled around, you might have expected this creative master to have shared his fondness for baking with his family, but according to a recent social media post, Goldman decided to gift a completely different kind of present. On Instagram, Goldman showed off the gift he got for his young daughter — the post featured a photo of the baby crawling toward a wooden board adorned with a variety of musical instruments, knobs, dials, and more. He captioned the picture with, "Josephine loves her sensory board! I was really nervous she was gonna be like 'meh.' She's been playing with all the bits and things. This makes me so happy. Thanks for all the ideas, y'all! Takes a village. Merry Christmas!"
Duff's Instagram followers love the thoughtful Christmas gift
Duff Goldman's followers loved the creative gift he got for his daughter's first Christmas, as seen on Instagram. Replies poured in, like this one: "Awww! This is so awesome Duff!" and this one: "This makes all us Team Duff fans super happy. Merry Christmas New Dad Santa." One person also wanted to know, "Wow where did you get that? It's awesome." Another chimed in with, "Such a wonderful toy. We used to call them 'Busy Boxes,' my 35-year-old daughter had one in her crib that she liked but would have loved yours! Outstanding." And another person commented, "She's going to be a smart baby! That's adorbs." Though, many shared the sentiment summed up in this one comment: "It's truly beautiful. So excited to see your love for her and to see you as her Dad."
This gift proved perfect for Goldman's baby daughter and fans loved to see the chef celebrating the holidays with his family. Only time will tell if Josephine might also one day have the knack for baking, but in the meantime, Goldman is making sure she has a great first Christmas and not pushing his passion on her too quickly.