This Buddy Vs. Duff Holiday Cake Earned A Perfect Score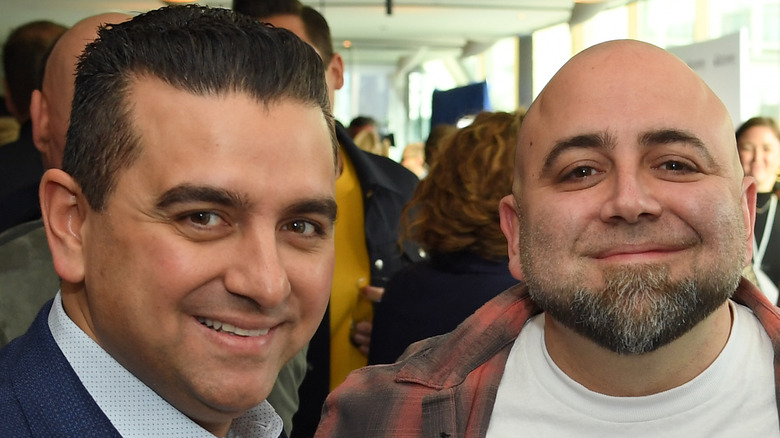 Mike Coppola/Getty Images
When the first season of Food Network's "Buddy vs. Duff" premiered on March 10, 2019, the show was positioned as a heated competition between two of television's most popular celebrity bakers, "Cake Boss" Buddy Valastro and "Ace of Cakes" star Duff Goldman. The end game? To determine which of these two highly accomplished and extraordinarily food artists should be crowned the "undisputed king of cake" according to IMDb. 
The premise was particularly exciting because, previously, each of the two had been the unofficially "undisputed king of cake" on their own respective networks, TLC and Food Network. And no one (except perhaps the guys themselves and their producers) had ever envisioned the possibility of a crossover. That all changed, of course, with the 2018 merger of TLC and Food Network under the Discovery umbrella, and fans were clearly thrilled because "Buddy vs. Duff" turned out to be the biggest hit of 2019 for the platform, with 14 million viewers riveted to their screens, according to The Orange County Register.  
The show has now completed its fourth iteration with a four-episode limited series, "Buddy vs. Duff: Holiday," which concluded on December 19 with Goldman crowned the victor by a narrow margin. Of course, it couldn't have hurt that, in the final challenge, Goldman's holiday cake extravaganza swept in to earn his team a perfect score from the judges.
Duff Goldman's holiday-themed winter wonderland cake was literally everything
"What a great way to finish the season of 'Buddy vs. Duff: Holiday' with a perfect score! I am so unbelievably proud of my team this season," Duff Goldman posted to Instagram earlier today — just as his team's good-natured victory over Buddy Valastro's squad must have just been sinking in. "Each cake turned out to be better than we ever imagined it," he added. Just one look at the holiday display that Goldman and his team designed, baked, and built — featuring adorable and incredibly lifelike Antarctic animals such as penguins, polar bears, and otters frolicking in a winter wonderland — and it soon becomes apparent that the perfect score was well-deserved. As one fan, professional baker Molly Robbins, wrote in the comment section of the post, "This one has absolutely blown my mind." 
You know who else's mind may be blown? All of those who will benefit from the $25,000 that Goldman's team has earned through their victory that they plan to donate to Off Their Plate, a charity that is fighting food insecurity while raising the profiles of deserving minority women chefs. For their part, Valastro's team was baking for the charity Toys for Tots, which also ended up with a $10,000 donation through the competition's structure. "Hope everyone has a safe and wonderful holiday season," Goldman concluded in his Instagram post. Thanks to the generous contributions of both the Goldman and Valastro teams, some lucky people out there will, no doubt, be able to do just that.