TikTok Is Fascinated By This Domino's Pizza 'Turned Gourmet'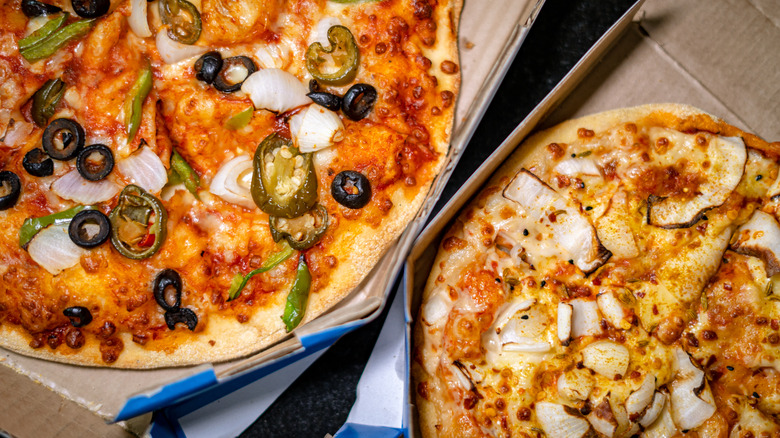 Eudaimonic Traveler/Shutterstock
While Domino's might be one of the world's most popular pizza chains, it is decidedly not considered gourmet — until now. On TikTok, user @jetbentlee can often be seen asking his father, Canadian chef and frequent food television judge Susur Lee, to transform fast food into fine-dining-worthy dishes. Using menu items from places like Starbucks and Chipotle, the chef's reimagined recipes have earned the account an enthusiastic following. Their latest gourmet take on Domino's pizza, especially, just might have people rethinking their next to-go orders. Even Domino's commented on the TikTok video saying, "Now how do I tell our product team that we need this on our menu." 
In the post, Chef Lee is presented with two loaded Domino's pizzas that have every topping except for pineapple, as well as two dipping sauces. After tasting the pizza, Lee admits that it might not be bad, but it is definitely not something that he would eat all the time. However, his subsequent pizza transformation, a cheeseburger-meets-calzone, is worthy of an "Iron Chef" moment. Although Wolfgang Puck might have pioneered the movement toward elevated pizza toppings, Lee's dish renders the classic Domino's creation almost unrecognizable — in a good way. 
How to make the ultimate gourmet Domino's pizza
Truth be told, even if you watch Lee turn a Domino's pizza into a gourmet dish on TikTok, that doesn't necessarily mean you'll be able to pull off the professional chef's tricks at home. While the TikTok, as well as Jet Bent-Lee's longer YouTube video, demonstrates step-by-step instructions, it's not likely that everyone has quail eggs or caviar lying around at home. Nevertheless, the steps go something like this: First, two Domino's pizzas are tightly rolled into a neat roulade with the crust facing outward. While the roulade chills, Lee makes more pizza dough from scratch, rolls it around the roulade, covers it with egg wash, and bakes the whole thing until golden brown.
From there, Lee creates two dishes from his sliced "pizza calzone," which showcases a perfect spiral of Domino's pizza ingredients. One is a burger, basted with the pizza chain's honey-flavored barbecue sauce and topped with cheese. The second is a kind of flatbread that features guacamole, a fried quail egg, caviar, and fresh greens. Predictably, the video has more than 2 million likes and countless comments praising Lee's "unbelievable talent." As seen on this creative TikTok channel, fast food might mainly be convenient at its core, but there is some hidden flavor in that convenience just waiting to be discovered.