How Joan Collins Helped Inspire Wolfgang Puck's Signature Smoked Salmon Pizza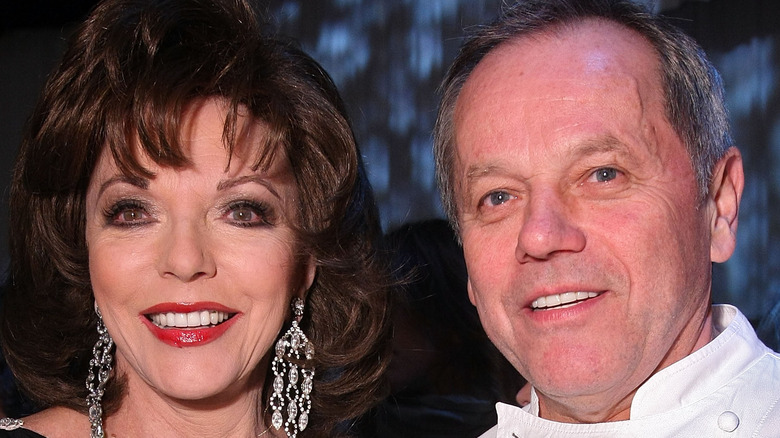 Alexandra Wyman/Getty Images
Wolfgang Puck is the celebrity chef behind the landmark Los Angeles restaurant Spago and the renowned catering company that feeds all our favorite celebrities year after year at the Oscars Governors Ball. Joan Collins is the Hollywood star best known for her role on the TV show "Dynasty." Rumor has it that Joan Collins and Wolfgang Puck fatefully crossed paths to inspire what would become Spago's signature dish: the Smoked Salmon Pizza.
Spago's California pizza style and this signature dish are so iconic that restaurants across the world recreate it on their menus! There's even a MasterClass on how to make it. The smoked salmon is butchered and cured in-house for four days with cloves, bay leaves, parsley, thyme, and brown sugar, per the Michelin Guide. The unique fusion of hot pizza dough, dill-infused crème fraîche, caviar, and caramelized shallots are so unmistakable that when chef Paul Bocuse made a version of it in France the menu listed it as "Spago Pizza."
But how was Puck's signature pizza first made, and what role does Joan Collins play?
The real story behind Wolfgang Puck's signature pizza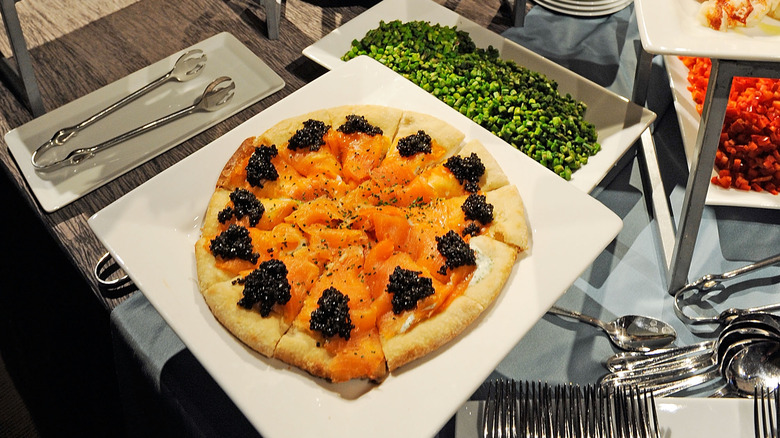 Kevork Djansezian/Getty Images
As with all historic cultural moments, rumors and legends swirl around the signature pizza. However, Wolfgang Puck tells the whole story behind the iconic Smoked Salmon Pizza in the Chicago Tribune.
On a normal night in the early history of Spago, when the restaurant on the Sunset Strip was just beginning to cause waves among Hollywood's elite, Joan Collins came in and ordered the smoked salmon. The dish was normally served on brioche with traditional toppings like capers, onions, lemon, and chives. However, there was no brioche left in the kitchen! Forced to improvise, Puck experimented by replacing the brioche with freshly baked pizza dough. After playing with a couple of versions and topping the dish with caviar, one of Collins' favorite foods, the recipe for the delicious pizza was established.
Nearly every aspect of Wolfgang Puck's signature pizza was designed to meet Joan Collins' tastebuds. Luckily, Collins had great taste and the dish has remained an Oscars afterparty favorite for decades.