Padma Lakshmi Is Turning Heads With Her Picture Perfect Dosas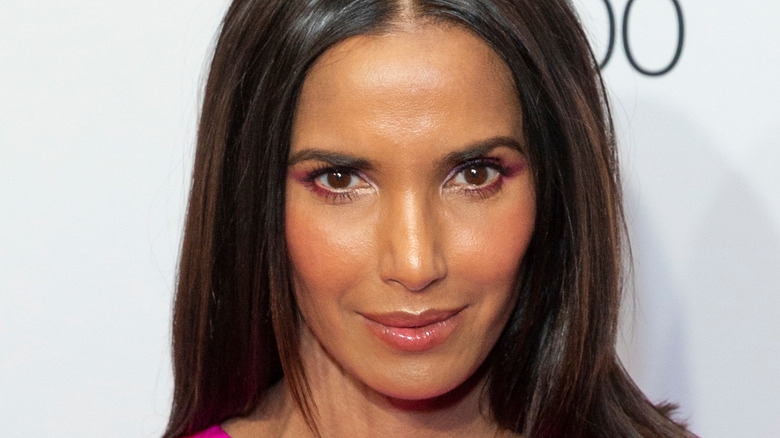 lev radin/Shutterstock
As the host of "Taste The Nation" and a perennial judge of Bravo's "Top Chef," Padma Lakshmi would appear to be a pretty darn consistent crowd-pleaser, but this holiday season, she might have completely outdone herself. First, there was that time when Lakshmi shared the secret to her no-fail post-holiday "reset" drink. Then there was her relatable confession regarding pizza (which, come to think of it, has plenty to do with the holiday season if only because the holiday season is good, and so is pizza). Most recently, there was Lakshmi's sentimental Christmas tree update via Instagram. 
As of today, it would appear that Lakshmi's winning streak is continuing with yet another post to Instagram. In an informative, fascinating – nay, mesmerizing – video, Lakshmi demonstrates her impeccable technique for making homemade dosas and then, in rapid time-lapse fashion, proceeds to adorably stuff her face. Padma Lakshmi's post is turning heads – but not only because her dosas look so incredibly picture-perfect. 
Padma Lakshmi's caption is so catchy, it could become a meme
There is no denying that Padma Lakshmi is turning heads with a video she posted yesterday to Instagram, in which she demonstrates how she makes – and enjoys – some truly picture-perfect-looking dosas. It's clear from the comments that Lakshmi's dosas-making technique is high level ("a skill I could never master," wrote Instagram user @Shreyasdshah, for example). It's also clear from the comments that a lot of fans have a lot of questions about her recipe (they want it), her pan (they want to know where to find one like it), and her technique ("Tutorials for everything on [your] plate," requested another user). And, of course, it's also clear from the more than 48,000 likes the post has garnered. 
But Lakshmi's caption is so "boss" and potentially so catchy, that it might just have some internet meme potential. "Dosas," she wrote. "That's it, that's the post." It's as if Lakshmi is channeling Meryl Streep in "The Devil Wears Prada," but giving the old, "that's all" a fresh new sound as well as a fresh, not to mention delicious, context. Of course, only time will tell if Lakshmi's caption catches on.