Padma Lakshmi's Feelings About Pizza Are Totally Relatable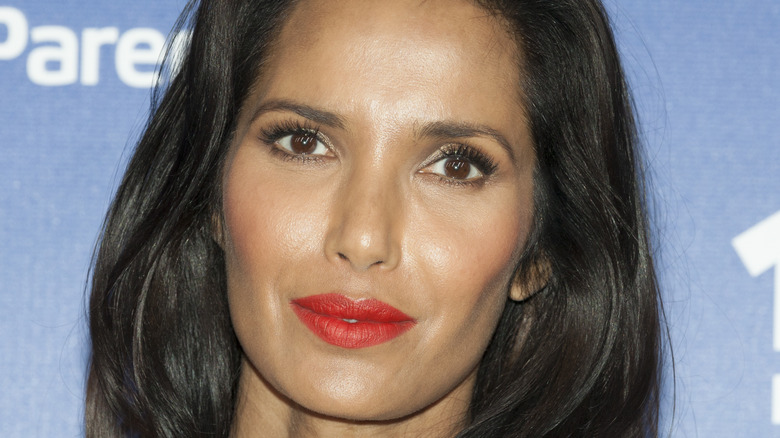 lev radin/Shutterstock
Padma Lakshmi definitely knows her way around a gourmet dish. As the host of Bravo's hit cooking competition TV Show "Top Chef" since 2006, she has been tasting and judging some of the most delicious and creative meals that the world's most talented chefs have come up with. 
Born in Chennai, India, Lakshmi grew up predominantly in New York and Los Angeles, beginning her career as a model and actress before transitioning into the world of cooking, according to Biography. She has also worked on numerous shows prior to joining "Top Chef," getting her start as the co-host of the popular Italian variety show "Rai Television's Domenica In" and later launching "Padma's Passport" on the Food Network, and hosting a food tourism show called "Planet Food," according to Padma Lakshmi. But Lakshmi is not only an expert food judge, she is also a talented chef in her own right, as well as the author of three cookbooks, including the bestselling "Easy Exotic."
Padma Lakshmi is 'powerless' around pizza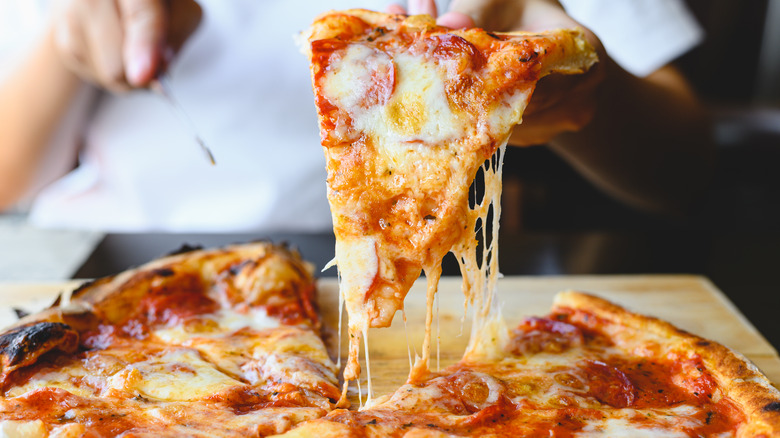 MiniStocker/Shutterstock
While the talented and successful Lakshmi may be able to regularly sample dishes prepared by some of the world's top chefs, she can appreciate everyday fare as well. Like many of us, Lakshmi admits she can't resist a simple, delicious slice of hot, cheesy pizza when the opportunity presents itself. When Glamour asked Lakshmi what one food she was "powerless" around, she responded, "Pizza, definitely." 
Lakshmi also confessed that her favorite midnight snack is quesadillas and said she is "a sucker" for "anything salty or crunchy or both," including salt and vinegar potato chips and fried foods. She even shared the secret to making one of her favorite fried dishes, a fried chicken seasoned with cayenne and green mango powder that she called "impossible to dislike." And really, who can blame her? While sophisticated, complex, and elegant meals certainly have their place, there is just something deliciously satisfying about these classic snacks that none of us can resist.