National Bacon Day 2021: Where To Find The Best Food Freebies And Deals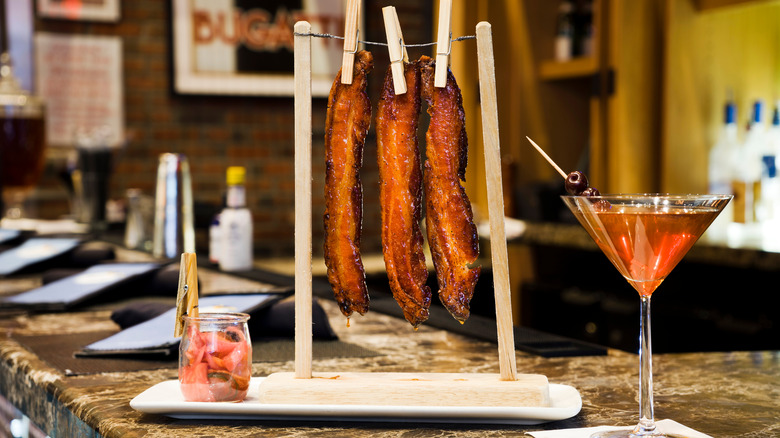 Cavan-Images/Shutterstock
"Are you sick and tired of celebrating the same old winter holidays?" the National Bacon Day website asks by way of introduction. Or, more to the point, "do you just flat out love bacon?" 
What Danya Goodman and her friend Meff Leonard, who were college kids in 1997 when they came up with the idea for National Bacon Day, are getting at is that if the answer to either of those questions is "yes," then it turns out that there is a made-up holiday just for you (via WNEM News). Since 1997, December 30 has been designated, at least unofficially, as the day to "eat much bacon" and "watch movies starring Kevin Bacon," or at least movies with either "bacon" in the title or bacon as an important character (e.g. "Babe" and "Charlotte's Web," both of which are actually really amazing family movies, despite the implicit bacon-related butchery). Among other things. But we're not gonna lie: all we heard was "eat bacon."
If you're feeling us, then you're going to want to follow along as we reveal the best food freebies and deals for National Bacon Day 2021. 
Don't miss these nationally-available deals from restaurants and retailers
Here's how some of your favorite purveyors of bacon will be celebrating National Bacon Day 2021. Please do note that some of these celebrations have been going on for several days, with some continuing through the start of 2022. We'll start with the deals that are available nationally. 
In terms of fast food restaurants, Wendy's is celebrating National Bacon Day by offering free Baconator fries via its mobile app from through January 2, 2022 (one per customer per week). As for regular service restaurants, I Heart Mac & Cheese is offering 20% off its BLT Grilled Cheese Sandwich at all locations, nationwide, on December 30 (via Today). In terms of online butchers, Rastelli's is offering 20% off the regular price of its Hardwood Smoked Bacon if you use the code "BACONDAY20" at checkout on December 30, 2021.
Looking for grocery deals? Jimmy Dean, whose Twitter page is currently adorned with the #NationalBaconDay hashtag and a photo with the caption "We Make Bacon" (via Twitter), is offering the chance to enter a sweepstakes — of which the prize is a free pack of Jimmy Dean bacon — to anyone who retweets its "Free Bacon Alert" tweet (you have to do your retweeting before the end of December 30, 2021).
Don't miss the local deals from diners, delis, and sundry others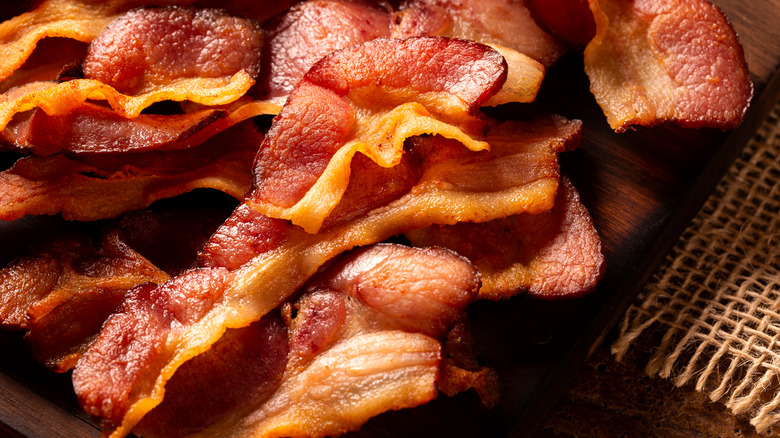 Paulo Vilela/Shutterstock
Bacon lovers who live in the Lakeland, Florida area may be interested to know that Lakeland's Burger 21 in is celebrating National Bacon Day by offering its "Bacon Cheesy" (bacon cheeseburger) sandwiches for the discounted price of $6 (with a regular price of $7.89, according to its website). And the Los Angeles deli chain Fat Sal's is offering free bacon on any sandwich. 
In terms of butchers offering National Bacon Day promotions, we have learned that Indiana Premium Porks is asking fans (via Facebook) to guess a number between one and 1,000 to get entered into a Year's Supply of Bacon sweepstakes. The Facebook account of Kentucky-based Field Meats advertises a similar deal to Indiana Premium Porks, except fans are being asked to guess a number between one and 500 (via Facebook). Illinois' Countryside Meats & Deli is discounting its Boar's Head Sliced Bacon to $4.99 per pound until the end of today. That's quite a deal, considering that the per pound price of bacon has recently been as high as $7 (via Spectrum News1). 
And then there is this, because who deserves a little bacon love more than your best buddy, Doggo: Dogtopia, a doggie daycare in Waco, has named December 30 as its final "turkey bacon day" of the year, with all proceeds going to charity (via Facebook). Although that won't do much to satisfy your bacon cravings, it's simply too cute not to mention.