Michael Symon Weighed In On This Controversial Sandwich Question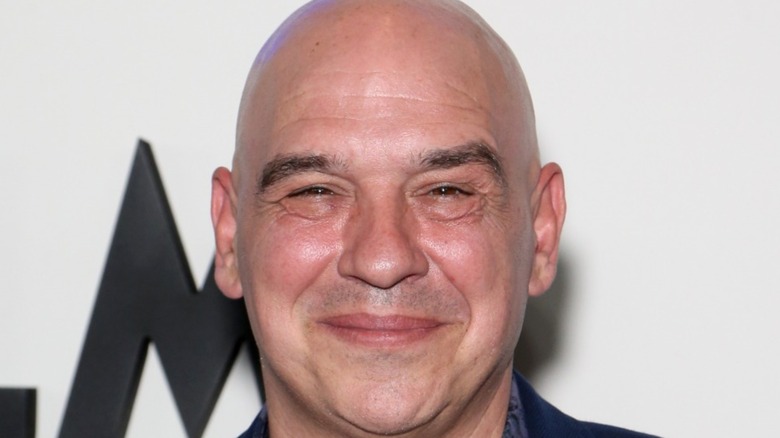 Gabe Ginsberg/Getty Images
Michael Symon, the newly crowned host of "Throwdown With Michael Symon," has been lured into a food fight on social media. A fan has brought the celebrity chef into the discussion around a rather divisive sandwich. As a James Beard Award winner, the celebrity chef could be considered a bit of a culinary expert, so his opinion is definitely a worthwhile one to listen to.
A very brave, or perhaps strategically buttered up, individual asked the chef to finally settle a controversial question about the hot dog once and for all: Is the dish a sandwich? The fan tweeted, "As my fave Greek Iron Chef please settle this once and for all. Is a hotdog a sandwich?" This is where some people might deflect to avoid answering the question, but Symon did not feel the need. Depending on which side of the cafeteria you're standing on, you might not like his stance. The culinary personality replied with the tweet, "I find it to be a sandwich."
Michael Symon thinks hot dogs are sandwiches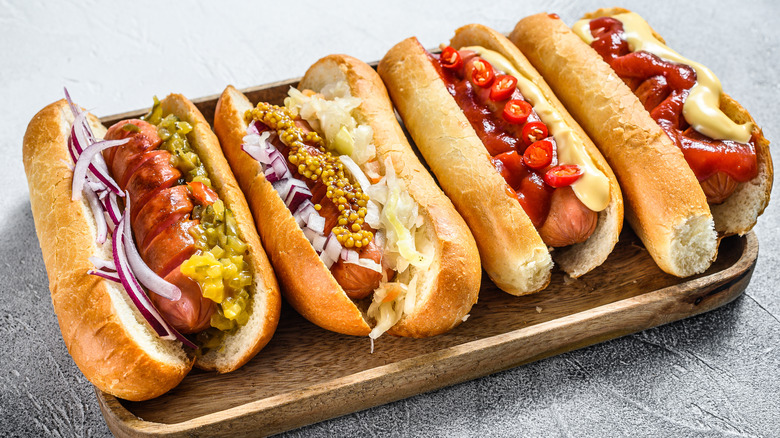 Mironov Vladimir/Shutterstock
That's right, Michael Symon believes hot dogs are sandwiches – cue the outrage because he certainly ignited a bit of debate (via Twitter). One follower quickly responded with, "When the wrap connects on one side, it's a taco." Another suggested, "How to settle this debate — If it is considered normal to put mustard, mayo, or ketchup on it, it's a sandwich." Yet another commenter weighed in by shouting out a popular mustard brand and said, "I don't care what it is called, as long as it has @BertmanBallpark Mustard on it!"
The question is far from decided, and there have been conflicting views. A representative of the USDA told NPR, "A sandwich is a meat or poultry filling between two slices of bread, a bun, or a biscuit," which technically encompasses a hot dog. However, the president of the National Hot Dog and Sausage Council doesn't agree, and told All Recipes that a hot dog is "culturally not the same as a sandwich." Two states took the question into their own hands and decreed they were legally considered sandwiches (via Mental Floss). While there doesn't seem to be a definitive answer, we don't mind. We're with the guy who just wants to make certain our hot dog is topped with our favorite mustard.