The Pioneer Woman Posted A Fun Karaoke Throwback For Her Birthday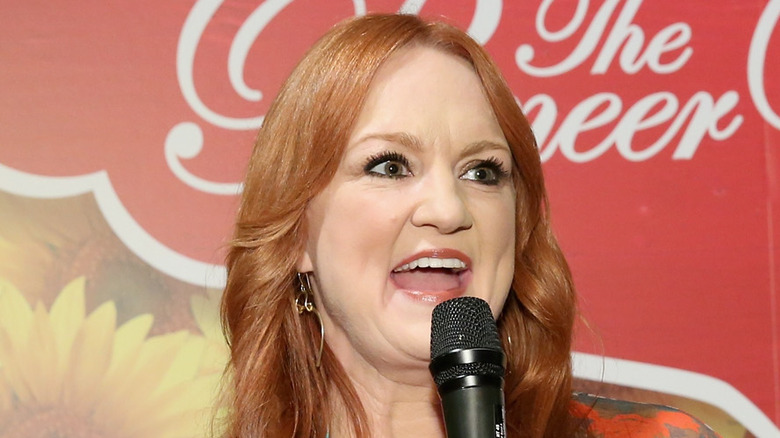 Monica Schipper/Getty Images
Fans of Ree Drummond a.k.a. The Pioneer Woman are likely accustomed to seeing the self-taught chef whipping up all kinds of hearty fare in her kitchen on her Oklahoma ranch, as documented on her popular Food Network show. In the decade that "The Pioneer Woman" has been on the air, the episodes have featured countless friends and family members, all sampling Drummond's home-cooked ranch cuisine. However, in a recent Instagram post, she demonstrated that her kitchen isn't the only place she shines — it seems that Drummond isn't afraid to take to the stage and show off her vocal stylings as well.
Drummond celebrated her 53rd birthday on January 6. To mark the occasion, she shared a throwback moment from when she did karaoke with her daughters Alex and Paige, who have appeared on the show many times, as well as in the pages of her numerous cookbooks. The blond duo towered over their red-headed mother, flanking her on either side. All three women had microphones in their hands, but Drummond's daughters were both blurs of motion in the still photo, while Drummond struck a pose in the middle of it all and appeared to be in the midst of belting out a verse. A variety of metallic and black balloons floated near the ceiling, and white lights illuminated the windows in the background, suggesting the snap was taken at some kind of event.
A lifelong dream fulfilled — and what fans are saying
Drummond clarified in the caption that the trio were singing "Don't Stop Me Now," and that the moment represented a "longtime dream" of hers. And in case fans weren't satisfied with just a still photo, Drummond's Instagram share included a video clip that featured audio of the performance (as well as some choreography the trio were busting out). She tagged her daughters' Instagram pages in the post, and also tagged her daughter Alex's husband Mauricio Scott, who apparently was the one responsible for capturing the moment on film.
While Drummond admitted that she "always sounded a little better in [her] dream" than in reality, the trio appeared to be having an absolute blast. Drummond's fans were thrilled with the sweet share capturing the silly milestone, and the post racked up over 78,000 likes within just a few hours of going live. Many fans also took to the comments section to share their thoughts. One couldn't get enough of Drummond's ensemble, writing, "your fashion is very Stevie Nicks and I'm for it!" Another commented, "I absolutely love this!! You're awesome, your kids are awesome for supporting their mom, and Mauricio is awesome for capturing it all!"
There were even a few comments from those personally close to her. Drummond's own The Pioneer Woman Magazine got in on the action, commenting, "your move @nbcthevoice," tagging the singing competition show's account. Her daughter Alex also cheekily commented, "happy 30th birthday queen."