How Paul Hollywood Really Feels About His Infamous GBBO Handshakes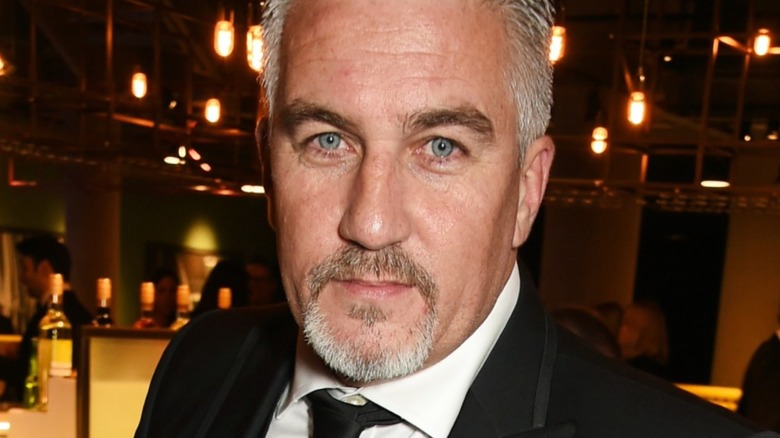 David M. Benett/Getty
By Paul Hollywood's own admission, he was never looking for TV fame. He told Radio Times, "I didn't set out to be on the telly, I set out to be a good baker." He has certainly accomplished that. What started out as Hollywood's summer-break gig has become his life's work and passion. Though he began working for his family's bakery to support himself, baking bread soon "entered his soul." And now, a baker who never sought the limelight has become a bonafide celebrity who is hounded by paparazzi and haunted by a simple gesture that has taken on a life of its own.
If you're unfamiliar with the aforementioned gesture, it's known as the Hollywood handshake, which "The Great British Baking Show" judge occasionally gives to contestants for a bake well done. Just about every fan of the show is invested in the Hollywood handshake: Someone made a website documenting its every appearance, social media loves it, and GBBO contestants get weak-kneed and teary eyed when it is bestowed. It has even been trademarked by the show's production company. So, how does Hollywood feel about all the hoopla? Did he know where his simple gesture of acknowledgement, first extended to a contestant in Season 3, was headed? According to Express, Hollywood had no idea that his humble handshake would one day become all that and a bag of chips.
Hollywood might put his handshakes to an end
According to Express, Paul Hollywood told Alan Titchmarsh, host of the "Love Your Weekend" talk show, that the Hollywood handshake began as nothing more than an expression of acknowledgement, born from his love of baking and respect for a beautifully made dish. He told Titchmarsh, "It's excitement for me because I love baking and when I see something I like, I want to say well done." He lamented that "the press are getting behind it and sort of pushing it into something which it isn't." He has even hinted that because the bakers appearing on "The Great British Baking Show" are becoming increasingly talented, the judges' standards might become too high for him to continue giving out his signature gesture. This past season, then, might have marked his last round of Hollywood handshakes, per Mirror.
Season 12's GBBO champion, Giuseppe Dell'Anno, discussed the handshake with Vulture, saying, "Paul must have a hard time keeping his ego under control ... When he shook Crystelle's hand, she literally almost fell on the floor. How can your head not just blow out of proportion when you've got that kind of power?" He then gave the judge props for not letting his fame get to his head. Will Hollywood continue his handshakes moving forward? Per the Daily Mail, when the renowned chef isn't baking, he's doing his "serious thinking" while riding his motor bikes. With the fate of his famed gesture to contemplate, he's sure got a lot to reflect on.