Trader Joe's Shoppers Are Loving Its Festive Jelly Bean Hearts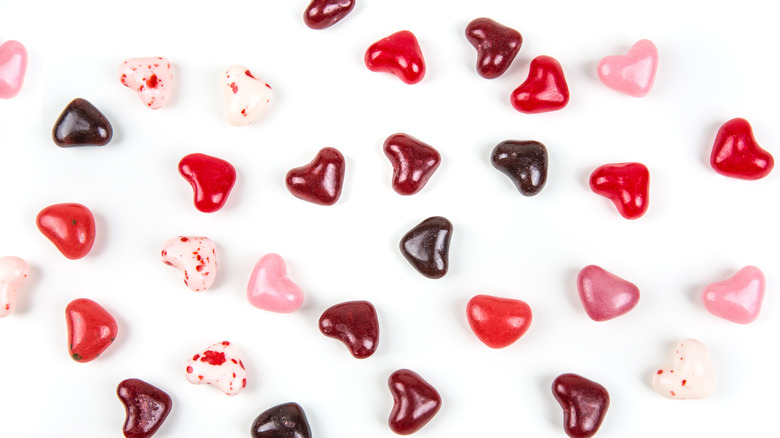 Elizabeth A.Cummings/Shutterstock
Valentine's Day season is kicking off, and the loved-up finds from Aldi, Costco, and every store in between make us want to fill our carts with all the red, white, and pink heart shaped items available. After all, they say the way to a person's heart is through their stomach, and that may be the reason so many Trader Joe's shoppers are crushing on the store's festive jelly bean hearts.
Trader Joe's List posted a photo of these gummy heart-shaped candies on Instagram and captioned it with: "THEY'RE BACK. JELLY BEAN HEARTS. ... I'm personally a chocolate lover but for those that enjoy candies and gummies, these are for you! They do contain wheat so if you have a gluten allergy/sensitivity stay away from these." They also shared a photo of the nutritional content of these candies, which contain 3.5 servings per package. We think that is the perfect amount to share with someone you love, someone you really like, or even just someone you share a cubicle with, because why not? 
4 different flavors
But what do these heart-shaped jelly beans taste like? We aren't the only ones wondering — per the Trader Joe's List Instagram post, which has received over 4,000 likes and a lot of comments, one follower asked this exact question and received this reply: "They're a variety- cherry, strawberry, coconut, and another flavor that I'm not sure of!" 
Fans of these jelly beans are all too happy to share their enthusiasm. "These normally sell out here," one fan wrote. "I picked these vs chocolate for my kids." Another offered, "I love those, gotta get my supply." And still another called these candies the P-word, writing, "These are perfection! They somehow find their way into my cart after every shift!"
But if jelly beans don't say Valentine's Day to you, even if they are heart-shaped, don't worry. Trader Joe's has plenty of other pink and red foods to help you show your love. PopSugar revealed the store is also selling raspberry mousse cakes, Belgian chocolate hearts, and of course, don't forget the roses, especially if you're looking for a sweet way to express your feelings sans any actual sugar.